Standard Chartered says sorry
The boss of Standard Charted said allegations it hid $250 billion worth of transactions with Iran "came as a complete surprise". Peter Sands said the figure from the regulator was an estimate. It apologised for the $14m of mistakes they admitted to.
US officials 'angered' by Standard Chartered action
US officials are angered by the New York State Department of Financial Services' action against Standard Chartered, sources have told Reuters.
They are also reported as saying that the state action complicates federal settlement efforts
£6 billion wiped from value of Standard Chartered
A total of £6 billion has been wiped from the value of Standard Chartered amid fears it could lose its US banking licence. It comes after regulators branded the lender a "rogue institution" over its dealings with the Iranian government.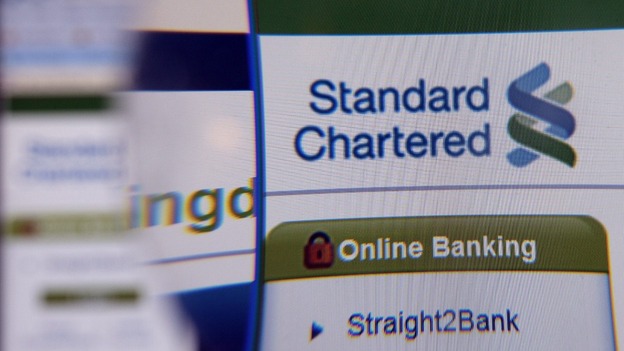 The bank saw shares plunge after regulators claimed it exposed the US to terrorists and drug kingpins by hiding 250 billion US dollars (£160 billion) of transactions with Tehran.
Advertisement
Standard Chartered shares close more than 17% down
by Laura Kuenssberg - Business Editor
Standard Chartered share price has closed more than 17 percent down. Still a bigger fall than Barclays when the rate rigging broke.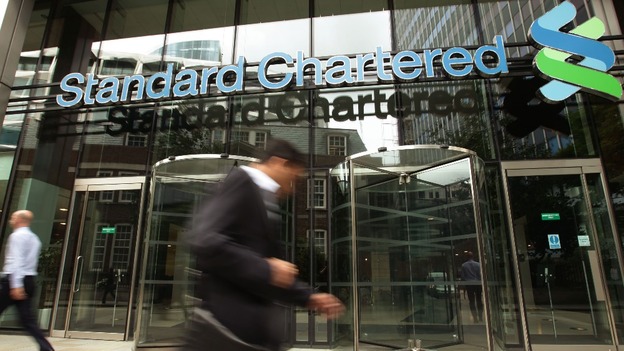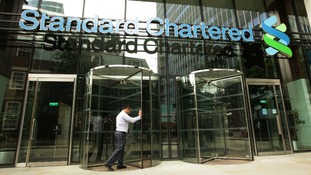 Shares in Standard Chartered have had an absolute savaging on the stock market. Dives like this are unusual, and serious for any company
Read the full story
The Standard Chartered share price is now down nearly 24% - that is a very very serious slide.
This shows how Standard Chartered bank shares have sunk like a stone this morning. This on allegations that are yet to be proven.
An utterly savage start for Standard Chartered on the ftse - down nearly 18%, for context, Barclays shares fell 15% when the rate rigging scandal broke.
Advertisement
Standard Chartered 'surprised' by US investigation
Standard Chartered has released a statement saying that the bank was already conducting a review over its Iranian transactions and the Group had been in touch with the New York State Department of Financial Services (DFS).
Standard and chartered said:
"The Group does not believe the order issued by the DFS presents a full and accurate picture of the facts.
"The analysis, that the Group shared with all the US agencies, demonstrates that throughout the period the Group acted to comply, and overwhelmingly did comply, with US sanctions and the regulations relating to U-turn payments.
"As we have disclosed to the authorities, well over 99.9% of the transactions relating to Iran complied with the U-turn regulations. The total value of transactions which did not follow the U-turn was under $14m.
"The Group is engaged in ongoing discussions with the relevant US agencies. Resolution of such matters normally proceeds through a co-ordinated approach by such agencies.
"The Group was therefore surprised to receive the order from the DFS, given that discussions with the agencies were ongoing. We intend to discuss these matters with the DFS and to contest their position.
"The Group takes its responsibilities very seriously, and seeks to comply at all times with the relevant laws and regulations. It is in this spirit we initiated this review and have engaged with the US agencies."
2.5 year low for Standard Chartered as shares crash 7.4%
Hong Kong shares overall rose this morning, but Standard Chartered Plc suffered its worst daily loss in 2.5 years after New York regulators accused it of illegally hiding transactions tied to Iran.
Shares of Standard Chartered Plc tumbled 7.4% on the news that the UK based bank could lose its US licence.
Standard Chartered's Hong Kong shares set to dip after Iran allegations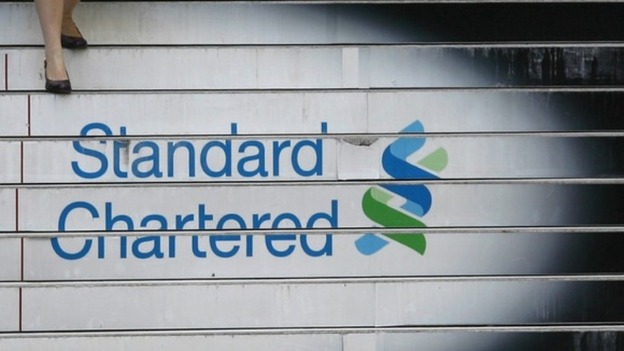 Standard Chartered's Hong Kong shares were set to open around 7.5 percent lower today, after New York's top bank regulator threatened to strip the UK bank's state banking licence because of alleged transactions tied to Iran.
Shares were indicated to open at HK$174, while Hong Kong's benchmark Hang Seng share index was set to start up 0.2 percent.
Standard Chartered's London shares fell 6.2 percent to 14.70 pounds after the New York State Department of Financial Services said the bank "schemed" with the Iranian government and hid around 60,000 secret transactions to generate hundreds of millions of dollars in fees over nearly 10 years.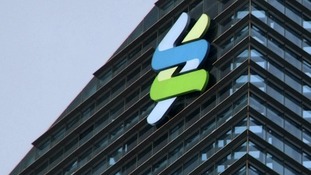 It might not be a big name on our high streets but Standard Chartered is one of the biggest names in banking.
Read the full story
Load more updates
Back to top