Pussy Riot members flee Russia
Two women from the punk band Pussy Riot - who were being sought by Russian police - have fled the country, the band said.
We want to disappoint Kremlin b*: 2 women have left the country because of the dangers, but there are at least 12 members of Pussy Riot who remain in Russia.
– A statement on Pussy Riot's Twitter account

Another tweet reported that those leaving the country are planning to recruit foreign feminists for organising new events.

The tweets did not reveal the names of the two who had left Russia, nor did it say which country they had gone to.

According to the Russia Today website Pussy Riot lawyer Nikolay Polozov could not confirm the information and denied knowing anything about it.
Two women from the punk band Pussy Riot - who were being sought by Russian police - have fled the country, the band said.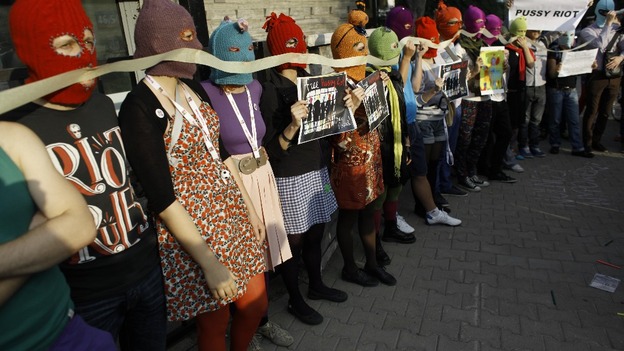 The feminist group - which has five members - protested inside Moscow's main cathedral against President Vladimir Putin and the Russian Orthodox Church in February.
Three of the five women were arrested and sentenced to two years in prison. Moscow police recently said they were searching for the others.
Pussy Riot tweeted today that the two women had fled Russia and are "recruiting foreign feminists to prepare new protest actions".
Advertisement
Russia said foreign criticism of the trial and sentencing of three members of punk band Pussy Riot for a protest against President Vladimir Putin is "biased" and politically motivated.
Foreign Ministry spokesman Alexander Lukashevich said: "The case ... has served only as an occasion for the latest wave of rushed, biased and politically charged evaluations".
Madonna, who had already voiced her support for the Russian punk band Pussy Riot, on Saturday joined a chorus of celebrities in slamming a jail sentence handed down in Moscow to three women from the group over a protest against President Vladimir Putin.
"I protest the conviction and sentencing of Pussy Riot to a penal colony for two years for a 40-second performance extolling their political opinions," Madonna said in a statement. Madonna had previously expressed her support for the band after they were arrested.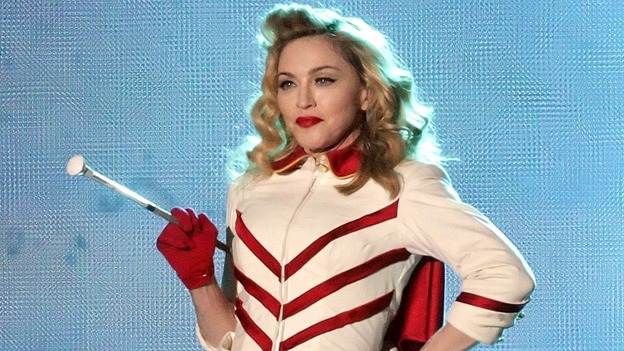 In her latest statement, Madonna said the two-year sentence was "too harsh and in fact is inhumane."
"They've spent enough time in jail. I call on all of Russia to let Pussy Riot go free," she said.
Other stars speaking out in defence of Pussy Riot include; Canadian rock star Bryan Adams, actor Adrian Grenier and Black Keys drummer Patrick Carney, who vowed to not play a show in Russia over what he described as its move to "imprison innocent musicians for speaking their minds peacefully."
New Yorkers took to the streets to protest against the sentencing of Russian punk band Pussy Riot to two years in jail.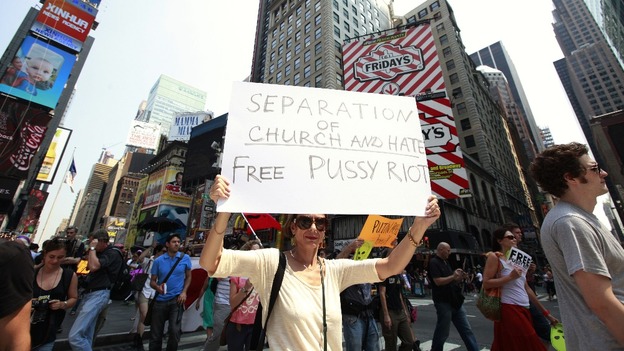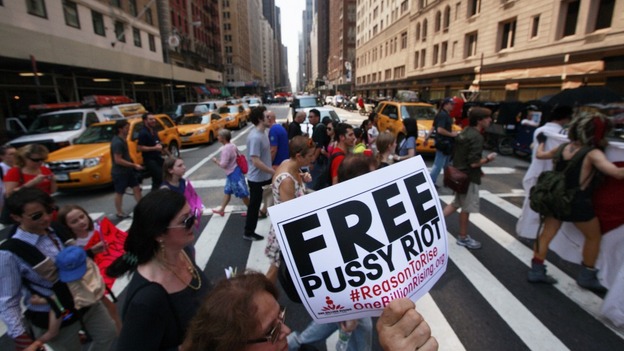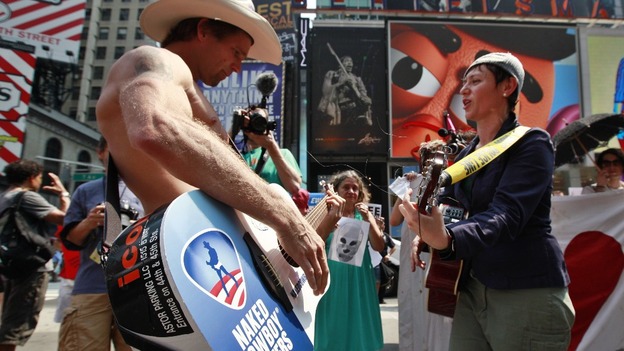 European leaders and the European Union have reacted strongly to the sentencing of Pussy Riot to two years.
German Chancellor Angela Merkel said the sentence was "excessively harsh" and "not compatible with the European values of the rule of law and democracy to which Russia, as a member of the Council of Europe, has committed itself."
"A dynamic civil society and politically active citizens are a necessary precondition for Russia's modernisation, not a threat," she said.
Carl Bildt, the Foreign Minister of Sweden tweeted:
Even the Human Rights Commissioner of Russia deems the prison sentence for Pussy Riot unfair and calls for it to be appealed. Easy to agree.
Catherine Ashton, the European Union's top diplomat, said the two-year sentences handed down by a Moscow court on Friday were "disproportionate" and should be reversed.
"Together with the reports of the band members' mistreatment during pre-trial detention and the reported irregularities of the trial, it (the verdict) puts a serious question mark over Russia's respect for international obligations of fair, transparent and independent legal process.
"This case adds to the recent upsurge in politically motivated intimidation and prosecution of opposition activists in the Russian Federation, a trend that is of growing concern to the European Union."
Advertisement
The New York Times describes the sentence as "stiff":
"A Moscow judge handed down stiff prison sentences of two years on Friday afternoon for three young women who staged a protest against Vladimir V. Putin."
In France, La Figaro describes the lack of hope that the women might be freed before the sentence was announced:
"The guilty verdict was no longer any doubt. But the severity of the sentence remained an unknown. The three members of the Russian Pussy Riot were convicted Friday by a Moscow court to two years of confinement in a camp."
Izvestia, a Russian broadsheet newspaper has said that lawyers expect an appeal:
"Lawyers believe that prisoners have a chance to get leniency or a long delay - two of them have young children. Or make a priority of the case to the European Court."
Hollywood star Elijah Wood, comedian David Walliams and singer Paloma Faith have all tweeted their reaction to the Pussy Riot sentencing.
Elijah Wood tweeted that it was not a surprise but was, 'a shame' that the group received two years.
a shame to hear the Pussy Riot were found guilty, but not surprised. I truly hope their sentence is minimal. #freepussyriot
Wouldn't it be great if Pussy Riot ultimately brought down Putin?
Wow!Russian pussy riot girl band are so admirable.they just SANG&they got sentenced to 2 years. Unbelievable the injustice #freepussyriot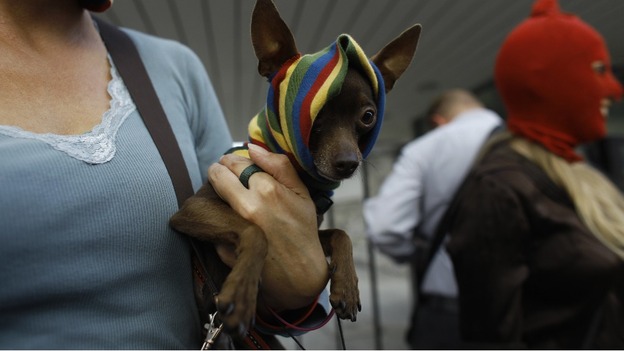 There have been protests around the world after the sentencing of Pussy Riot, this protester is outside the Russian embassy in Warsaw.
Feminist activist Rosita Sweetman joins demonstrators in a protest in O'Connell Street, Dublin, against the conviction of members of the provocative Russian punk band Pussy Riot.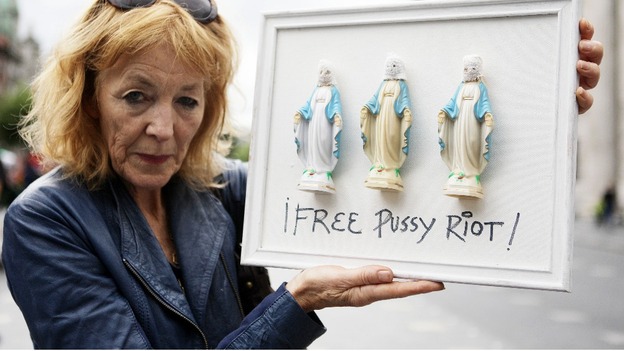 Displaying three statues of the Virgin Mary as members of Pussy Riot. The song the women sang in the Cathedral which led to their two year sentence was a "punk prayer" asking the Virgin Mary to rid Russia of President Vladimir Putin.
Load more updates
Back to top