Pussy Riot members flee Russia
Two women from the punk band Pussy Riot - who were being sought by Russian police - have fled the country, the band said.
Russian Orthodox Church urges 'mercy' for Pussy Riot
The Russian Orthodox Church has urged the state to show mercy to three women from Pussy Riot, raising the possibility that it could back a pardon or a reduction of their terms.
The church reiterated its criticism of the women from the punk collective, saying their protest in Moscow's Christ the Saviour cathedral was "blasphemy" and displayed "crude hostility towards millions of people".
But in a statement added:
Without subjecting the rightfulness of the court's decision to any doubt, we call on the state authorities to show mercy to the people convicted within the framework of the law, in the hope that they will refrain from repeating blasphemous actions.
Poll shows Russians 'irritated or indifferent' to Pussy Riot case
While there have been protests outside the court in support of Pussy Riot, they were joined by those who were hoping for a lengthier sentence.
An opinion poll of Russians released by the independent Levada research group on Friday illustrates how many ordinary Russian feel about the case:
6% had sympathy with the women
51% said they found nothing good about them or felt irritation or hostility
the rest were unable to say or were indifferent
Valentina Ivanova, 60, a retired doctor, said outside the courtroom:
What they did showed disrespect towards everything, and towards believers first of all.
Maria Butilno, 60, who held an icon and said Pussy Riot had insulted the faithful went on to say:
Evil must be punished.
Advertisement
Foreign Office 'concerned' over Pussy Riot sentence
Speaking today, Foreign Office Minister Alistair Burt said:
I am deeply concerned by the sentencing of three members of the band Pussy Riot, which can only be considered a disproportionate response to an expression of political belief. Reports about conditions of the detention of the women, and the conduct of the trial, are also concerning.
The Government is committed to a relationship with Russia in which we can discuss differences frankly and constructively. We have repeatedly called on the Russian authorities to protect human rights, including the right to freedom of expression, and apply the rule of law in a non-discriminatory and proportionate way. Today's verdict calls into question Russia's commitment to protect these fundamental rights and freedoms.
Amnesty: Pussy Riot verdict 'likely to backfire'
John Dalhuisen, Director of Amnesty International's Europe and Central Asia Programme, said:
The Russian authorities should overturn the court ruling and release the members of Pussy Riot immediately and unconditionally.

In sentencing them to two years' imprisonment, Russia has set the limits of freedom of expression in the wrong place.

This trial is another example of the Kremlin's attempts to discourage and delegitimise dissent.

It is likely to backfire.
Human rights activists in Britain and Ireland protest Pussy Riot verdict
Human rights activists took to the streets of Britain and Ireland today in support of rock band Pussy Riot who were jailed for two years for hooliganism in Moscow.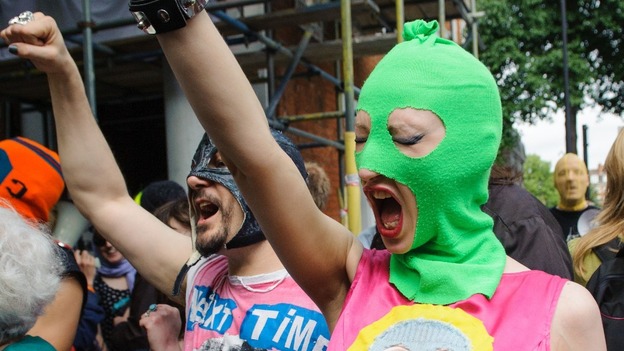 Crowds of banner-waving supporters protested outside Russia's embassy in London's Kensington Palace Gardens and masked demonstrators also protested in O'Connell Street, Dublin's main thoroughfare.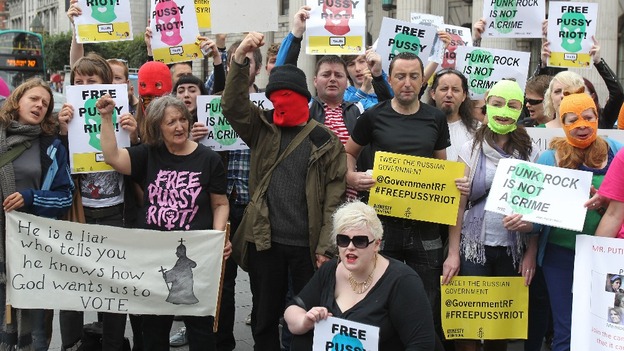 Three windows at the London embassy were smashed and a railing damaged last night before the verdicts were reached.
Pussy Riot release new anti-Putin single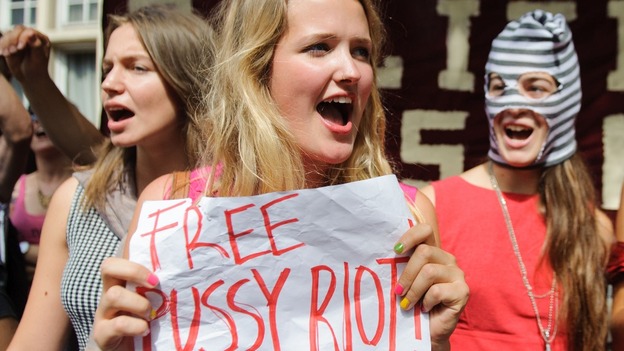 The Guardian has audio of Pussy Riot's new single, Putin Lights Up the Fires, released today, set to images of supporters of the women.
Advertisement
Big names behind Pussy Riot cause
Gary Kasparov, the greatest mental athlete ever, arrested for protesting at the tyrannical 2 years #pussyriot sentence. Tsar Putin. Weep.
From
@stephenfry
on Twitter:
It's a sad day because I actually love Russia! What's happening to this great nation that it's afraid of poofs, Madonna and pussy!
From
@BoyGeorge
on Twitter:
Just because the 'excitement'of the trial is over doesn't mean we stop fighting. Speaking to other members of the music community today...
From
@katenash
on Twitter:
Balaclava-clad protesters show support for Pussy Riot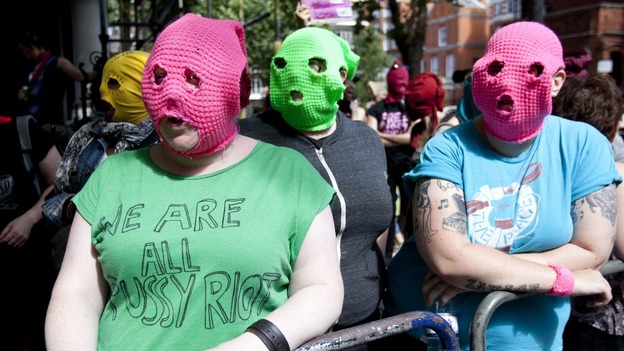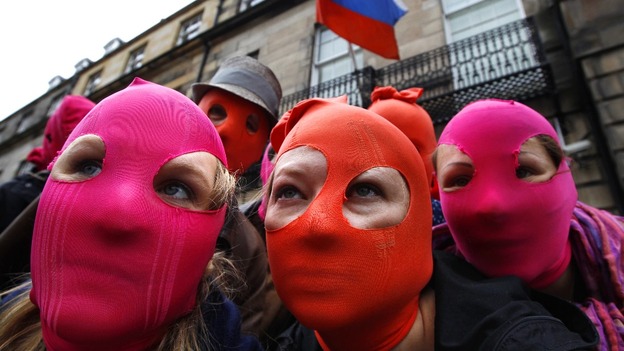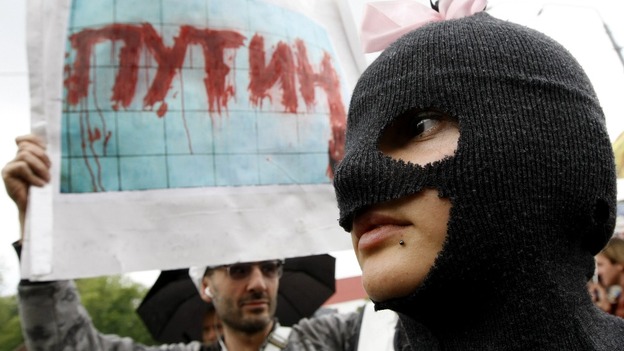 Kasparov arrested outside Pussy Riot courtroom
Video filmed earlier today shows opposition politician and former chess grandmaster Garry Kasparov arrested by police outside the courtroom in Moscow.
US Embassy: Pussy Riot sentences 'disproportionate to their actions'
The United States Embassy in Russia criticised the two-year sentences handed down by a Russian court to three women whod staged an anti-Kremlin protest in Moscow's main cathedral, saying the punishment seemed "disproportionate".
"Today's sentence in the Pussy Riot case looks disproportionate to the actions," the U.S. Embassy in Russia wrote on its Twitter microblog in Russian.
Load more updates
Back to top