Syria warned over chemical arms
William Hague has said he had seen "some evidence" that Syria is preparing to use chemical weapons against rebels. Declining to give details of the intelligence, he again warned that Bashar Assad's regime would face action if they were deployed.
Rebel groups including a hardline Islamist unit have seized a government army command centre in northern Syria, forcing more than 100 soldiers to flee, according to a monitoring group said.
The Syrian Observatory for Human Rights said that the Jabhat al-Nusra, a group suspected of having links with al Qaeda, helped rebels take over the site - part of the 111th regiment base in the Sheikh Suleiman region of Aleppo province.
Some fighters on the rebel and army side were killed, while around 140 soldiers fled to another military site in the area, the Observatory added.
Russian Foreign Minister Sergey Lavrov said countries that criticise Russia and China for vetoing UN Security Council resolutions on Syria are "dishonest", Reuters reports.
Mr Lavrov added that Russia are not holding any talks on the future of President Bashar al-Assad.
Advertisement
Foreign Secretary William Hague was asked by the BBC at a security conference in the Gulf this morning whether he had seen proof that Syria was preparing such weapons.
We have seen some evidence of that. We and the US, as I said in parliament this week, have seen some evidence of that and that is why we have issued strong warnings about it. We have done so directly to the Syrian regime.
– William Hague, Foreign Secretary

Pressed on what kind of evidence he had seen, Mr Hague replied:
We absolutely cannot be specific about that because clearly those are intelligence sources that these things come from. But we have seen enough evidence to know that they need a warning and they have received that warning.
– William Hague, Foreign Secretary
Foreign Secretary William Hague said he had seen "some evidence" that the Syrian regime is preparing to use chemical weapons against rebels.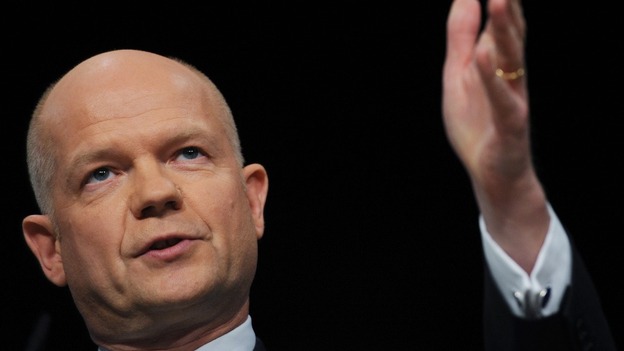 Mr Hague declined to give details of the intelligence but warned President Bashar Assad's regime it would face action if they were deployed.
American satellites have reportedly detected increased activity at several chemical weapons depots in Syria.
The Syrian regime has denied any plans to use chemical weapons against it own people.
Opposition sources claim the deputy police commander for the central Syrian province of Homs has defected to Jordan. If verified it could further undermine President Bashar Assad as he tries to maintain control:
Brigadier General Ibrahim al-Jabawi has crossed into Jordan. He will announce his defection on al-Arabiya television later today.
– Higher Revolution Council, speaking to Reuters
Wael Nader al-Halqi, a Sunni member of the ruling Baath party, has been sworn in as Syria's new Prime Minister, in a ceremony performed by Syrian President Bashar Assad.
Assad appointed Wael Nader al-Halqi on Thursday, promoting him from the post of Health Minister. Halqi replaces Riad Hijab, whose defection was a humiliating blow to the regime.
Advertisement
A formal plan is being put in place to deal with a potential chemical attack in Syria.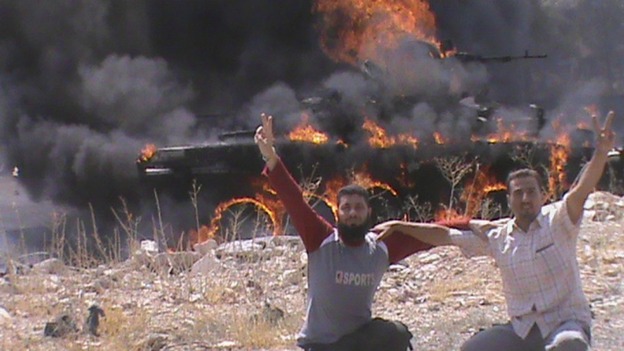 The US and Turkey are working together to respond to the crisis as conditions deteriorate even further. The working group will co-ordinate military and political responses if chemicals are used.
US Secretary of State Hillary Clinton said there had to be a plan for:
"The horrible event that chemical weapons (are) used. What would that mean in terms of response, humanitarian and medical emergency assistance and, of course, what needs to be done to secure those stocks from ever being used or falling into the wrong hands?"
Fighting involving armoured vehicles broke out lbetween Jordanian and Syrian troops at a border region that has been used as a passage for refugees fleeing Syria, said a Syrian opposition activist who witnessed the incident.
The fighting occurred in the Tel Shihab-Turra area after a number of Syrian refugees attempted to cross into Jordan, the activist said.
No immediate comment was available from Jordanian authorities.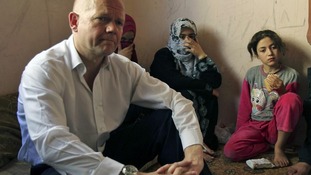 Britain promised five million pounds to help opposition groups in Syria today - but stressed it would not be providing military aid.
Read the full story
The United States is preparing to announce new sanctions targeting Syria and other entities supporting President Bashar Assad's government a senior US official said today.
Travelling with the US Secretary of State Hillary Clinton in Ghana, the official told reporters:
We will be tightening even further with additional sanctions that drive at both Syrian entities and those who are supporting the efforts of the Syrian government to oppress its own people.
The official said the new measures would be announced in Washington later today.
Load more updates
Back to top