Taxpayers' £50m West Coast bill
Taxpayers will face a "significant" bill of around £50m over the West Coast rail franchise fiasco, the Government's spending watchdog has warned.
You have been telling us what you think of the decision to allow Virgin Trains to carry on running services on the West Coast Main Line for a further 23 months:
Steve Smith: "Well done Virgin. I'm glad, it's the best company for the job. Keep going for long I say. Well done Richard."
Alan Lowndes: "Doesn't matter who is running it. As soon as we get a light dusting of snow, all services will be cancelled."
Marple Mills: "Welcomed and they should never have taken it away."
Dave Carty: "I don't think it matters who runs it to be honest."
I'm delighted that we have an agreement with the DfT that gives us the chance to continue providing high-quality services to our customers.

We have had great support from staff and customers in recent months and we will repay that loyalty with even better service.

We will not be sitting back in the coming months, but are keen to introduce more improvements to the service.
– Virgin Rail Group chief executive Tony Collins
Advertisement
The Shadow Chancellor Ed Balls told Sky News that the Government's handling of the West Coast Main Line has been "such a shambles".
We are determined to ensure not only that passengers continue to experience the same levels of service they have in the past, but that services improve.

There will be a new hourly service linking Glasgow and London and we will also work with Virgin Trains to explore other service improvements.

I am also extremely pleased that passengers will benefit from up to 28,000 more seats daily thanks to the delivery of 106 new Pendolino carriages on to the West Coast line which has happened on budget and ahead of schedule.
– Transport Secretary Patrick McLoughlin
Transport Secretary Patrick McLoughlin announced the temporary deal, which will see Virgin carry on with the London to Scotland route until November 9, 2014.
After this time the West Coast Main Line will be let under a long-term franchise.
Virgin Rail will run the West Coast Main Line for a further 23 months, the Government announced.
Advertisement
The immediate future of a main London to Scotland rail route - thrown into doubt following a botched franchise process - is likely to become clearer later today.
The Government is expected to announce that Sir Richard Branson's train company, Virgin Rail, can for a time carry on running trains on the West Coast Main Line.
It is believed Transport Secretary Patrick McLoughlin could also publish the independent report he commissioned when he was forced to scrap the West Coast franchise bidding process.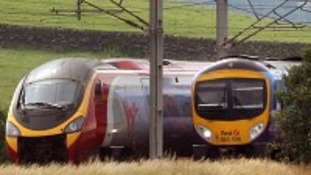 The Government has been forced to admit the profitable West Coast Main Line contract has yet to be signed, thanks to a legal bid by Virgin.
Read the full story
Sir Richard Branson has denied claims from the Transport Secretary Justine Greening that he only raised concerns over the West Coast main line rail franchise after Virgin lost the bid.
In a letter to the Financial Times, Sir Richard wrote:
The truth is we did and have been in dialogue with the Department for Transport for more than two years on the issues around the invitation to tender.

Furthermore, we had expressed our views to the Conservatives in several meetings while they were in opposition.

In particular, we focused on the assessment and deliverability of risks involved in such long and volatile franchises, as well as seeking assurances on our long held view that bids were typically won by aggressive revenue commitments from bidders relying on good spreadsheet skills rather than good rail business sense.
Load more updates
Back to top