Taxpayers' £50m West Coast bill
Taxpayers will face a "significant" bill of around £50m over the West Coast rail franchise fiasco, the Government's spending watchdog has warned.
Earlier this month, the Government announced that Virgin had lost out to transport company FirstGroup in the bidding war to run a new 13-year West Coast franchise.
Transport company FirstGroup, which already has a number of rail franchises including Great Western and ScotRail, will start operating the London to Scotland West Coast line in December.
Virgin boss Sir Richard Branson reacted angrily to the decision, branding the bidding process "insane" and threatening to end all involvement with the railways.Today, Virgin, which has operated the West Coast line since 1997, said it was "commencing court proceedings" over the Government decision.
We understand that Virgin Rail Ltd a subsidiary of Virgin Rail Group, a the joint venture between Virgin Group and Stagecoach Group plc, has brought a legal challenge against the Department for Transport in relation to the recent award of the InterCity West Coast rail franchise to FirstGroup.

We have every confidence in the DfT's process which is rigorous, detailed and fair and in which bids are thoroughly tested. There has been no complaint about the process, which was carefully described in advance, until Virgin Rail Group had lost commercially.
Our focus is to ensure a smooth transition with continuity for staff and passengers alike. We want to get on with delivering the many benefits and improvements we are offering without delay or disruption.

We will continue to prepare for a successful start up of the new franchise on 9 December 2012.
– FirstGroup
Advertisement
We had hoped that Parliament or an external review would be able to scrutinise this badly flawed process before the franchise was signed.
However that opportunity would be denied if the DfT follows through with its determination to rush through the process before Parliament returns next week.
That ignores the wishes of more than 150,000 people who signed the Downing St e-petition in 10 days, the Labour Opposition, two important Commons committees and many backbench Conservative MPs who wanted a debate before the decision is taken, not a post-mortem afterwards.

We have not taken this decision lightly, but it is the only course now available to try to unravel this sorry process.
– Sir Richard Branson, Founder of Virgin Group
A statement from West Coast mainline operator Virgin Trains about its decision to take legal action over the Government's decision to award a new West Coast franchise to FirstGroup.
"Virgin Trains Limited (VTL) has today commenced Court proceedings in respect of the decision to award the West Coast Main Line franchise to FirstGroup.

We have tried for three weeks to get clarity over the Department for Transport's decision and to have a number of key questions answered. On each occasion we have been refused information.
We are left with no choice but to commence Court proceedings as we believe the procurement process has ignored the substantial risks to taxpayers and customers of delivering FirstGroup's bid over the course of the franchise."

In addition it has ignored the DfT's own assessment that VTL's bid was more deliverable and a lower risk. We question whether FirstGroup's bid has been correctly risk adjusted by the Department given all of its supposed incremental value is delivered after 2022.
– Virgin Trains
The current process is geared to selecting the highest risk bid and needs to be independently audited to prevent a repeat of former franchise failures."
Sir Richard Branson has said: "We have not taken this decision lightly, but it is the only course now available to try to unravel this sorry process."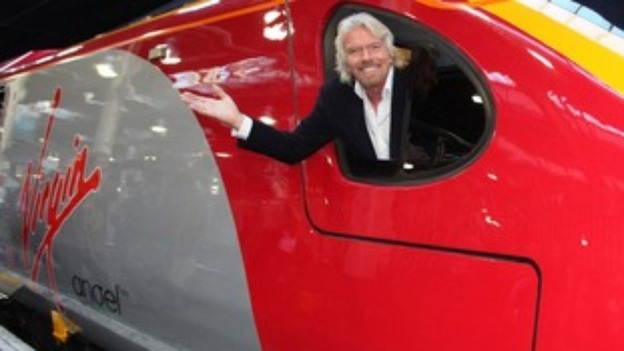 West Coast mainline operator Virgin Trains has announced that it has commenced court proceedings over the Government's decision to award a new West Coast franchise to transport company FirstGroup.
Advertisement
Transport Secretary Justine Greening told BBC Breakfast that the West Coast Mainline contract will go ahead to take the franchise from Virgin Trains and award it to FirstGroup.
Labour has urged the Government to put the decision on hold until Parliament returns next week so MPs have the chance to fully scrutinise the deal.
The government has turned down a last-ditch attempt by Richard Branson to delay the transfer of the West Coast mainline away from his Virgin trains.
As our Political Correspondent Libby Wiener reports, despite Labour and more than 100,000 petitioners backing an inquiry into Virgin's loss of the contract, Branson's offer to run the line for free while a review took place, has been rejected by the Department for Transport.
We are pleased that the DfT has reiterated that our winning bid was selected by a fair, rigorous process that scrutinised best value and deliverability and that they concluded that no reason has been advanced to convince the DfT not to sign the agreement.

Our bid is deliverable and it provides the best deal for taxpayers, for passengers and for staff on the West Coast main line.
– FirstGroup Chief executive Tim O'Toole
The Department for Transport dismissed Sir Richard Branson's offer to run the service on a not-for-profit basis to allow the deal to be re-examined, insisting it would go ahead with the contract.
We note the offer that one of the bidders appears to have made via the Press.

However, the winning bidder was decided by a fair and established process and no reason has been advanced to convince DfT not to sign the agreement.
– Department for Transport spokesman
Load more updates
Back to top