Muamba retires from football
Bolton midfielder Fabrice Muamba is to retire from football on medical grounds. It comes five months after he suffered a cardiac arrest which almost claimed his life.
On behalf of everybody at The FA I'd like to say how sorry we are to learn that Fabrice Muamba has had to end his professional football career.

His recovery has been miraculous and a great tribute to all who have been involved.

I would like to wish him the very best for the future and I know that the thoughts of the entire football family will be with him.
– FA Chairman David Bermstein
Boxing legend and Bolton Wanders fan Amir Khan has wished Fabrice Muamba, 'all the best for the future.'
Sad to hear Fabrice Muamba has had to retire. I wish him all the best for the future and know it holds great things for him!
Advertisement
Tottenham Hotspur has tweeted their 'best wishes' to Fabrice Muamba.
It was during a game between Bolton and Spurs in March when Muamba collapsed.
Everyone at the club sends their best wishes to Fabrice Muamba who announced his retirement today. We wish him every success in the future.
Very sad to hear that Fabrice Muamba has to retire from football. I really wish the best for him. Top lad! #keepstrong
Fabrice Muamba's fiance Shauna, has tweeted her thanks for the support the couple has received after Fabrice announced his retirement from football:
Thanks for all the support. We're blessed to have our family and we're looking forward to whatever the future holds. Much love xx
To have Fabrice here and with us is truly amazing and we are all very thankful for that.

We are all hugely disappointed that Fabrice will be unable to return to his playing career but we have to be guided by the medical recommendations and the best interests of Fabrice.

The most important thing is that Fabrice and his family have the rest of their lives ahead of them.
– Phil Gartside, Bolton Chairman
Advertisement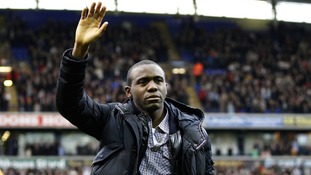 The Bolton Wanderers midfielder has retired from the game after he suffered a cardiac arrest last March.
Read the full story
All at #MCFC would like to send our best wishes to Fabrice Muamba following news of his retirement from football today
We have spoken with Fab and he knows we will always support him in whatever he wants to do and that we will always be here for him.

He is obviously massively disappointed that he won't be able to carry on his career, but everyone has seen what a fighter and strong person he is in mind and body.

We know that he will go on to achieve great things and within all this disappointment, the most important thing is that he is here, alive, today.
– Owen Coyle, Bolton Wanderers manager
Fabrice Muamba has confirmed his retirement from football on Bolton Wanderers' website. He said in a statement:
Since suffering my heart attack and being discharged from hospital, I have remained utterly positive in the belief I could one day resume my playing career and play for Bolton Wanderers once again.

As part of my on-going recovery, last week I travelled to Belgium to seek further medical advice from a leading cardiologist. But the news I received was obviously not what I had hoped it would be and it means I am now announcing my retirement from professional football.

Football has been my life since I was a teenage boy and it has given me so many opportunities.
Above all else, I love the game and count myself very lucky to have been able to play at the highest level. While the news is devastating, I have much to be thankful for.

I thank God that I am alive and I pay tribute once again to the members of the medical team who never gave up on me. I would also like to thank everyone who has supported me throughout my career, and the Bolton fans who have been incredible.

I am blessed to have the support of my family and friends at this time.
Load more updates
Back to top