Striking SA miners back to work
Striking workers at the Lonmin mine in South Africa are returning to work after agreeing a 22% pay deal, following weeks of industrial action. However protests continue at other mines in the country.
The outspoken South African politician Julius Malema stormed out of court today, saying he was being fitted up by the government.
Mr Malema has been a key supporter of the recent miners strikes.
Today he was in court on trial for money laundering, which, he said, was an attempt to silence him.
Police fire rubber bullets to disperse crowds of mine workers near Rustenburg. South Africa's mining crisis is not going away.
Advertisement
Two people have died after clashes between police and striking miners in South Africa, including a local councillor who was apparently an innocent bystander, according to the Associated Press.
Police fired rubber bullets, tear gas and stun grenades to break up a march by thousands of strikers at the Amplats mines near Rustenburg, belonging to Anglo American Platinum, the world's largest platinum producer.
Amplats strike leader Evans Ramokga said a miner was run over by a police armoured car and dragged several yards before it stopped. He said the man died overnight in hospital. The latest deaths bring the death toll to 47.
A governing party councillor shot by police firing rubber bullets at the scene of a mine strike has died, the Congress of South African Trade Unions (Cosatu) have told the Associated Press.
It said African National Congress councillor Paulina Masuhlo was shopping on Saturday near the Never Die Tavern at the miners' shantytown of Lonmin platinum mine when police firing from a speeding armoured car hit her and other women.
Cosatu have said that Ms Masuhlo died in hospital yesterday after being shot during the violence.
South African miners returned to work at Marikana platinum mine today after a bloody six-week strike came to an end with the company reaching a deal.
The Marikana platinum complex was the scene of violent protests in which 44 people died. Some 15,000 miners at Gold Fields' Dreifontein Gold Mine remain on strike.
Lonmin workers have celebrated after their employer agreed to pay them up 22% more, following weeks of industrial action.
Many South African miners returned to work today, however protests continued throughout other regions.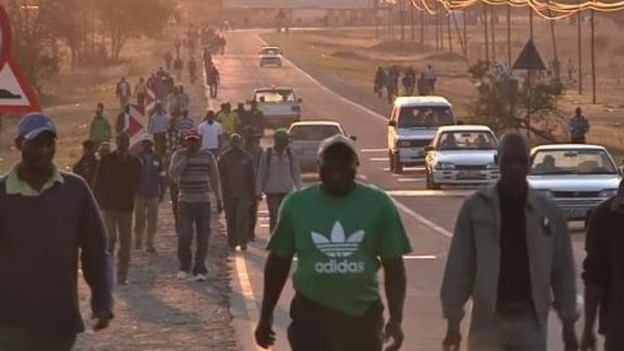 Advertisement
The standoff at a South African mine run by platinum producer Amplats has seen police clash with a crowd of men carrying traditional weapons such as spears and machetes.
A police spokesman said tear gas, stun grenades and rubber bullets were fired to disperse an "illegal gathering" at the mine outside the city of Rustenburg.
It remained unclear whether anyone was injured in the exchange.
The action was understood to have been inspired by the brokering of a new wage deal at a Lonmin mine in Marikana.
A ministerial statement on the Marikana crisis said there are "lessons to be drawn from this experience". Seems like a slight understatement.
The statement continues: "This has given concrete expression to what our country is known for which is resolving all our differences through dialogue".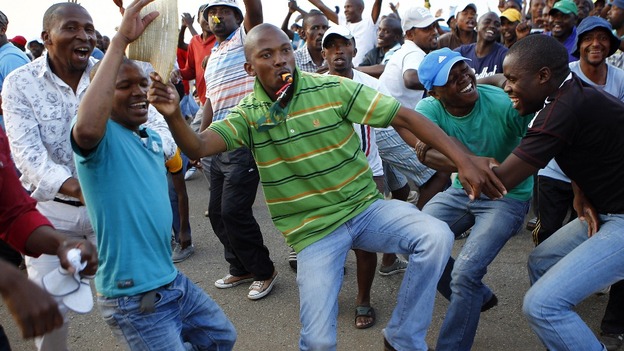 South African police have fired tear gas and rubber bullets today to disperse protesters near a mine run by platinum producer, Amplats.
It's the first sign of unrest spreading after strikers at smaller rival mine, Lonmin won big pay rises. A police spokesman said, "We are not tolerating any illegal activity."
Within hours of Lonmin agreeing to a pay increase of 11 to 22%, workers at neighbouring mines were calling for similar hikes, suggesting more trouble is to come after six weeks of industrial action that has claimed 45 lives and threatened Africa's biggest economy.
Amplats had to suspend its Rustenburg operations last week because of the unrest. Those mines restarted on Tuesday but the company admitted many workers had stayed away.
Striking platinum miners in South Africa have signed a new wage deal to end a five-week strike at Lonmin mine in Marikana.
Load more updates
Back to top