Striking SA miners back to work
Striking workers at the Lonmin mine in South Africa are returning to work after agreeing a 22% pay deal, following weeks of industrial action. However protests continue at other mines in the country.
Striking miners at South Africa's Marikana mine could return to work after employers offered them a pay rise of up to 22%.
A spokeswoman for Lonmin, the mining giant which operates the plant, has told ITV News that a deal is not yet signed and sealed.
But people close to the negotiations have indicated that worker representatives will accept the offer, even though it falls short of the 12,500 South African rand per/month that they had demanded.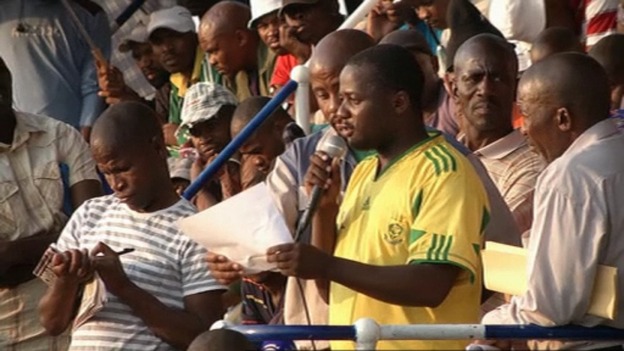 Lonmin workers cheered as they learned they will finally return to work on Thursday at the platinum mine in Marikana, which is 60 miles northwest of Johannesburg, with a 22% payrise after six weeks of strikes, Reuters has reported.
World No. 1 platinum producer Anglo American Platinum said it, too, had resumed its operations in the strike-hit Rustenburg area.
South African President Jacob Zuma has estimated that the country's labour unrest has cost the industry 4.5 billion rand (£295 billion).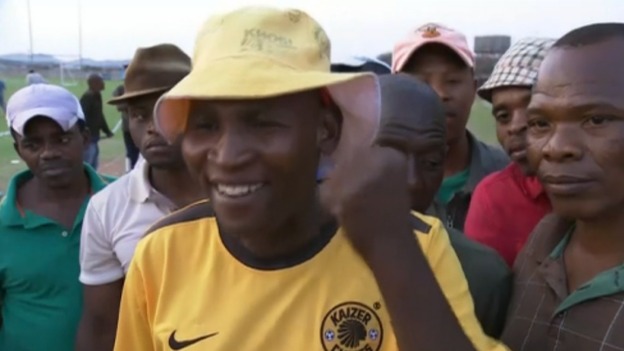 Advertisement
A bloody six-week strike at the platinum Lonmin mine in South Africa will come to an end on Thursday after workers negotiated a 22% pay rise.
The action at Marikana turned violent last month when 34 miners were shot dead by police in a single incident. A total of 45 people died in the unrest.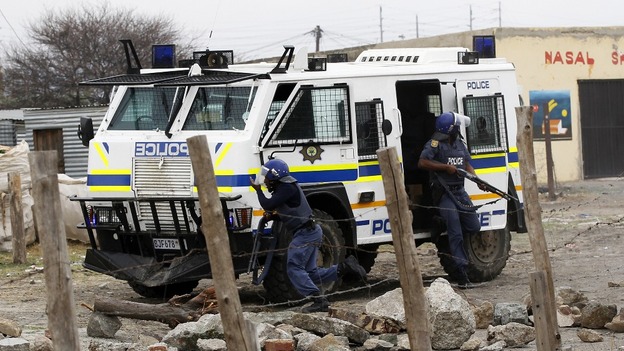 Police have been firing rubber bullets and tear gas in an attempt to herd striking miners into their shacks.
The show of force followed a government vow to halt illegal protests and disarm the strikers who have stopped work at precious metal mines, destabilising the country's critical mining sector.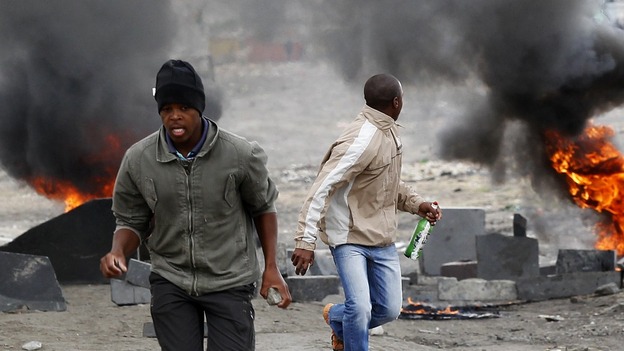 Six women were hit by rubber bullets and one had to be taken to hospital, Anglican bishop Jo Seoka, president of the Council of Churches, warned of serious repercussions and said he was holding the government and Lonmin mine officials responsible describing it as an 'aparteid-era crackdown.'
South African police fired tear gas and rubber bullets on Saturday to disperse striking miners rallying in Marikana after raids on their hostels to seize weaponry, witnesses claim.
South African police raided hostels at Lonmin's Karee platinum mine today to disarm miners after government announced a crackdown on "illegal gatherings" and the carrying of weapons.
"The aim of the raid was to disarm the mine workers to make sure that we do away with the elements of threats that are taking their toll in the area of Marikana," regional police spokesman Thulani Ngubane said.
Ngubane said police retrieved weapons such as machetes and spears.
Advertisement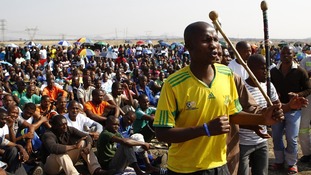 The standoff between striking miners and South African authorities hardened as workers rejected a new deal and 'gatherings' were banned.
Read the full story
South African police have fired tear gas to disperse striking miners near Rustenberg, local radio has reported.
South Africa's Justice Minister Jeff Radebe has warned the government that it would clamp down on the daily illegal marches by miners brandishing machetes, spears and clubs that have marked the strike.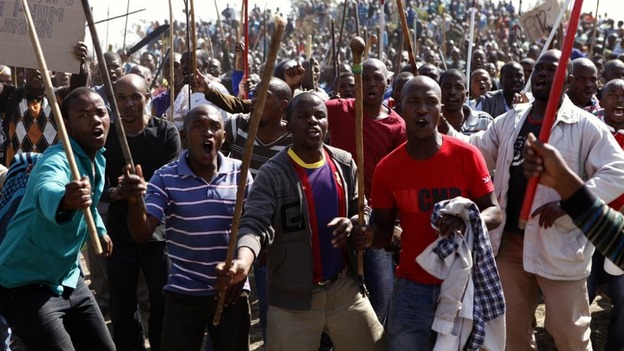 Radebe told a news conference: "The government will no longer tolerate illegal gatherings and brandishing of weapons in this way. The police are well acquainted with how to enforce public order in South Africa."
The strikers turned down Lonmin's offer of a 900 rand ($112.50) increase that would give new-entry workers a basic monthly salary of 5,500 rand ($688), their leaders said.
South African ministers have outlined a security crackdown on "illegal gatherings" of miners at a meeting deciding on the security strategy for mines. "The mining industry is at stake", says the Justice minister.
They say their warnings are aimed at outsiders stirring up trouble - which appear to be directed at Julius Malema - are not actually directed at Julius Malema.
Load more updates
Back to top