Essex lion 'is a ginger tomcat'
Essex Police have called off a search for a lion reportedly on the loose and suggested it was more likely to be a large domestic cat or wildcat. The Daily Mirror reports it could be a ginger tomcat called Tom that lives near to the original sighting.
The Daily Mirror have published pictures of a cat suspected to be behind a huge lion-hunt yesterday. The 12-year-old ginger tomcat, Tom sparked a two-day police operation amounting to £25,000.
The Daily Mail claimed that Teddy Bear, a three-year-old Maine Coon cat was the "Essex Lion". The cat's owner said:
It clicked right away. We thought it had to be Ted as he's the only big gingery thing around there and he does tend to wander into that field.

From a distance, because he has a light-coloured mane he does look a little lion like. I can see why someone would think that. He's a Maine Coon, which is the biggest breed of domestic cat.
A £25,000 operation involving more than 30 officers was most likely caused by 12-year-old ginger tomcat, Tom, the Daily Mirror has reported. Police called off a huge lion-hunt yesterday after deciding the alert was sparked by a large domestic cat.
A carer from the local old people's home that the cat is reportedly from said:
He's always out in the fields hunting for mice, rats and even hares. I was working here on Sunday and he was definitely out then, so it certainly could have been him.
Advertisement
We believe what was seen on Sunday evening was either a large domestic cat or a wildcat.

Extensive searches have been carried out, areas examined and witnesses spoken to; yet nothing has been found to suggest that a lion was in the area.

We would like to thank the local community and holidaymakers for their patience and support throughout the past 24 hours as the police and media presence would have been somewhat overwhelming for them.
– Essex Police spokesman
Essex police have called off a search for a lion reportedly on the loose.
Officers have spent almost 24 hours combing the countryside around Clacton-on-Sea after a group of residents claimed to have seen the animal near Earls Hall Drive in St Osyth.
But after search teams found no evidence of the big cat, the force this afternoon decided to stop looking.
Essex Police has not found any proof - such as pawprints or droppings - to confirm that a lion is on the loose in the area.
A spokesman said between two and six people claimed to have seen the big cat but there had been no further sightings since yesterday.
The hunt is likely to be scaled down tonight if no evidence emerges, the spokesman added.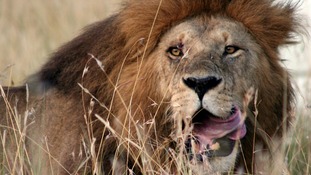 A search for a lion in Essex has been called off, with police believing the rogue animal was most likely to be a "large domestic cat".
Read the full story
Advertisement
Roger Lord, of Earls Hall Farm, St Osyth, said caravan residents on the farm land passed police a picture of the suspected lion after photographing it.
The first thing we knew about it was a phone call from the police last night. I am sceptical - I think it might just well be a large domestic cat but they certainly saw something that they were were concerned about and they went down the right route to the police.

They have taken it very seriously and have put two helicopters up in the air and I don't know how many armed police that we still have on site now. They have taken it very seriously.
Most of the residents of the caravans were on site at the time of the sighting, he added: "I think most of them were on site at the time, so more than one person saw it."
Essex Police are continuing their search for a suspected lion on the loose after holidaymakers sighted a large cat in St Oysth at 7pm last night.
Public safety is our priority which is why we are taking the sighting and all associated evidence seriously. We have an increased police presence in the area which will offer reassurance to local residents, motorists and holidaymakers.

We would encourage people to enjoy the bank holiday Monday, indulging in activities as they want to. For those who wish to take a walk in the countryside surrounding Clacton, then we would just ask them to be extra vigilant and cautious. However, they will probably see us first before they see anything else.
– Essex Police spokesman

The force also said they were trying to establish where any lion may have originated from.
Firearms officers and police helicopters have joined the hunt for a lion that is thought to be roaming loose in Essex. Jonathan Swain, Daybreak Correspondent, has the full report:
Residents of #stosyth are advised to enjoy the bank holiday Monday but to be cautious. Officers still in the area conducting searches
Load more updates
Back to top