Controversial kidney donor site
A controversial US website is launching in Britain that allows kidney donors to decide who gets their organs. It also includes patients pleading directly for a donor. The site's creators hope it will persuade more people to donate.
We are not yet clear how it will operate here and the legal implications, and we have not had a conversation with the charity about these issues. Once we have more information, we can advise members of the public considering the possibility of arranging a donation through this route... We have seen an increase in the use of social networking websites which can put potential donors in contact with people who need an organ transplant. We are constantly reviewing our approach to keep pace with such developments, to make sure they meet the legal requirements.
– Allan Marriott-Smith, Human Tissue Authority
Saira Khan is the first Briton to find a kidney on an American website. Her advert read: 'British mother of three urgently needs kidney'. She spoke to Julie Etchingham about the moment she found out a complete stranger on the other side of the world wanted to donate.
Tonight: 'The Kindness of Strangers' is on ITV1 this evening at 7.30
Advertisement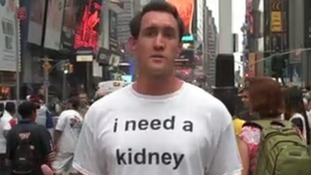 In the US patients have found a controversial way of persuading people to donate a kidney, and the emotional appeals are coming to Britain.
Read the full story
Di Franks, who is a kidney donor and also runs the Living Kidney Donation charity has told ITV News that she could never "pick a recipient", after a controversial US website launching in the UK allows donors to decide who gets their organs.
I am against people selecting a recipient mainly because it could mean that someone on the NHS waiting list dies waiting for a kidney and the person picking their recipient, their kidney could have been a match for the person on the waiting list.
– Di Franks

Julie Etchingham speaks to Ms Franks this evening on Tonight: The Kindness of Strangers ITV1, Thursday 7:30pm.
Di Franks, who runs the charity Living Kidney Donation and is a kidney donor herself wrote on ITV News' Facebook page:
I have already donated a kidney to a stranger. But I would never want to choose my recipient even if I could.

Not for me to play God as to who is more deserving to receive it. The next person on the waiting list who is a match should be the one to get a transplant.

We don't need two kidneys. Neither one works to its fullest capacity and when we donate one, the other kidney ups its performance.
– Di Franks

Julie Etchingham speaks to Ms Franks on tonight's programme.

Tonight: The Kindness of Strangers ITV1, Thursday 7:30pm.
At the ITV News Facebook page, we have been asking whether you would be willing to donate a kidney, as a controversial new website launches allowing kidney donors to decide who gets their organs. Here are some of your views:
Becoming a living donor is a major commitment entailing major surgery and time off work: a decision not to be taken lightly.
– Yvonne Leach
I think its a great idea. I'm sorry but I would rather choose who my organs go to. I've seen it first hand that someone had a transplant who needed it but not life threatening get an organ over someone who was dying and desperately needed it because of a waiting list!!
– Linda Marshall
Patients truly in need may get overlooked which can't be a good thing. Everyone should be on the donor register then there would be no shortage.
– Annette Sedgwick
Advertisement
Daybreak's Dr Hilary Jones has warned that the controversial kidney donor website - that allows kidney donors to decide who gets their organs - could play with the emotions of donors.
A mother, whose daughter had a liver transplant, has questioned a controversial US website that allows kidney donors to decide who gets their organs.
Karen, whose daughter Ellie-Mae, 4, had a liver transplant when she was one, said: "It's putting a lot of pressure on people to choose who to give the donor to."
You can get more information about organ donation from the following websites:
organdonation.nhs.uk The UK's National scheme for living donation in the NHS
matchingdonors.com US website that allows British & American donors and recipients to match and pick one another
matchingdonors.co.uk New UK address, active from Friday August 31
livingkidneydonation.co.uk UK charity giving help and support to live donors
giveakidney.co.uk UK charity promoting living donation
In Berkshire, Di Franks donated a kidney into the NHS scheme. She now runs the charity Living Kidney Donation. She gave the following interview while watching one of the US kidney appeal videos.
I can't watch that! It's emotional coercion. They are playing on the very people who are generous. People's heart strings are being given a twang... Somewhere there will be some poor person hooked up to a dialysis machine that isn't strong enough to play a guitar, let alone sing - who is in real desperate need of a kidney and can't get one... They just wait on the list while others jump the queue because they have got the brass to play a guitar and advertise.
– Di Franks
Load more updates
Back to top