Met Uni to start legal action
London Metropolitan University announced it is to commence urgent legal action against UKBA's decision to revoke its licence to sponsor international students.
A group of London Metropolitan University students have gathered outside of Downing Street to express their distress and anger at the UK Border Agency's decision to strip it of its right admit foreigners.
Chris Bryant, shadow immigration minister has said that the Home Secretary may be "ramping up her rhetoric" on a tougher immigration system, but "rhetoric is all it is", following migration statistics published today.
Mr Bryant said that the migration figures contradicted the government's decision to revoke a university's visa licence:
After weeks of hedging and denying, the Immigration Minister announced that London Metropolitan University has lost its ability to sponsor international students.

It seems very convenient that this decision should be announced as once again, the quarterly immigration figures show that the government's policies are having limited impact on numbers.

This announcement leaves thousands of genuine international students in an impossible situation of finding a new place to study, just days before the beginning of a new university term.
Advertisement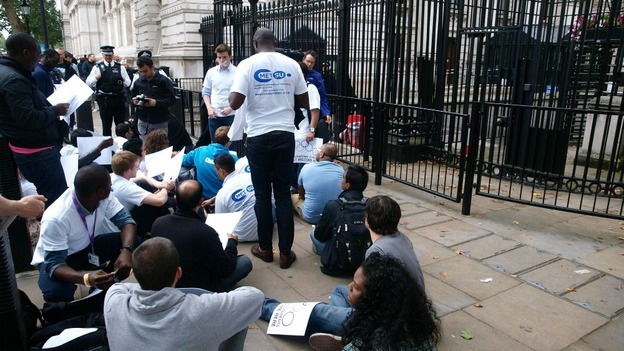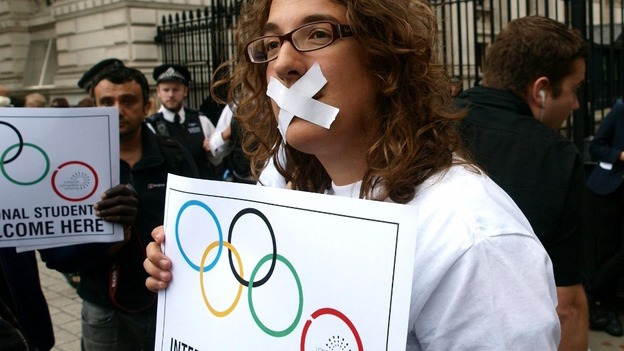 Emmanuel Eguwu, a Forensic Science student at the London Metropolitan University has said that he is "angry" at the UK Border Agency's decision to revoke the university's visa licence.
Mr Eguwu said he spent thousands on his education and "would not return to the country without a certificate".
Daniel Stevens, international students officer at the National Union of Students has said that the UK Border Agency's decision to revoke a university's visa licence is "political".
Mr Stevens said that the government are "trying to win cheap votes by picking on easy targets."
The chairman of the Home Affairs Select Committee Keith Vaz has told ITV News that the government's decision to revoke a university's visa licence ahead of the new term causes "confusion".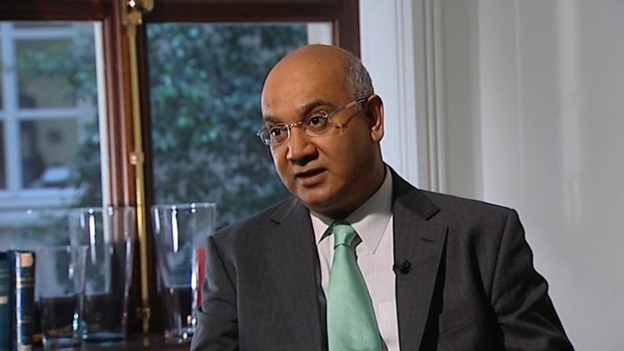 Mr Vaz said: "The people who matter are the students. They are live human beings not statistics on a piece of paper, and they really need to be helped. We need to handle this situation a lot better.
Advertisement
The executive officer at the London Metropolitan University Student Union has said that news of more than 2,000 foreign students being deported after the university's visa licence was revoked is "devastating".
Syed Rumman said that the decision could put the university at further financial risk.
Sir Andrew Green, chairman of the campaign group Migration Watch UK has said that "inflated figures" had been circulated regarding the "economic value" of foreign students, after the UK Border Agency revoked the visa licence for a university.
The number of student immigrants has increased by 59% since the new points based system was introduced and there is crystal clear evidence of substantial abuse.

The Government are absolutely right to crack down on this. Looking ahead, the financial interests of the universities cannot be allowed to destroy the Government's immigration objectives which are so widely supported by the public.
The vice chancellor of London Metropolitan University has said that it was "a relief" to have confirmation that it has lost its right to admit foreign students after growing speculation surrounding the issue.
Professor Malcolm Gillies said:
It is hard to run an educational institution when this is hanging over you. Now it is a matter of thinking of these students and what we can do for them.
He said the university had set up a hotline for those affected on 020 7133 4141 and would try to help them find places at other universities.
The vice chancellor at London Metropolitan University has described claims that led to the institution losing its visa licence as "not particularly cogent" and said it would be disputing them:
I am not going to say that we accept what is stated in the letter sent to us revoking our licence.

We only received it at 8pm last night and are currently doing a full analysis, working together with the best lawyers in the country.

I would go so far as to say that UKBA has been rewriting its own guidelines on this issue and this is something which should cause concern to all universities in the UK.
– Professor Malcolm Gillies, London Metropolitan University vice chancellor
Load more updates
Back to top