Gove denies GSCE grade pressure
The Education Secretary Michael Gove has denied putting pressure on exam boards to make grading tougher. On Friday the regulator Ofqual said January's GCSE English exams were "graded generously", but the June boundaries were properly set and graded.
General Secretary of the National Union of Teachers, Christine Blower, has hit out at Education Secretary Michael Gove's response in Parliament to today's Education Questions. She said:
The Secretary of State has to accept that the situation in relation to GCSE grades in English this year is utterly unfair and unacceptable.

Now is not the time to stand on the sidelines debating the value or otherwise of GCSEs. There needs to be an independent inquiry into how pupils who would have achieved a C grade in January, got a D in June. There also needs to be an immediate regrading not re-marking of this year's English exams.

If Michael Gove fails to respond to these requests, the only option left will be to look at the possibility of legal action into this sorry state of affairs.
Education Secretary Michael Gove has denied he put any pressure on exam boards to make grades tougher in schools.
Speaking on BBC Breakfast, he said: "No, I absolutely did not put any pressure on any exam boards."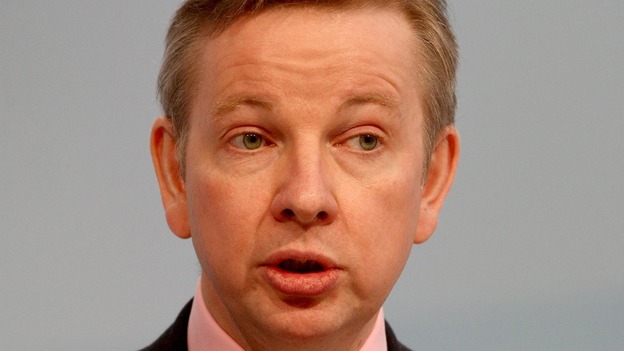 He added: "I made it clear that no pressure was put by central Government, by me or any other minister, on any exam board.
"How each exam paper is marked and how the marks are allocated is ultimately a decision for the exam boards.
"I cannot interfere in that process."
Advertisement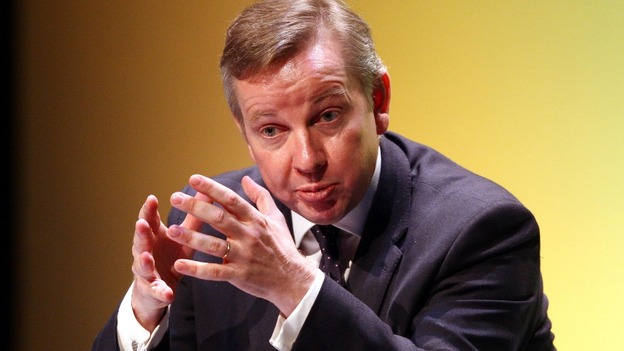 Michael Gove is facing calls to make a statement in Parliament on resolving a growing row over the grading of GCSE English exams.
Gove is due to answer scheduled education questions from MPs at 2.30pm in the Commons but Speaker John Bercow may face a request for an Urgent Question to the Education Secretary if he does not ask to make a formal statement.
Labour's education spokesman Stephen Twigg yesterday urged Mr Gove to answer questions on the row.
Speaking on Sky News, he said: "Parliament comes back tomorrow and we expect him to come to Parliament and to set out what's going to happen because there is a basic unfairness here.
"If you were assessed in January you could get a grade C. The same quality of work, maybe even slightly better work, assessed in May and you would have got a D. That cannot be right."
Kathryn James, director of policy at the National Association of Head Teachers, confirmed it is also considering legal action in an interview with the BBC Radio 4 Today programme.
I'm hoping that it will achieve some level of fairness for the pupils concerned.

We have got thousands of pupils who feel that they have been really badly treated by this system and I'm afraid that Ofqual's report hasn't helped any of them.
The row over the grading of GCSE English papers is still continuing. Here's a timeline of the key events:
2010: New GCSE English syllabuses introduced with pupils sitting an exam and submitting two pieces of coursework, under classroom supervision.
January 2012: First students begin English GCSE.
June: Majority of students complete qualification
23 August: Students in England, Wales and Northern Ireland receive their GCSEs. Proportion of GCSEs awarded at least a C falls for first time ever.
24 August: Head teachers urge Michael Gove to conduct an inquiry into this year's GCSEs.
25 August: Exams regular Ofqual says it'll look at grades again.
28 August: Association of School and College Leaders calls for students marked down in June to have grades reissued.
31 August: Ofqual publishes report saying that January's GCSE English exams were "graded generously" and that June boundaries were properly set and candidates' work properly graded.
GCSEs are becoming "insufficiently rigorous", a leading headmistress said today.
Bernice McCabe, of the North London Collegiate School, says that a "major rethink" of the qualification's content and structure is needed, suggesting that exams have become too accessible, with too many modules and structured questions.
Her comments came as North London Collegiate, an independent school catering to girls aged four to 18, came second in a new league table of private schools' GCSE results.
Increasingly, the GCSE is insufficiently rigorous, although it does depend on the subject.There does need to be a major re-think of the content of syllabuses and structure of the questions..I think where we've moved too much over the last few years is making exams too accessible, breaking down exams too much into modules, too much of an emphasis on structured questions.

Exams should focus on rigorous interesting content.
– Bernice McCabe, headmistress of the North London Collegiate School
Advertisement
The row over this year's GCSE English grade boundaries shows no signs of abating after Ofqual said the qualification would not be regraded.
The regulator admitted grade boundaries were higher in June than they were in January, but insisted it would be "inappropriate" to reconsider either of them.
Headteachers are considering today whether to mount a legal challenge over GCSE English.
Shadow Education Secretary Stephen Twigg says the Ofqual report fails to deal with the "basic unfairness" and the offer of early re-sits "doesn't go far enough".
The Association of School and College Leaders says it is weighing up its legal options after Ofqual's decision.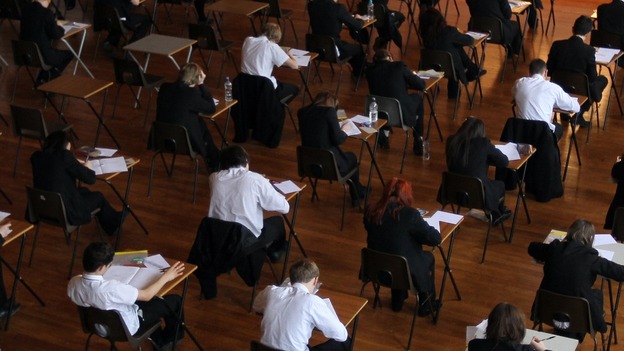 General secretary Brian Lightman said: "We would much prefer to solve this through other means. What we are seeking to do here is get justice for young people who have been badly affected by systemic failures that are not of their making.
There has been no failing in terms of teaching... It is wholly unacceptable to leave the students and their teachers to pick up the pieces of a problem they did not cause."
I am outraged that Ofqual have somehow reached the conclusion not to take adequate action to remedy this travesty. There are at least 400 young people in Leeds whose futures have been left hanging in the balance because of the unfair grading by some examination boards. The option to offer a re-sit is absolutely unacceptable and totally misses the point.
This is not an issue of standards its an issue of fairness in relation to work students have already completed. These young people who, if their GCSE papers had been submitted just six months earlier with the same mark would have been awarded a C grade, but were given a D because of changes to the grade boundaries.
– Leeds City Council
Load more updates
Back to top