Jobs blow for Obama re-election
There was a slight blow for Barack Obama's re-election hopes as a fewer than expected 96,000 jobs were created in America last month. The US President told Americans last night that the path to economic recovery may be tough.
US employment figures prove disappointing
The government's survey of employers showed hiring slowed sharply during August to 96,000, down from 141,000 in July and well below the 125,000 forecast figure.
The unemployment rate, which is derived from a separate survey of households, fell because the workforce shrank by 368,000 during the month.
The participation rate, a measure of the people employed compared to the size of the workforce, fell to 63.5 percent in August - the lowest since September 1981 - from 63.7 percent a month earlier.
A big drag on hiring came from the manufacturing sector, where payrolls dropped by 15,000.
US unemployment rate falls but less than expected
The US economy created an extra 96,000 jobs in August, fewer than expected.
It means unemployment has falled from 8.3% to 8.1%.
All eyes are on the performance of the US economy as the Presidential election campaign gears up.
Advertisement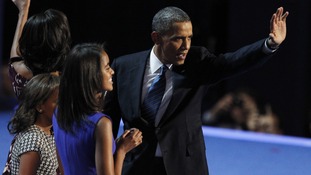 There was something strangely disappointing about Obama's speech: it was rousing but he didn't answer the questions we all want answered.
Read the full story
Barack Obama presents larger vision for a second term
Barack Obama urged wavering supporters not to give up on their dreams of change - or on him - as he accepted the Democratic Party's nomination for president.
Daybreak's special correspondent John Stapleton reports from the convention in Charlotte, North Carolina:
Obama electrifies Democrats - but needs to convince undecided voters
by Robert Moore - Washington Correspondent
Barack Obama talked about his achievements - ending the war in Iraq, drawing back on the war in Afghanistan, and about the death of Osama bin Laden.
He also talked about his other priority - building American infrastructure and investing in education.
It was an impressive performance and it electrified Democrats here, but let us also remember that he wasn't trying to reach the Democrats who will definitely vote for him - he's aiming to target those undecided voters in battleground states like Florida, Ohio, Colorado.
Twitter: Obama speech is 'record political moment' for tweets sent
A new record political moment on Twitter: @barackobama drives 52,757 Tweets per minute. Over 9 million Tweets sent about #DNC2012.
From
@gov
on Twitter:
Advertisement
Mitt Romney: 'Obama hasn't lived up to his promises'
At the 2008 #DNC, @barackobama promised Americans a better future, but it's clear he hasn't lived up to his promises.
From
@MittRomney
on Twitter:
At the 2008 #DNC, @barackobama criticized an economy with high unemployment, but today unemployment is even higher.
From
@MittRomney
on Twitter:
At the 2008 #DNC, @barackobama criticized an economy in "turmoil."After 4 years of his leadership, it's no better.
From
@MittRomney
on Twitter:
Obama mocks Romney's UK visit
One section of President Obama's speech focussed on his opponent's foreign policy, mocking Mitt Romney's gaffe-filled visit to the UK.
"You might not be ready for diplomacy with Beijing if you can't visit the Olympics without insulting our closest ally," he said.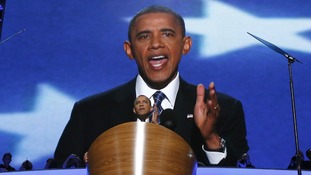 President Barack Obama formally accepted the Democratic Party's nomination for president at the Democratic National Convention.
Read the full story
Obama defends health care plan
President Obama: "No American should ever have to spend their golden years at the mercy of insurance companies."
From
@Obama2012
on Twitter:
President Obama: "I will never turn Medicare into a voucher."
From
@Obama2012
on Twitter:
Load more updates
Back to top