Pistorius sorry over blades fury
The original "Blade Runner" Oscar Pistorius has apologised for the timing of his comments about the blades used by Brazillian Alan Oliveira who beat him to the T44 200m gold last night. He claimed Oliveira had an unfair advantage.
The length of running blades used by athletes for the Paralympics is worked out using a complex formula based on the proportions of the body.
But Pistorius also competes in the able-bodied competition and if he changes the length of blades he could find himself disqualified.
Craig Spence from the International Paralympic Committee explained to Alastair Stewart that he would have to keep the same blades to compete in both.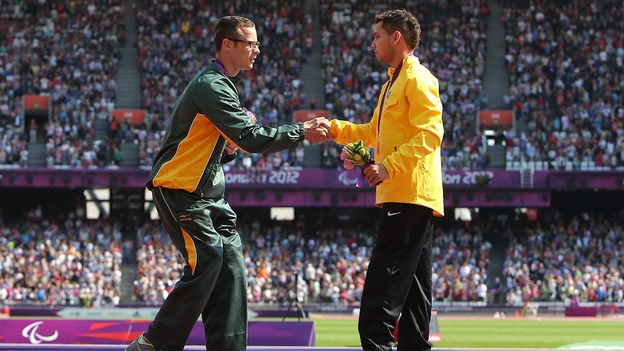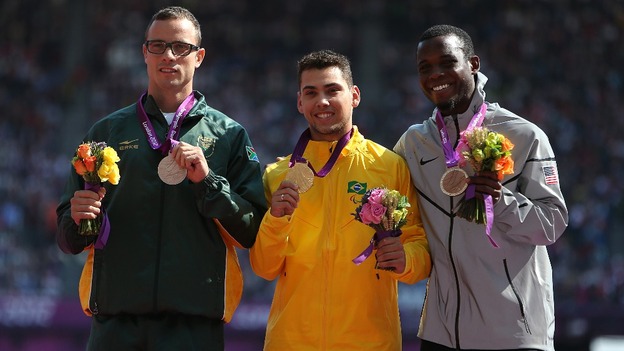 Advertisement
Team South Africa and SASCOC (South African Sports Confederation and Olympic Committee) have issued a statement welcoming Oscar Pistorius's apology for his initial reaction after the T44 200-metre track final last night:
We note and welcome Oscar's apology for anything said in haste, and we obviously fully understand that he was emotionally upset immediately after such an important event here in London.

We again congratulate Oscar on winning his silver medal on Sunday.

As always we are fully supportive of all our athletes and will engage through the official channels from the National Paralympic Committee in South Africa to the International Paralympic Committee (IPC) on any concerns that Oscar may have.
– Tubby Reddy, SASCOC Chief Executive Officer
"@bbc2012: Read Oscar Pistorius's full apology for his immediate post-race comments http://t.co/RQPjjcsf" Ah... thought he might apologise
There are rules in place with IPC Athletics whereby we measure the length of the blade prior to competition, check they're in proportion with the body and all of the athletes last night passed the test, so yes, he (Oliveira) was a legitimate winner.
– Craig Spence, International Paralympic Committee
According to analysis from The Science of Sport:
In the first 100m, Pistorius took 49 steps (2.0m per stride), with 43 steps in the straight (2.3m per stride)
However, Oliveira took shorter strides - 52 in the first 100m (1.92m each) and 46 in the second 100m (2.2m each)
Advertisement
Sport scientists have waded in to the row, pointing out that Oliveira took more steps to win the race.
So,after @oscarpistorius claims,I counted the steps. Pistorius took 92. Oliveira took 98. It's Oliveira who can't compete with OP strides
@thebomber @bglendenning ...and if Pistorius is NOT at the limit,why doesn't he increase his length by a few cm and run faster?
@thebomber @bglendenning ...all we're seeing there is an engineering race, and Pistorius just got outgunned. Welcome to the slippery slope
You can read more analysis from 'The Science of Sport' here.
In IPC Athletics rules are in place regarding prosthesis length for lower leg amputees.

Since 2010 athletes competing at IPC international competitions have been checked at regular occasions in the Call Room prior to participation.

At the London 2012 Paralympic Games all athletes competing in T42/43/44 events (above knee and below knee lower leg amputees) have had their prosthesis measured against the IPC Athletics Rules.
All athletes competing in the Men's 200m T44 final were checked by international classifiers in the Call Room ahead of the race.

All were within the regulations outlined in the IPC Athletics Classification Handbook.

After the race Oscar Pistorius requested a meeting with the IPC where he voiced his concerns.
– International Paralympic Committee
Oscar Pistorius and Alan Fonteles Oliveira are on course to go head to head again in the finals of the 100m and 400m. They take place on Thursday and Saturday respectively.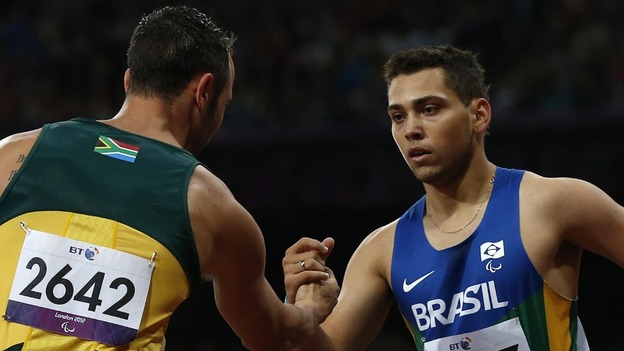 South African Paralympian Oscar Pistorius has apologised for the timing of his comments about the running blades used by T44 200 metres gold medallist Alan Oliveira immediately after last night's race.
I would never want to detract from another athlete's moment of triumph and I want to apologise for the timing of my comments after yesterday's race.

I do believe that there is an issue here and I welcome the opportunity to discuss with the IPC [International Paralympic Committee] but I accept that raising these concerns immediately as I stepped off the track was wrong.

That was Alan's moment and I would like to put on record the respect I have for him.

I am a proud Paralympian and believe in the fairness of sport. I am happy to work with the IPC who obviously share these aims.
– Oscar Pistorius
Load more updates
Back to top