A3 crash victim 'beautiful son'
The family of a teenager who died when a coach crashed on its way back from the Bestival music festival said today it had lost a "beautiful son and a beautiful person". 18-year-old Michael Molloy died when the vehicle veered off the A3 in Surrey.
New photos have been released of the scene at the A3 this morning in Surrey after a coach travelling back from Bestival crashed into a tree.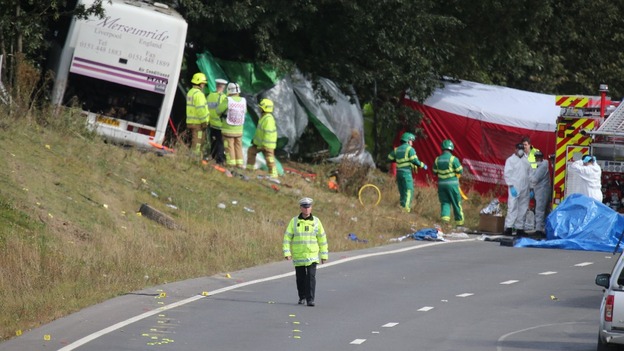 Police have reopened the A3 southbound at Hindhead Tunnel past the scene of the coach crash.
Three passengers have died while 50 are severely injured.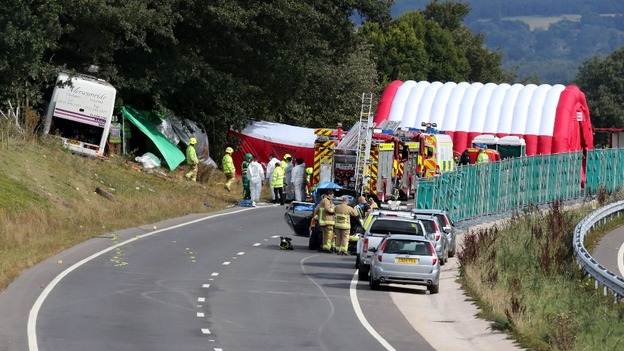 The wife of coach company owner David Hannell has said that the family are "shocked and sad."
The coach, believed to be operated by Merseypride, crashed off the A3 in Surrey late last night.
Eileen Hannell, who lives with her husband in Runcorn, Cheshire, declined to identify the driver but said he had worked for them "for quite a while".
There's nothing we can say because my husband doesn't know that much.I was coming back from holiday and he picked me up at the airport this morning and said, "I've got some sad news."

He had a phone call from the police at 2.30am and was told there were two people in hospital and three people dead."

Nothing like this has ever happened before

As soon as he heard he went into the office and was there all through the night. My husband is busy taking phone calls and trying to find out what's happening - we just don't know.It's awful.

We are all shocked and still trying to take it in. It's very sad.
– Eileen Hannell, wife of Merseypride owner David Hannell
Advertisement
The organisers of Bestival have commented on the A3 Surrey coach crash, saying: "This is devastating news, our thoughts are with the relatives of those affected by this tragic incident.
"We are currently liaising with Surrey Police to establish the facts."
by Clare Fallon: ITV News Reporter
Police investigating a coach crash in Surrey say they believe the driver of the coach was among the three people killed when the 51-seater coach crashed off the A3 near Hindhead Bridge and ploughed into a tree.
Police said all the surviving passengers were taken to hospital and that some are being treated for "life-changing injuries."
Asked for details, inspector Richard Mallett from Surrey Police said he thought some of those injured would lose limbs.
He also confirmed the standard of driving would form part of their investigation.
It is understood two of the bodies have not yet been removed from the wreckage.
Surrey Police Inspector Richard Mallett has given more details about the A3 coach crash, saying that police will study nearby CCTV footage.
Speaking on Sky News, he said:
We would be grateful for any witnesses.

We need to make sure we get the people out properly before we can broaden the investigation. We are reasonably confident that the driver is still in the vehicle.

CCTV will be looked at.

We have a couple of witnesses which we've spoken to.

It's still going to be a considerable amount of time [before all bodies can be removed.

Every survivor was taken to hospital, after that they were taken to a local reception centre, and some were taken home.
– Inspector Richard Mallett, Surrey Police
Surrey Police have confirmed that the driver of the coach that crashed on the A3 in Surrey was among those killed.
Advertisement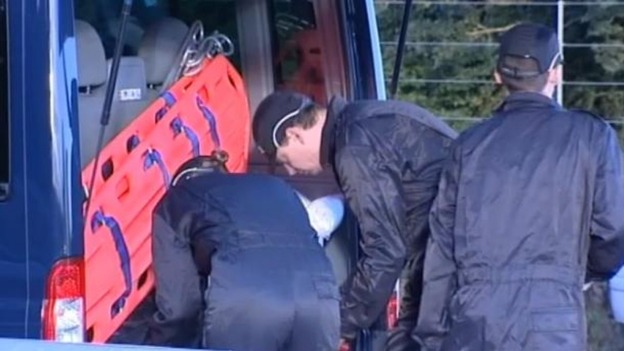 ITV Meridian has posted more footage of the scene of the Hindhead coach crash this morning.
by Richard Gaisford, Chief Correspondent, Daybreak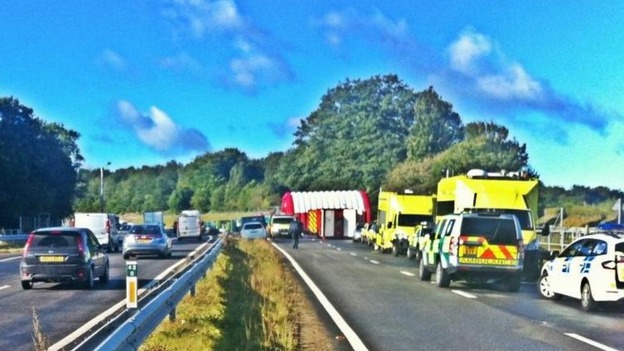 Police have reopened the A3 southbound at Hindhead Tunnel past the scene of the coach crash.
Three passengers have died while 50 are severely injured.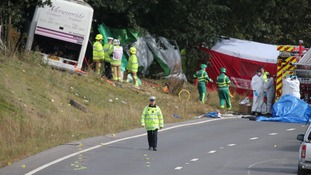 Three people have died and others seriously injured after a coach overturned after colliding with a tree on the A3 in Surrey.
Read the full story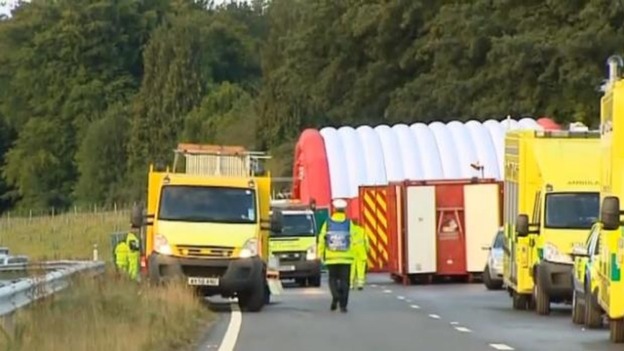 Footage from the scene of the coach crash this morning has been posted by ITV Meridian.
Load more updates
Back to top