Syrian missiles fired at Lebanon
Lebanon's state-run National News Agency is reporting that Syrian missiles fired at the border town of Arsal, inside Lebanon.
Syrian forces were believed to be chasing rebels across the border with Lebanon when they fired into the border town of Arsal.
Arsal is a predominantly Sunni Muslim town, like the majority of Syria's opposition that is trying to oust President Bashar Assad from power. Assad belongs to the minority Alawite sect, an offshoot of Shiite Islam.
Lebanese armed forces have in the past detained people in the region for trying to smuggle weapons into Syria from Lebanon.
Lebanon's state-run National News Agency is reporting that Syrian missiles fired at the border town of Arsal, inside Lebanon. Arsal resident Nayeh Izzedine said:
I heard several explosions and saw four clouds of dust billowing from the area. I don't know if it was an air raid but there was a plane in the sky."
Advertisement
Missiles fired by Syrian warplanes hit Lebanese territory, according to security officials in Beirut. Officials told the Associated Press that four missiles fired by two Syrian jets hit a rugged and remote area on the edge of the Lebanese border town of Arsal.
There were no immediate reports of casualties.
The United Nations has warned that the number of foreign fighters operating inside Syria is growing, and that there is growing evidence that they are responsible for war crimes, and crimes against humanity. Brazilian diplomat and professor Paulo Sergio Pinheiro said:
"Despite indications that the FSA had adopted a code of ethics, media reported that 21 government soldiers were summarily executed in Aleppo...they also allegedly used prisoners to detonate vehicle borne explosives and acted, in such a way, that resulted in captives deaths. "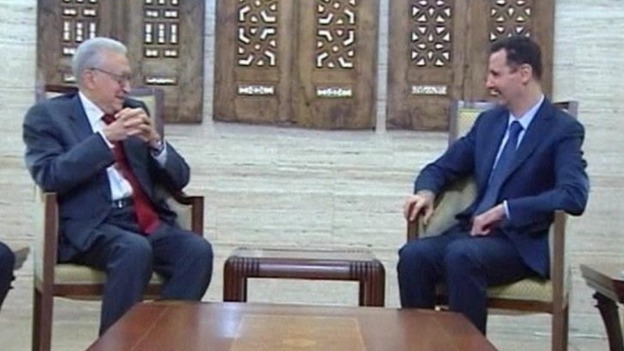 International mediator Lakhdar Brahimi has said talks with Syrian President Bashar al-Assad today were "very serious" and "terribly important" in an effort to end the country's 18-month-old conflict.
I have met with President Assad. We talked about this very serious and dangerous crisis which is becoming worse by the day . It is terribly important and urgent to address it in the proper manner. I repeat the crisis constitutes a threat on the Syrian people, on the region as a whole and on the world actually.

I think President Assad is aware more than I do the dimension of this crisis and how danger it is. I informed President Assad that we will try our best and exert all efforts to come up with ideas that will help the Syrians to get out of the ordeal.
I heard from Assad and all Syrian officials that they will help Mr. Lamani who will be based in Damascus to do his job at the best way and succeed in his task.
– International mediator Lakhdar Brahimi
Advertisement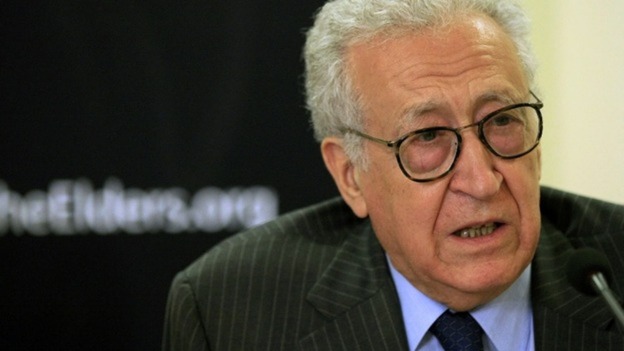 International mediator Lakhdar Brahimi met Syria's President Bashar al Assad on Saturday, state television said, to discuss efforts to end the country's 18 month old conflict which activists say has killed more than 27,000 people.
It was Brahimi's first meeting with Assad since he replaced Kofi Annan as peace envoy two weeks ago. Assad's forces and rebels seeking his overthrow have ignored appeals to end the fighting. The Syrian Observatory for Human Rights monitoring group said 160 people were killed in Syria on Friday.
Pope Benedict XIV has arrived in Lebanon with a message for peace in the Middle East. He said the Arab Spring is a 'positive cry for freedom' but it must include tolerance.
He also called for a halt to weapons imports to Syria, saying it was a "grave sin."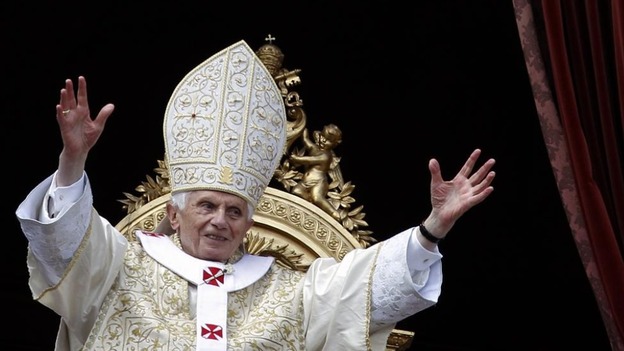 Representatives of Syria's opposition group will visit China next month, China's foreign ministry announced today.
Members of Syria's National Coordination Committee for Democratic Change will be in China from Sept 16-20. President Assad's envoy visited in August.
Both China and Russia have vetoed proposed U.N. Security Council resolutions intended to put pressure on Assad. China has repeatedly said it opposes forceful foreign intervention and called for a political solution in Syria.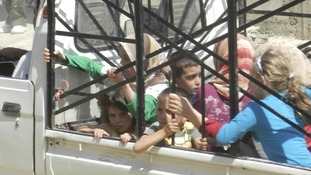 New Syrian peace envoy Lakhdar Brahimi has arrived in Damascus almost unnoticed. The violence in Libya has made his task even harder.
Read the full story
Load more updates
Back to top