Anti-Japan protests intensify
Anti-Japan demonstrations have intensified in China in response to a diplomatic dispute over the ownership of islands in the East China Sea. Major Japanese firms including Panasonic, Canon and Mitsubishi have closed their factories in the country.
Chinese protesters in Shanghai were frog-marched away from the Japanese Embassy in the city after demonstrations in the country intensified over the ownership of islands in the East China Sea.
China's Defence Minister has said he hopes a dispute with Japan over East China Sea islands claimed by both countries could be "resolved peacefully", but added Beijing reserved the right to take "further action".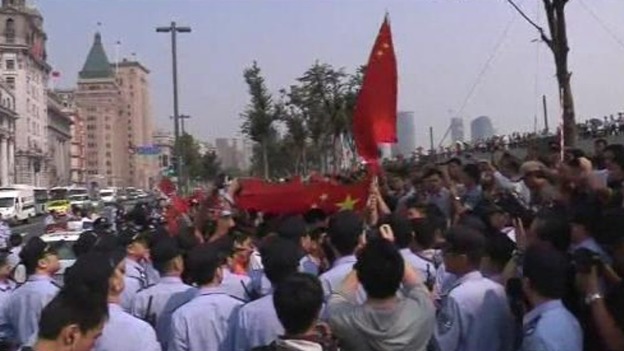 Liang Guanglie told reporters after meeting his US counterpart, Leon Panetta: "... That being said, we still hope for a peaceful and negotiated solution to this issue and we hope to work together and work well with the Japanese government properly handling this dispute".
Advertisement
Well-known Japanese companies have been targeted by Chinese protesters, over a diplomatic dispute on the ownership of islands in the East China Sea.
Several firms have halted some of their operations in the country and recalled workers, sending Japanese share prices falling and prompting a warning from credit rating agency Fitch that the situation could hurt some auto and tech firms' creditworthiness. The companies include:
Toyota Motor Corp
Honda Motor Co
Mazda
Mitsubishi Motors
Panasonic
Fast Retailing
Hitachi Construction Machinery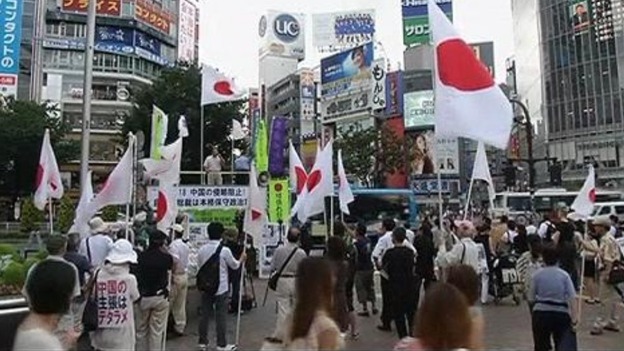 Japanese activists have been taking part in a rally over a dispute of the ownership of islands in the East China Sea. Meanwhile anti-Japan demonstrations have intensified in China in response to the government's announcement of "nationalising" the Diaoyu Islands.
The crowds have been building throughout the day getting angrier and louder. The police are trying to control the demonstrations as the government calls on protesters to be orderly and lawful.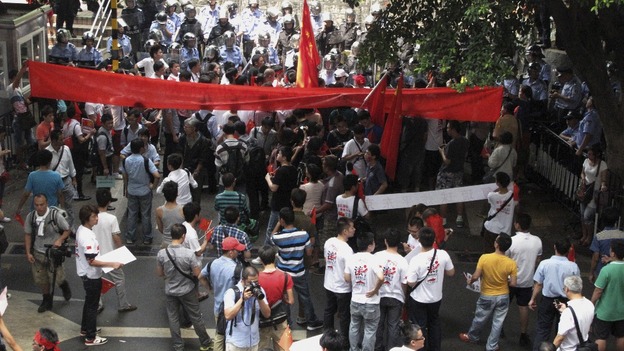 The front of the Japanese embassy is being almost continually pelted with water bottles and fruit.
Japanese journalists in a media pen close to the gates are also being targeted by the marchers, who pause as they pass by to lob more bottles and tomatoes.
It seems the police tactic is to keep the crowds moving. A massive security operation is going into its fourth day.
Hundreds of coaches lines the backstreets around the Embassy district. Lines of riot police rest in the shade eating packed lunches. Water cannon and SWAT team armoured vans are parked close by if needed.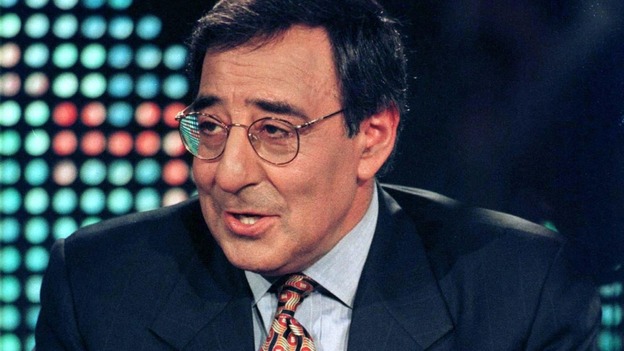 US Defence Secretary Leon Panetta reiterated a call for China and Japan for restraint in their dispute over ownership of a group of islands in the East China Sea. Panetta told reporters in Beijing:
"With respect to these current tensions, we are urging calm and restraint by all sides and encourage them to maintain open channels of communication in order to resolve these disputes diplomatically and peacefully".
Advertisement
A spokesman for China's Foreign Ministry has described the landing of two people thought to be Japanese on a group of islands claimed by both China and Japan as "gravely provocative".
The unlawful landing of the Japanese right-wingers on the Chinese territory of the Diaoyu islands was a gravely provocative action violating Chinese territorial sovereignty.

We urge Japan to take effective measures to halt all actions that exacerbate conflict.

At the same time, China retains the right to take further steps.
– Hong Lei, chinese foreign Ministry spokesman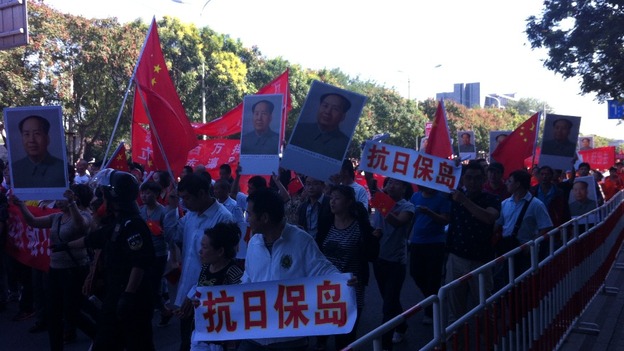 Protests outside the Japanese Embassy in Beijing are bigger and louder today after yesterday's smaller demonstrations. The whole area is being heavily policed and more roads leading to Embassy closed off.
Today is anniversary of the Japanese invasion of China in the 1930s and so a day normally marked with anti-Japan marches.
Far more people than usual have turned out today though because of what is seen as Japan's 'theft' of contested islands off the southern coast.
The Chinese government has ordered all Japanese businesses to close today for their own protection.
Chinese protesters held demonstrations outside the Japanese embassy in Beijing today to mark the 81st anniversary of the invasion of northern China.
Tensions have been rising between the two countries in recent days over the disputed ownership of a chain of gas-rich islands in the East China Sea.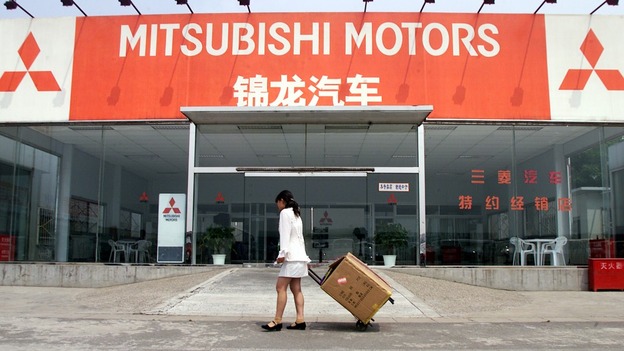 The Japanese motor firm Mitsubishi has said it will halt operations at one of its factories in China today following anti-Japanese demonstrations in the country.
Yamaha Motor Company also said it will suspend operations at four Chinese plants in Hunan and Jiangsu provinces.
There have been a number of protests in response to a diplomatic spat between China and Japan over a set of disputed islands in East China Sea.
Load more updates
Back to top