NATO scales back Afghan patrols
Joint patrols between NATO soldiers and Afghan forces are to be cut back. The move follows a string of deadly attacks where Afghanis have turned their weapons on their allies. The government insists there is no change in Government policy.
Conservative MP John Baron has responded to NATO's announcement today, during an urgent question over the situation regarding Afghanistan, saying that it "threatens to blow a hole in our stated exit strategy".
Mr Baron said the UK's strategy is "heavily reliant" on joint operations continuing until Afghan forces are able to adequately maintain a handover:
I think this announcement adds to the uncertainty as to whether Afghan forces will have the ability to keep an undefeated Taliban at bay once NATO forces have left. This goes to what the heart our mission is in Afghanistan.

There has been confusion from the start. The mission has become about nation-building, human rights and democracy. It is very different to our original mission.
Defence Secretary Philip Hammond spoke to reporters outside of Downing Street today after an announcement made by NATO regarding scaling back links with Afghan forces.
Mr Hammond said that ISAF were only seeking to make sure "appropriate measures" were put in place when partnering with the ANSF.
Advertisement
Brigadier General Günter Katz spokesperson for the International Security Assistance Forces has told ITV News that ISAF will always "assess and adopt" security measures, after announcing cutting back links with Afghan troops today.
The Ministry of Defence has responded to NATO's announcement regarding cutting back links with Afghan troops, following a wave of 'insider attacks'. A spokesperson said:
As the Defence Secretary has said, this tactical measure will have a minimal effect on our operations. COMISAF has said that partnering occurs at all levels, from Platoon to Corps. This has not changed.

We have got a strategic plan which has not changed and we are working towards an end of our combat operations by the end of 2014 and are very confident about the way that plan is being executed.
NATO's International Security Assistance Force has issued a statement to clarify how the recent violence in Afghanistan will affect the way they operate:
Recent media coverage regarding a change in ISAF's model of Security Force Assistance (SFA) to the Afghan National Security Forces is not accurate.

ISAF remains absolutely committed to partnering with, training, advising and assisting our ANSF counterparts.

The ISAF SFA model is focused at the battalion level and above, with exceptions approved by senior commanders. Partnering occurs at all levels, from Platoon to Corps. This has not changed.
UK's top military man General Sir David Richards just told our cameras there will be "no change in strategy" in Afghanistan.
Advertisement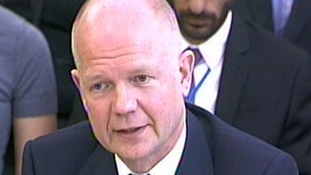 Foreign Secretary William Hague insisted today that there had been 'no change' in strategy or tactics in Afghanistan.
Read the full story
Defence Secretary Philip Hammond has been called to the House of Commons to give a statement on Nato strategy in Afghanistan, after Speaker John Bercow granted an urgent question from Conservative MP John Baron.
ITV News spoke to Defence Secretary Philip Hammond before he went to address a Foreign Affairs Committee regarding NATO's decision to cutback on links with Afghan troops after a spate of 'insider attacks'.
Former Foreign Secretary under Tony Blair, David Miliband has posted a message on his Twitter account, following the announcement of 'scaling back' links with Afghan troops:
Tragedy it takes UK deaths to get debate on Afghanistan. How many more before Govt advocate independently mediated political negotiations?
Load more updates
Back to top