BAE merger deal called off
Major defence firms BAE and EADS are blaming politicians for the collapse of their £25bn merger deal.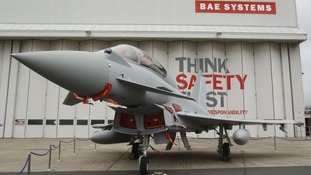 Defence manufacturer BAE Systems says it has called off discussions on its proposed merger with EADS
Advertisement
Defence Secretary Philip Hammond said the government is waiting for an announcement on the proposed BAE-EADS merger deal.
He told Reuters:
We are waiting for an announcement from the companies - the companies are dealing with it now.

They had a board meeting yesterday afternoon and evening. We are waiting to hear their announcement which I understand has to come today.

It is not for me to say who is doing what - it is the companies that now have the decision in their hands.
The UK's defence minister said the government is still waiting for an announcement from BAE and EADS on their proposed merger, adding the decision is "in the companies' hands", Reuters reported.
Sources confirm that the BAE-EADS deal is not going ahead.
One defence expert tells me this will eventually mean BAE has to cut more jobs.
I'm expecting the companies to confirm the BAE-EADS deal is off. If so - and it is still if - what next for BAE?
Advertisement
Announcement on the BAE-EADS merger is coming soon.
As the clock ticks down to the deadline the boards of BAE and EADS are meeting again this morning.
I am told the deal is "not looking great", but conversations are still going on with politicians, particularly Germany's playing a big part.
In theory, the announcement to extend the talks or ditch the deal could come as late as five this afternoon.
But it seems more likely the companies will let the rest of the world know their conclusions some time before that.
Sources close to the deal say the talks continue if only to stop German Chancellor Angela Merkel from getting a new title: "U-Boat commander of the biggest torpedo since Lusitania".
There is still no movement on the BAE-EADS merger. There is no plan for an update so far before 5pm deadline.
I'm told the only thing to come out of talks overnight is "bleary eyes." Germany's "institutional paranoia" said to be the main obstacle.
Load more updates
Back to top