Romney videos dent campaign
Republican Presidential candidate Mitt Romney has stood by a secretly filmed video in which he describes Obama voters as 'victims' and 'dependent' on government. He said the President's campaign was 'attractive to people who are not paying taxes.'
American political journal Mother Jones has released more secretly filmed footage of Mitt Romney at a private fundraiser held on May 17. During the conversation the Republican presidential candidate was asked about his views on resolving the conflict in the Middle East.
Romney said he did not see any real possibility for peace in area, as Palestinians "have no interest whatsoever in establishing peace."
"I look at the Palestinians not wanting to see peace anyway, for political purposes, committed to the destruction and elimination of Israel, and these thorny issues, and I say there's just no way
"So what you do is, you say, you move things along the best way you can. You hope for some degree of stability, but you recognize that this is going to remain an unsolved problem…and we kick the ball down the field and hope that ultimately, somehow, something will happen and resolve it."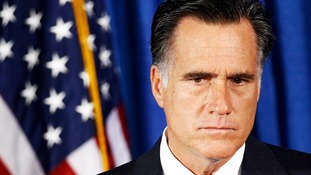 Republican Presidential candidate Mitt Romney has made a third, potentially fatal, gaffe. Has he handed Obama the election? Not quite.
Read the full story
Advertisement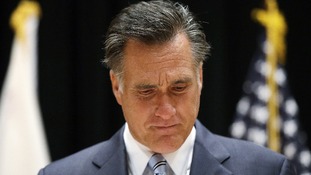 Mitt Romney has confirmed a secretly filmed video of him describing Obama supporters as scroungers who pay no income tax is authentic.
Read the full story
US presidential candidate Mitt Romney has justified comments he made about Obama supporters in a secretly-filmed video at a fundraising event.
Mr Romney said that he had been speaking about his strategy for winning the election in a more candid way than usual because of the select audience at the private event, but that he stood by everything he had said.
In the video, Mr Romney suggests that he will never convince the 47% of the country who do not pay income tax to support him, and that this group of voters naturally support President Obama.
The Republican candidate for the US presidency Mitt Romney has been secretly filmed describing Obama supporters as scroungers who pay no income tax.
According to the US news website Mother Jones, the video shows Mr Romney speaking at a private fundraising event after he had secured the Republican nomination.
ITV News cannot independently verify the veracity of the footage, which has been obscured to protect the identity of the anonymous donor.
Mr Romney is going head-to-head with the incumbent President Barack Obama in November's general election.
Advertisement
Back to top