Clegg 'sorry' song to be released
The Deputy Prime Minister has allowed a satirical site to release an auto-tune musical version of his apology over his pledge to oppose an increase in student tuition fees after it went viral. All proceeds will got the Sheffield Children's Hospital
'We shouldn't have made fees pledge governing alone'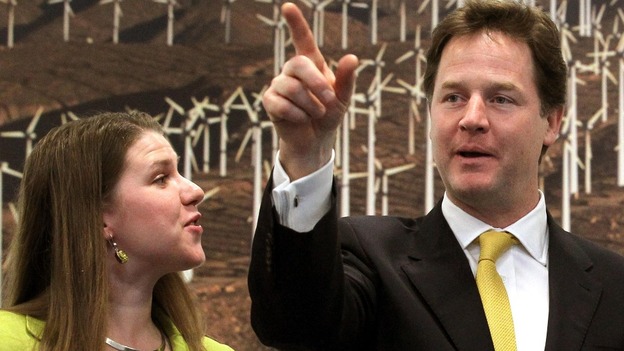 Scottish Lib Dem MP Jo Swinson has responded to an apology made by the Deputy Prime Minister over pledges to scrap tuition fees. Ms Swinson said the party's mistake had been to make a pledge they could only keep if governing alone. She told Sky News:
"The problem with this particular pledge, and what made it different, was it committed us to vote in a particular way regardless of what happened with the election result. That's what we should not have done."
Sheffield Children's Trust thanks Clegg for 'sorry' single
Sheffield Children's NHS Foundation Trust has responded to the Deputy Prime Minister's pledge to donate all proceedings from a spoof single to be released to their charity. Nick Clegg gave permission for a satirical site to release a remix of the apology as a single.
Advertisement
Lib Dem MP: Clegg's apology 'took courage'
Liberal Democrat MP Greg Mulholland has welcomed an apology from his party leader over his pledge to reduce tuition fees. Mr Mulholland was one of 21 Liberal Democrat MPs who defied party whips to vote against the rise in tuition fees in the Commons. He said:
I welcome Nick's apology for what was a mistake. This took courage and I hope people give him credit for saying that publicly.

Let's be clear that what we now have is basically a capped graduate tax, which is fairer and more progressive than Labour's upfront fees.

The real tragedy was failing to implement this properly, with no fees, which would have meant no breaking of the NUS pledge.
Clegg found 'I'm sorry' song remix very funny
by Alex Forrest - Political Correspondent
I am told by a source close to Nick Clegg that he found the remix of 'I'm sorry' very funny.
And he is happy it gets message out too as well as helping a charity.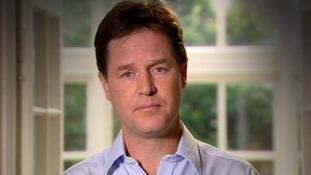 Nick Clegg has allowed a satirical site to release a musical version of his apology over his pledge to oppose an increase in tuition fees
Read the full story
Satirical site 'stunned' by Clegg 'sorry' song response
A satrical site responsible for creating an auto-tune remix of the Deputy Prime Minister's tuition fees apology has responded after Nick Clegg granted them permission to release it as a single with the profits going to charity:
Hey @simoncowell Can you give us a ring? We have a very talented political rapper on our books...brilliant debut single all ready to go...
From
@ThePoke
on Twitter:
Advertisement
Clegg grants satirical site permission to release auto-tune 'sorry' song
The Deputy Prime Minister Nick Clegg has allowed the satirical site the Poke to release an auto-tune musical version of his apology over his pledge to oppose an increase in student tuition fees after it went viral.
All proceeds will got the Sheffield Children's Hospital:
Different versions of Clegg 'sorry' parodies emerge
A number of parodies depicting the Deputy Prime Minister's apology over pledging to reduce tuition fees have emerged on YouTube. Among the videos include:
Report: Lib Dems 'hopeful' Clegg sorry song will get permission to be released
Senior Lib Dem sources have told The Sun political correspondent Craig Woodhouse they are "hopeful" the request from the satirical site The Poke to release their auto-tune remix of the Deputy Prime Minister's tuition fees apology:
Sources @libdems say the Nick Clegg remix will "hopefully" get the green light for release on iTunes. A cunning plan all along?
From
@craigawoodhouse
on Twitter:
Satrical site wants to release Clegg apology song
A satrical site, which parodies current news and is responsible for creating an auto-tune remix of the Deputy Prime Minister's tuition fees apology, has asked to release the Lib Dems for permission to release the song as a single:
Load more updates
Back to top