Rebels 'take Syria border posts'
Syrian rebels seized their third border crossing with Turkey today, officials have said, after fierce battles with government troops overnight.
Iran has been using civilian aircraft to fly military personnel and large quantities of weapons across Iraqi airspace to Syria to aid President Bashar Assad, according to a Western intelligence report seen by Reuters.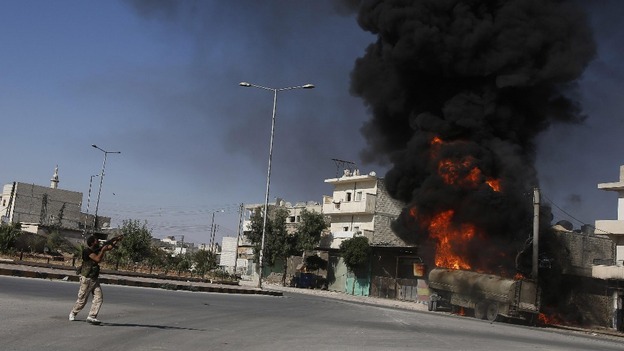 Iraq says it does not allow the passage of any weapons through its airspace. But the intelligence report was reported to have said Iranian weapons have been flowing into Syria via Iraq in large quantities. Such transfers, the report says, are organized by the Islamic Revolutionary Guard Corps.
The Syrian government and opposition groups said that soldiers have raided a Palestinian refugee camp where Syrians from Damascus and its suburbs have been sheltering. According to the Associated Press, soldiers arrested dozens of people in a sweeping operation.
Syrian TV said an army unit conducted a "special operation" during which about 100 gunmen were captured in the Palestinian refugee camps of Yarmouk and Palestine in Damascus.
The Local Co-ordination Committees activist network reported gunfire and several casualties that accompanied the raid.
Advertisement
Syrian state television says a military helicopter has crashed near Damascus. Locals say it came down near Douma after a MiG jet and helicopter flew low over the area.
There are many explosions in Damascus, some heavy. The Syrian army is bombarding southern suburbs including Hajar al Aswad. Half a dozen smoke plumes are rising.
Syrian state television has said a helicopter has crashed in the town of Douma east of the Syrian capital Damascus today, Reuters reported.
Two massive explosions went off around Aleppo today, as Amnesty International accused the Syrian government of carrying out indiscriminate bombings and artillery strikes on residential areas aimed at punishing civilians seen as sympathetic to rebel forces.
Video posted by anti-Assad group Sham News Network, that cannot be independently verified, shows the aftermath of a bomb on a market near Aleppo. Activists say at least 23,000 people have died in the 18-month conflict.
Advertisement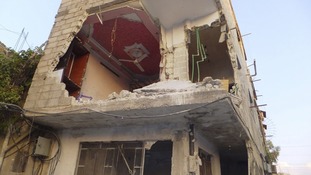 Human rights groups say 4000 civilians died last month as a result of President Assad's indiscriminate bombings.
Read the full story
Syrian rebels seized their third border crossing with Turkey today, officials have said, after fierce battles with government troops overnight.
Television footage showed a rebel tearing down the Syrian flag on top of what appeared to be a customs building at the Tel Abyad frontier gate.
Syrian rebels have taken "full control" of Syria's Tel Abyad crossing on the Turkish border, a Turkish official told Reuters.
Sporadic gunfire could be heard and black smoke rose from parts of what appeared to be a customs building.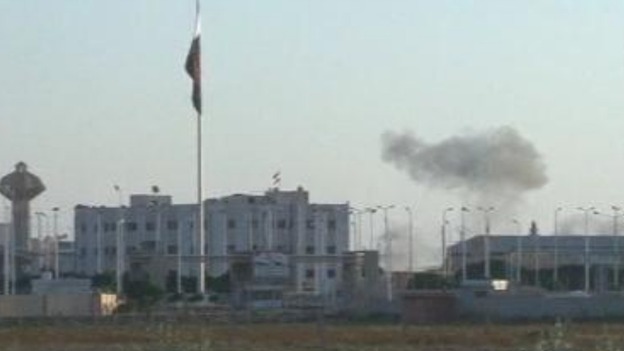 Iraqi security officials and the mayor of Iraqi frontier town al-Qaim have told Reuters that Syrian jets have bombed the town of Albu Kamal near the Iraqi border today. The two towns are metres away from each other on the banks of the River Euphrates.
Load more updates
Back to top