Soldier has baby in Afghanistan
A British servicewoman has given birth to a son at Camp Bastion while on duty in Afghanistan having not realised she was pregnant. The Royal Artillery gunner only knew she was about to give birth after complaining of stomach pains
Lieutenant Colonel Andrea Lewis, the commanding officer of the field hospital at Camp Bastion, has said that his staff "adapted brilliantly" to the completely unexpected task of delivering a child. He told the Daily Mail:
This is a unique occurrence, but my team is well-rehearsed in the unexpected and they adapted brilliantly to this situation.

I am pleased to report the mother and baby are doing well and we are all delighted at the outcome.
– Lieutenant Colonel Andrea Lewis
An Army Major who edits the British Army handbook said that the birth of a child at Camp Bastion raises questions about pre-deployment testing. Major Charles Heyman told the Daily Mail:
Commanders need to start thinking very, very carefully about what sort of medical examinations female soldiers have before they deploy on operations.

A simple urine test would indicate if someone was pregnant. The Army now needs to tighten up its procedures.
– Major Charles Heyman
Advertisement
The Daily Mail has reported that the British servicewoman who gave birth at Camp Bastion on Tuesday underwent rigorous pre-deployment training while she was pregnant.
The training includes an eight-mile march and five-mile run.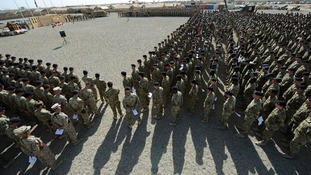 A British servicewoman has given birth to a son at Camp Bastion while serving in Afghanistan, the Ministry of Defence has confirmed.
Read the full story
Back to top