Lib Dem conference: Day two
Deputy Prime Minister Nick Clegg has insisted he will re-double efforts to push for taxes targeting the wealthy as he starts a fightback against low personal popularity levels.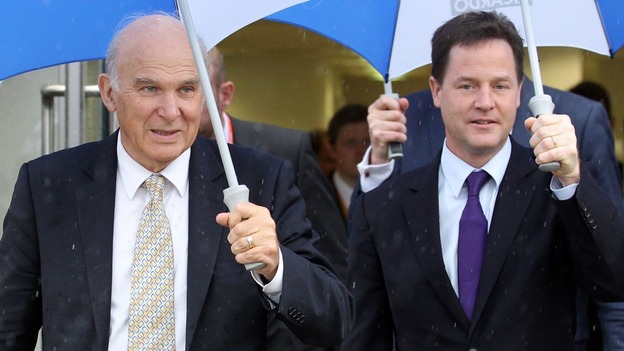 An opinion poll found the Liberal Democrats were more likely to win back voters lost since the 2010 election if Mr Cable replaced Nick Clegg as leader.
According to an Ipsos/MORI survey, Mr Clegg remains marginally the more popular among those who say they will back the party in 2015 by 21% to 19%.
But of all those who did so in 2010, Mr Cable (29%) is considered more than twice as attractive as Mr Clegg (13%).
Among voters as a whole he is also twice as likely to win a Lib Dem vote by 12% to 6%.
That rises to 15% among Labour voters compared with 4% for Mr Clegg.
Ipsos/MORI interviewed a representative sample of 1,006 adults across Britain by telephone between September 15-17.
Nick Clegg said he was happy for the auto tuned remix of his apology for making and breaking a pledge to scrap tuition fees to be released as a single, as he thought it was "a very catchy tune". He told ITV1 's Daybreak:
I was amazed at how quickly they made it. I seen the song the day after the speech was released, and it does have a very catchy tune. They asked me could they release it and I said yes as long as the money can go to charity....so it is a silver lining in that way
Advertisement
Deputy Prime Minister Nick Clegg has told Daybreak that it is fair to tax the rich and wealthy.
Liberal Democrat leader Nick Clegg told ITV1 Daybreak:
We think that those at the top should pay more.

A simple way this can happen in on those with properties worth more than £2 million.

They should not be paying the same council tax as everyone else.

They can afford to pay more...This is not the politics of envy.

This is not just about putting up taxes at the top, it is about putting taxes down.
Business Secretary Vince Cable has given a bleak assessment of the crisis in the eurozone, warning of a "real risk" the single currency could collapse.
The consequences of the disintegration of the eurozone would be "too awful to contemplate", with soaring unemployment and the reappearance of nationalism on the continent.
Speaking at a fringe event at the party's conference in Brighto, Mr Cable said public opinion in Germany may prevent the radical integration needed to bolster the weaker southern European states.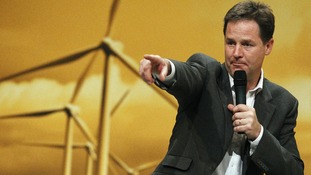 The Liberal Democrats unveiled plans for young people to be able to use grandparent's pensions to get onto the property ladder
Read the full story
Advertisement
Deputy Prime Minister Nick Clegg during a question and answer session at the Liberal Democrat Annual Conference in Brighton.
He was asked how he can restore confidence back to voters after not breaking promises.
The Liberal Democrats have backed calls urging the coalition Government to give the Independent Police Complaints Commission (IPCC) stronger powers to help "restore the trust" between police forces and the public.
Members at the party's autumn conference in Brighton voted overwhelmingly in favour of a motion noting the IPCC's "increasing difficulties" in investigating police officers and police staff who refuse to be interviewed about complaints.
Lib Dem councillor Duwayne Brooks (Lewisham and North Beckenham) said some investigations into deaths and serious injury drag on for months:
Its independence is being questioned as many of the investigators are still former police officers while its ability to recommend action against private contractor staff is non-existent.

In my opinion, any police officer or staff member, subject of an investigation into a death or serious injury, should be duty-bound to give an account and should be required to attend an interview to answer questions, both as a matter of professional duty and of common humanity.
A senior member of Ed Miliband's shadow cabinet said today the Liberal Democrats' influence on the coalition Government had been "benign".
Jon Cruddas, who was appointed in May to oversee Labour's policy review, was speaking at a fringe event at the Lib Dem autumn conference in Brighton:
I think the effect of the Lib Dems in the government has been a benign force in terms of checking some of the worst elements in the Conservative Party.

I hold a Labour ticket. I don't think they hold a monopoly on wisdom.

There is a long list of prospective policy areas where I think if we could work together in the national interest that is good.

The future will be plural and I welcome that.
Nick Clegg's question and answer session is over. He was quizzed on the Leveson report, responding that as long as his recommendations are workable, they should be implemented.
He also faced questions on the economy, welfare, nuclear power and HS2.
Here are some of the comments on Twitter:
Nick Clegg in Q&A - still committed to greenest govt ever. #libdems
Nick Clegg finishing his Q&A session on austerity and investment. "£10bn more put into affordable housing".
I'd like whatever @nick_clegg has had for breakfast. The man was very fired up in that Q+A.
Load more updates
Back to top