Clegg defends Lib Dem vision
Deputy Prime Minister Nick Clegg has defended his leadership of the Liberal Democrats during an interview with ITV News' Tom Bradby at the party conference in Brighton.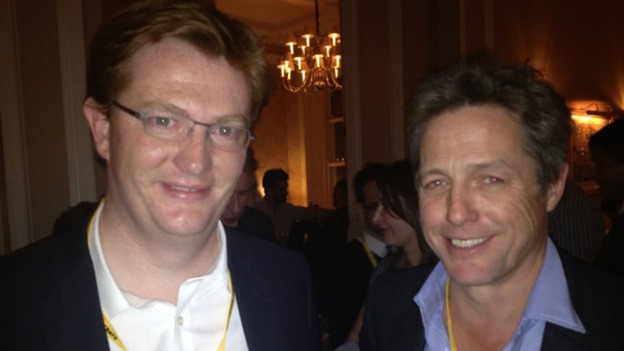 Hugh Grant was seen attending the Liberal Democrats conference yesterday, the latest in a list of celebrities including Steve Coogan who have met Nick Clegg as part of the Hacked Off campaign.
The entrepreneur Lord Sugar has hit out at the Liberal Democrat leader Nick Clegg for suggesting that he should be stripped of his bus pass.
He posted on Twitter:
The twit Nick Clegg moaning about me having a bus pass. Idiot I haven't got one http://t.co/ZN9pxUvJ .
I wonder if Nick Clegg rich wife will take her bus pass when she becomes of age ,and if he will take his EU pension. The man is embaresment
Mr Clegg had said that, in his view, pensioners should be stripped of universal benefits such as free bus passes and winter fuel payments.
He said: "We are giving free bus passes and TV licences and winter fuel payments to Alan Sugar ... while limiting housing benefit to families on much lower incomes."
Advertisement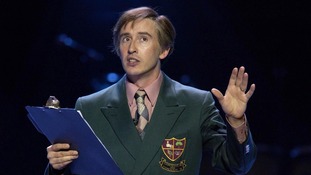 The actor Steve Coogan discussed the issue of press regulation with the Deputy Prime Minister at the Liberal Democrat conference today.
Read the full story
The latest Index poll by ComRes for ITV News reveals that Deputy Prime Minister Nick Clegg is the least trusted of our leaders to see the country through the economic downturn.
Some 65% of the population said they did not trust him with the economy.
We asked: Do you, or would you, trust each of the following politicians to see the country through the current economic situation?
David Cameron - Yes: 34% No: 50%
Ed Miliband - Yes: 20% No: 56%
George Osborne - Yes: 19% No: 58%
Ed Balls - Yes: 16% No: 59%
Nick Clegg - Yes: 16% No: 65%
ComRes interviewed 2,035 adults online from 21st to 23rd September 2012.
Deputy Prime Minister Nick Clegg has defended his leadership of the Liberal Democrats, after recent polls revealed the Business Secretary Vince Cable would be a more popular leader.
Mr Clegg told ITV News' Political Editor,Tom Bradby: "We're at the most difficult point of the journey. As long as you're clear about the destination. What you don't do, is flinch and bail out."
The Liberal Democrat's leadership suffered a damaging defeat at their Brighton conference today when party activists voted to ditch legislation which would introduce secret hearings in court.
Advertisement
Deputy Prime Minister Nick Clegg has defended his leadership of the Liberal Democrats.
He told Channel 5 News:
" We are in the middle of a very difficult journey.
" I am not going to flinch or bail out, just when that journey becomes particularly difficult."
He also said he was "absolutely determined" to lead the party through the next General Election and beyond.
Treasury Secretary Danny Alexander has pledged to continue to argue against legal tax-dodging by wealthy companies and individuals and for the mansion tax. He told delegates at the Liberal Democrat conference:
"In this country we tax work, effort income too highly and unearned work too much, and unearned wealth far too little. Now you can move your money off shore but you can't move your mansion. That is why we want a tax on mansions. It is simple, it is fair and unavoidable."
Mayor of London Boris Johnson said it would have been common sense for police to have arrested Chief Whip Andrew Mitchell after his tirade against police officers in Downing Street.
In my book you shouldn't abuse police officers and I've made that clear loads of times. The crucial thing for me is that Andrew Mitchell has now apologised not just once but twice. He's also apologised to the police officer concerned and that underscores how wrong it is for any us to abuse police officers.
If I read the papers correctly there was a proposal to arrest Mr Mitchell for what he said. That seems to be wholly common-sensical. The public order act does allow for police officers' discretion in this matter. They've obviously decided not to go ahead with it. But it shows the gravity of this offence.
During his speech to the Liberal Democrat conference Danny Alexander warned: "We are coming to get you and you will pay your fair share." Scared?
He also called again for Lib Dem flagship policy - a mansion tax - and that "we will continue to argue for it"
Load more updates
Back to top