'Business bank' to boost lending
A new "business bank" is being set up to boost lending to small and medium-sized firms, the Business Secretary Vince Cable has announced to delegates at the Lib Dem party conference.
Vince Cable explains how the new state-run business bank will help small businesses get back on track, while ITV News Political Correspondent Alex Forrest examines the reaction to the Business Secretary's plans from a small firm's perspective.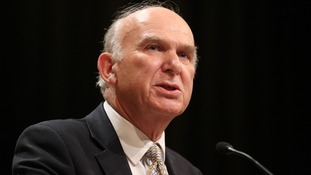 Now the Business Secretary has spoken we still don't have much more detail on how the bank of Vince would actually work in practice.
Read the full story
Advertisement
Vince Cable's plans for a business bank in the UK have been labelled "risky and incoherent" by the Institute of Economic Affairs. Mark Littlewood, Director General said:
The government should not be taking the risks from business lending that banks are not willing to bear themselves.

Cable's government-backed business bank is designed to deal with the problems of small business credit that have arisen since the financial crisis. However, the bank is unlikely to be up and running until seven years after the early events of the crash and so it is unlikely to have any impact on the short-term problems faced by businesses as a result of those events.
Liberal Democrat leader Nick Clegg and his Business Secretary Vince Cable presented a united front and a new policy idea at the party conference this morning. Vince Cable said:
"We need a new British business bank with a clean balance sheet and an ability to extend lending rapidly to the manufacturers, the exporters, the high growth companies that power our economy and I can announce to you today that we have one." ITV Political Correspondent Alex Forrest reports:
Labour's Shadow Business Secretary Chuka Ummunna criticised Vince Cable's plans for a business bank in the UK, saying it was unlikely to happen because the Treasury do not back the idea. He said:
Vince Cable will not be able to set up a business bank without the unequivocal backing of George Osborne, and already the Treasury is briefing that this bank is a non-starter. This is yet another Government policy thrown into uncertainty by bickering in Government before it has even got off the ground.
The Director General of the British Chambers of Commerce welcomed Vince Cable's plans for a business bank for the UK. John Longworth said:
The business bank announced by Vince Cable could be one of the lasting legacies of this government, and a key pillar of UK competitiveness in the years to come. While a £1bn commitment is an important first step, Whitehall must ensure that the business bank gets off the ground with an independent mandate and a mission to support growing companies.
Vince Cable has listened to business' plea for greater long-term thinking in policy-making, and has set out some sensible steps that could help to improve the business environment in the UK. His proposals around industrial strategy could help move Britain toward a new model economy.
Advertisement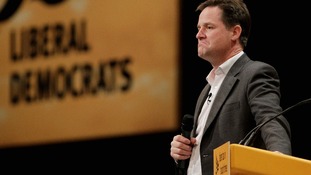 Nick Clegg's poor decision making has left the public baffled as to the role of his party in government. But he is not finished yet.
Read the full story
Responding to plans announced by the Business Secretary for a new state investment bank, TUC General Secretary Brendan Barber said:
The new state investment bank should provide much needed support for businesses to grow and create jobs. It's a shame that so many businesses have gone to the wall in the two years it's taken the government to agree to the scheme
Ministers claim that a £1 billion investment could support £10 billion of business lending. But with the UK trapped in double dip recession, this is nowhere near enough to deal with the scale of our economic crisis.

If this bank is as good as ministers claim it will be, they should give it the backing it deserves and vastly increase its funds. Multiplying the government's stake tenfold could support £100 billion of additional lending. This is the level of support businesses really need.
The Director-General of the CBI, John Cridland, welcomed the government's new business bank, but said it was vital the bank was up and running as quickly as possible.
By bringing together all existing support into a one-stop shop, and by increasing the supply of capital to firms that want to grow long-term, the business bank has the potential to support lending and help small and medium-sized businesses to grow.

The bank could also play a vital role in packaging up and selling debt from medium-sized companies, allowing them to access vital finance streams.

The Government must now work swiftly to gets the bank up and running so that it can start helping small and medium-sized businesses as quickly as possible.
Small businesses on the verge of expansion say their potential is being stifled by banks' refusal to lend, according to a new study by Funding Circle:
Business leaders reported they would hire more than 500,000 more staff if they could get more cash from high street banks. Funding Circle CEO Semir Desai said:
With the right support, these frustrated businesses could be the future drivers of our economy, with the ripples of job creation being felt throughout UK industry. Not only would the economy feel the direct impact of a boost in employment, but a quarter would also use finance to increase stock, supporting businesses throughout their supply chain.

Instead, they risk becoming a lost generation of "Caged Tigers" stifled by a lack of business finance.
Load more updates
Back to top