'Blood on UN hands' over Syria
The hands of the UN are stained with blood due to its failure to stop the atrocities of the Assad regime in Syria, Prime Minister David Cameron told the General Assembly today.
David Cameron delivers stark message to UN on Syria
by Libby Wiener - Political Correspondent
A terrible stain on the UN's reputation - that was David Cameron's stark message on Syria tonight, in a speech to the General Assembly in New York.
He pointed the finger at those, notably Russia, who have blocked action in the Security Council, suggesting they have the blood of children on their hands.
For those who fear that the Arab Spring may turn into an Arab Winter, he insisted there has been progress and there could be no turning back.
Propping up tyrants did not bring stability to the region. Only by seeing the back of President Bashar al-Assad, can there be progress in Syria.
Cameron's plea to 'keep faith' in the Arab Spring
The main theme of David Cameron's speech was to continue the progress of the Arab Spring, which he described as a "precious opportunity for people to realise their aspirations".
"Today is not the time to turn back - but to keep the faith and redouble our support for open societies, and for people's demands for a job and a voice," he said.
He also urged the General Assembly to "judge governments not by their religion - but by how they act and what they do". He was, in particular, speaking of recently-elected Islamist governments.
Advertisement
Cameron: Britain ready to work with Egypt's government
David Cameron has said Britain is ready to work with Egypt's recently-elected Islamist government, but he stressed it would be judged on issues such as its treatment of women and Christian minorities.
He said that he was preparing a British taskforce to follow the financial assets of members of the former Egyptian regime and "to trace this stolen money to its rightful owner - the Egyptian people".
Cameron pays tribute to killed US ambassador
The Prime Minister called the killing of the US Ambassador to Libya, Chris Stevens, earlier this month a "despicable act of terrorism".
He said: "The right response is to finish the work Chris Stevens gave his life to. And that's what the vast majority of Libyans want too."
Cameron: UN has Syrian blood on its hands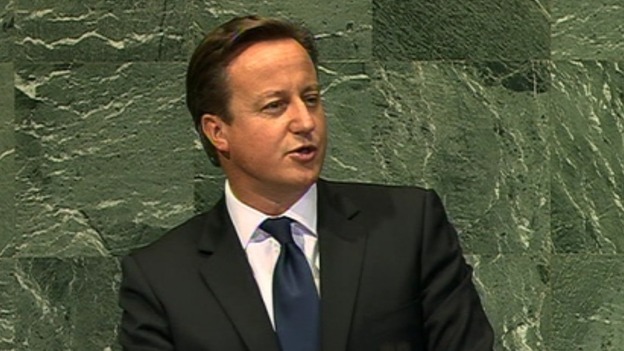 The hands of the UN are stained with blood due to its failure to stop the atrocities of the Assad regime in Syria, Prime Minister David Cameron told the General Assembly today.
He cited a recent Save the Children report documenting the torture and murder of children by regime forces in Syria, saying: "The blood of these young children is a terrible stain on the reputation of this United Nations.
"And in particular, a stain on those who have failed to stand up to these atrocities and in some cases aided and abetted Assad's reign of terror."
Cameron meets Afghan and Pakistani leaders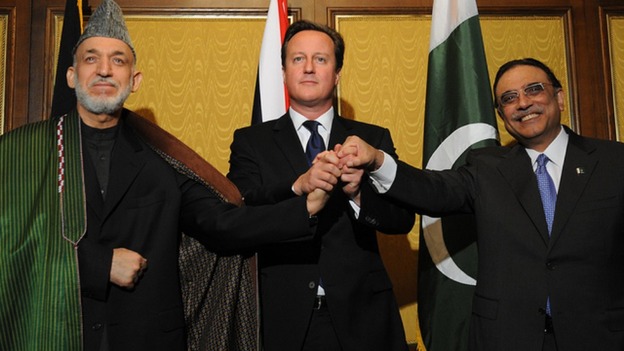 The Prime Minister held a number bilateral meetings with other world leaders today, ahead of his speech to the UN General Assembly.
They included his first meeting with Egypt's new president, Mohamed Mursi, and with the Afghan and Pakistan presidents (pictured above).
Advertisement
Cameron to announce increase in aid to Syria
The Prime Minister is expected to announce that the UK will increase its humanitarian aid to Syria by £8 million when he delivers a speech to the UN General Assembly today.
Earlier, the International Development Secretary Justine Greening said:
Britain has played a leading role amongst the 33 countries directly supporting the people of Syria ...

The £8 million in new funding announced today brings total UK support to date to £38.5 million.
– justine greening, International Development Secretary

The new money is to be split between theUN children's agency Unicef and the UN'scentral response plan.
Protesters lampoon Syrian and Iranian leaders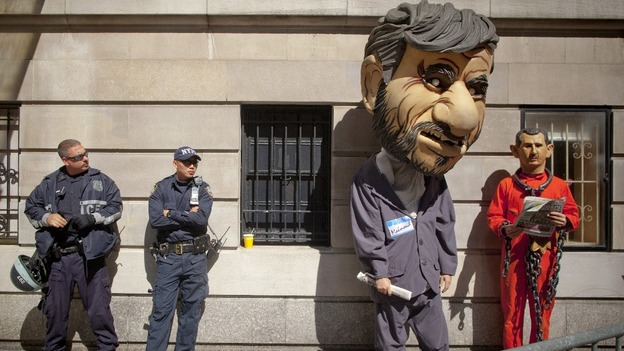 Protesters, dressed here as Iranian President Mahmoud Ahmadinejad (2nd right) and Syrian President Bashar al-Assad (right), staged demonstrations near the UN building in New York.
They are protesting against these nations' membership of the General Assembly, which is holding its annual meeting.
Egypt opposes military intervention in Syria, says new president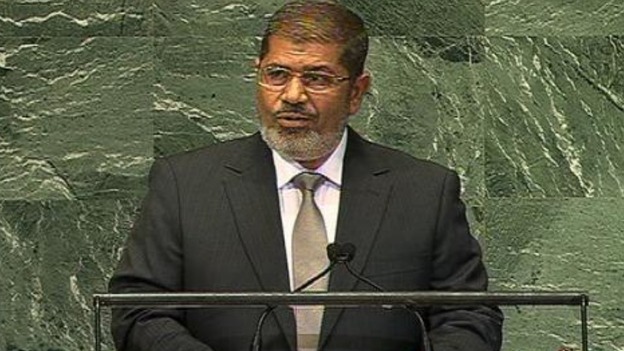 Egypt opposes foreign military intervention to stop the civil war in Syria and prefers an inclusive, negotiated settlement, Egypt's new Islamist president, Mohamed Mursi, said today.
"Egypt is committed to pursue the sincere efforts it has been exerting to put an end to the catastrophe in Syria, within an Arab, regional and international framework," Mursi said in his first speech at the U.N. General Assembly.
"One that preserves the unity of this brotherly state, involves all factions of the Syrian people without racial, religious or sectarian discrimination and spares Syria the dangers of foreign military intervention that we oppose."
Ahmadinejad: Iran forced to resort to military action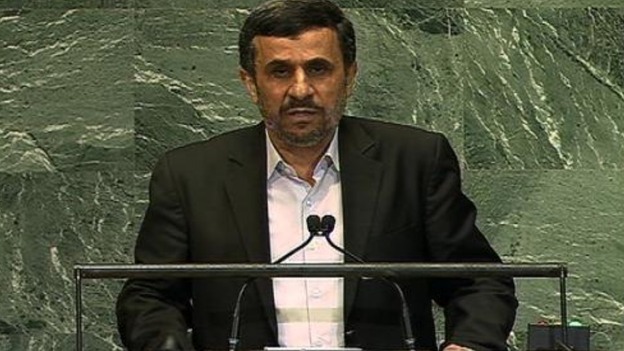 Iran's President Ahmadinejad has said that his country is under "continued threat by the uncivilized Zionists to resort to military action".
Load more updates
Back to top