'Blood on UN hands' over Syria
The hands of the UN are stained with blood due to its failure to stop the atrocities of the Assad regime in Syria, Prime Minister David Cameron told the General Assembly today.
The Iranian President Mahmoud Ahmadinejad is criticising western nations for causing the global economic crisis through their "creation of useless paper assets".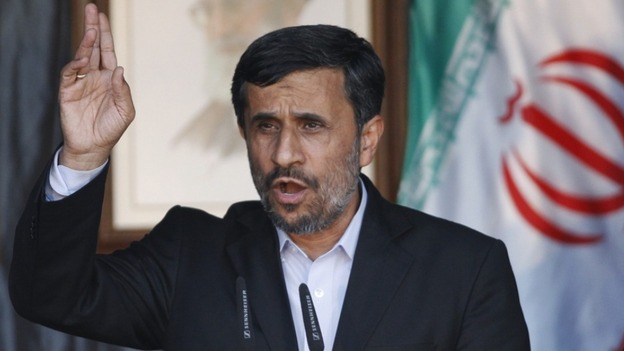 The Iranian President Mahmoud Ahmadinejad has taken to the stage before his speech to the United Nations General Assembly.
The US Mission to the UN will leave the room for his speech. A spokeswoman for the Mission said she was expecting him to expound "paranoid theories and repulsive slurs against Israel".
Advertisement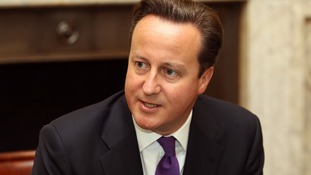 David Cameron will urge the world to give support to the emerging democracies of the Arab Spring as he addresses the UN General Assembly.
Read the full story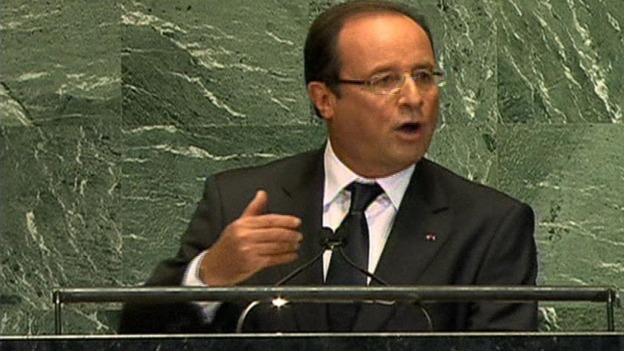 The French president has called for the UN to provide immediate protection to areas of Syria liberated by rebels.
In his first speech before the UN General Assembly, President Francois Hollande said that the Syrian regime "has no future among us".
President Obama took a brief detour from the election campaign trail to give a speech before the UN General Assembly today.
His message was one of peace - seeking to distance his nation from the inflammatory video that caused protests across the Muslim world - but also to address concerns at home, namely that the US is not standing up to Iran.
ITV News' Washington Correspondent Robert Moore reports: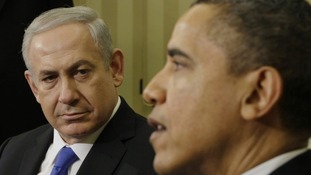 President Obama said today that the US would not tolerate a nuclear-armed Iran, but that won't extinguish the heated Israeli rhetoric.
Read the full story
Advertisement
The Emir of Qatar, Sheikh Hamad bin Khalifa Al Thani, has said in a speech before the UN General Assembly that it would be better for Arab countries to intervene in Syria than western ones. Speaking through an interpreter, he said:
The Security Council failed to reach an effective position.

In view of this, I think that it is better for the Arab countries themselves to interfere out of their national, humanitarian, political and military duties and do what is necessary to stop the bloodshed in Syria
– Sheikh Hamad bin Khalifa Al Thani, emir of qatar
The central message of President Obama's speech to the United Nations General Assembly was one of unity and shared goals, and a rejection of intolerance. He said:
That brand of politics - one that pits East against West; South against North; Muslim against Christian, Hindu, and Jew - cannot deliver the promise of freedom. To the youth, it offers only false hope.

Burning an American flag will do nothing to educate a child. Smashing apart a restaurant will not fill an empty stomach. Attacking an Embassy won't create a single job.

That brand of politics only makes it harder to achieve what we must do together: educating our children and creating the opportunities they deserve; protecting human rights, and extending democracy's promise.
– President Obama
In Syria, the future must not belong to a dictator who massacres his people. If there is a cause that cries out for protest in the world today, it is a regime that tortures children and shoots rockets at apartment buildings. And we must remain engaged to assure that what began with citizens demanding their rights does not end in a cycle of sectarian violence ...
– President Obama
President Obama has accused Iran of helping to keep a dicatorship in power in Syria and said it was time to isolate those who made hatred of the US, Israel or the West their central political principle.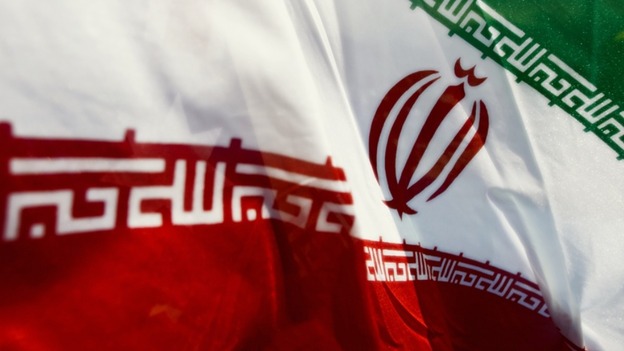 He told the UN General Assembly: "Just as it restricts the rights of its own people, the Iranian government props up a dictator [President Bashar al-Assad] in Damascus and supports terrorist groups abroad."
He also said that the US is determined to resolve the issue of Iran's secretive nuclear programme through diplomacy, but that "time is not unlimited". He added that a nuclear armed Iran could "not a challenge that can be contained".
Load more updates
Back to top