Spanish protests turn violent
Spanish protests over spending cuts and the country's woeful unemployment rate have turned violent when demonstrators in Madrid hurled stones towards police. Riot police were seen striking out at several protesters during the disturbances.
Spanish protests over government spending cuts and the country's dreadful unemployment rate turned violent when demonstrators hurled stones towards police.
Clashes broke out across Madrid's Neptuno Square last night with riot police seen striking out at several protesters during the disturbances.
Boisterous crowds in the Spanish capital had earlier yelled "Fire them, fire them!" at parliament, referring to the conservative government of Prime Minister Mariano Rajoy.
The action was the third time this week that the public vented their anger against the administration and its policies.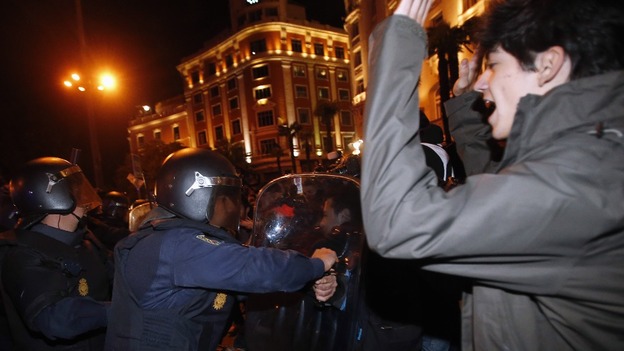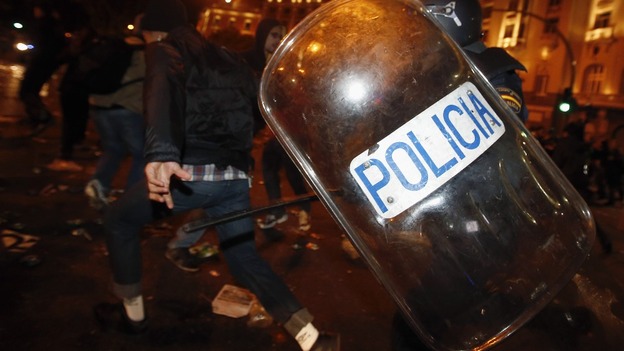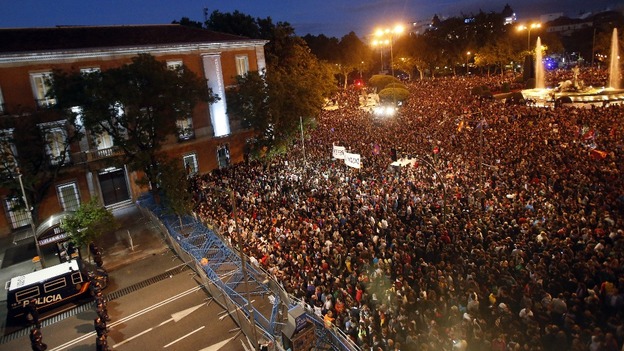 Advertisement
The Portuguese government had to back down earlier this week from the central part of its austerity programme in the face of massive public pressure, and you wouldn't rule it out here is Spain.
This is a political crisis and a constitutional one as well.
The authority of the Prime Minister has been undermined, despite the fact that he's only been in office less than a year and has a big majority.
And now the delicate balance of power between Madrid and the regions is being shattered because Madrid is having to say them: 'We must dictate your economic policy; We must tell you how much you can spend'. They don't like that one bit.
Thousands of people marched on Spain's parliament to protest against a new round of cuts and tax rises.
The government is to slash government spending by almost 9% next year in a bid to shave 40 billion euros off its budget and avoid asking its eurozone partners for a bailout.
Demonstrations have so far been peaceful, unlike recent nights, but Spain faces a crisis that is as much political and constitutional as it is economic.
ITV News' Europe Editor James Mates reports from Madrid: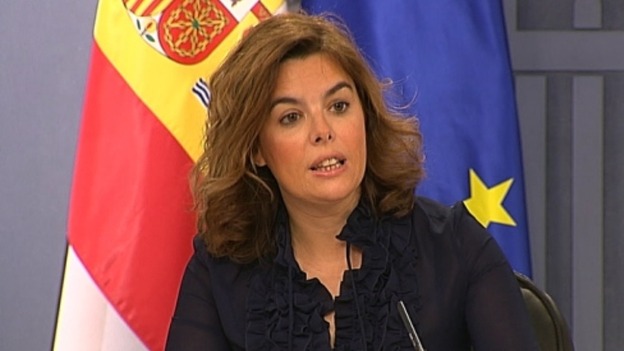 Spain's Deputy Prime Minister Soraya Saenz de Santamaria described the austerity measures unveiled today as a "crisis budget aimed at emerging from the crisis".
She told a news conference that the emphasis was on cuts rather than tax increases, but she was keen to stress that social spending accounted for 63.5% of the budget.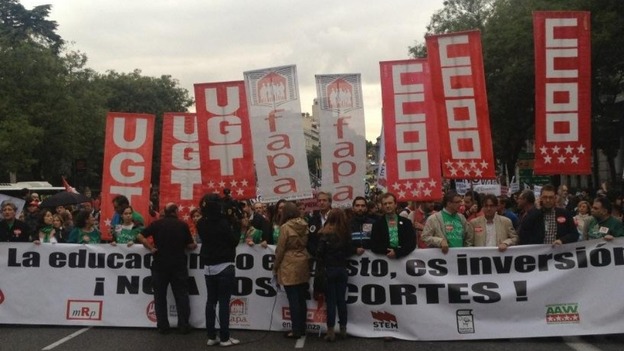 Advertisement
The budget minister for Spain, Cristobal Montoro, refused to comment when asked whether Spanish state pensions would rise with inflation next year, according the Financial Times.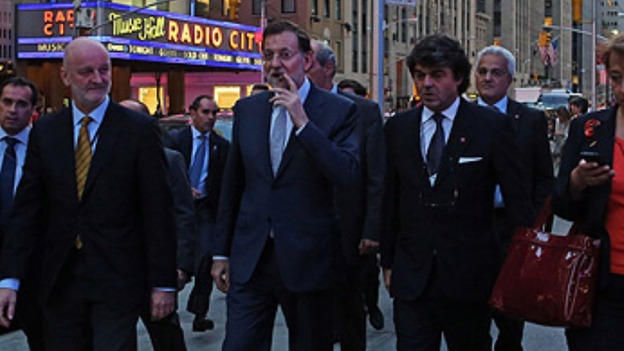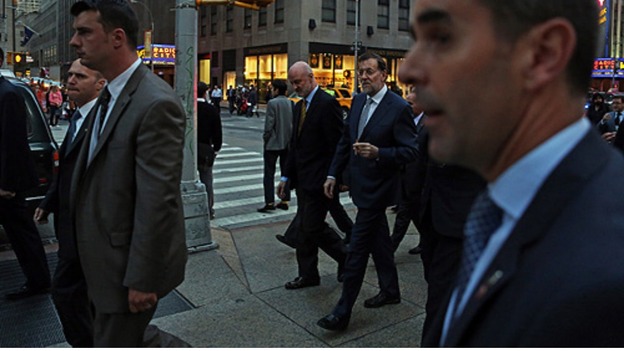 Damaging photographs of Spanish Prime Minister Mariano Rajoy puffing on a cigar while strolling down New York's Sixth Avenue were splashed across the nation's newspapers today.
The pictures were published on the same day the government announced deep cuts in its latest round of austerity measures.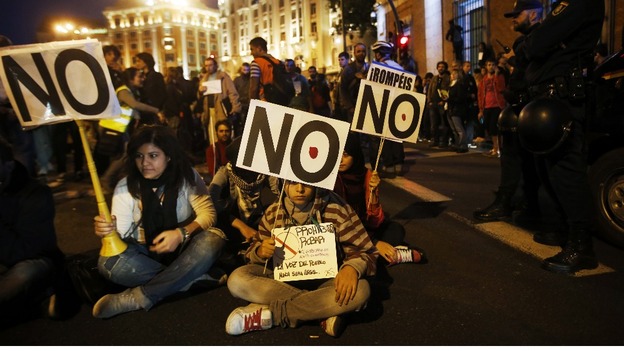 Spain will raise pensions by drawing three billion euros from a reserve fund, but it stopped short of raising the retirement age from 65 to 67.
However, there will be new measures introduced to discourage people from taking early retirement.
The Spanish government announced a new 20% tax on lottery wins of more than 2,500 euros, around £2,000.
Load more updates
Back to top