Miliband promises tax reversal
Ed Miliband said Labour would reverse the coalition's cut in the top rate of tax from 50p to 45p "if there was an election tomorrow". Speaking on the Andrew Marr show, he also pledged to repeal the Coaltion's NHS reforms.
Ed Miliband has given an ultimatum to the banking industry, saying that they face two key choices.
In an interview with the Observer, he said:
I'm saying very, very clearly – there's two things that can happen.

The banks can change direction and say we're going to implement the spirit and principle of Vickers to the full, which means the hard ringfence between retail and investment banking.

Either they do that or I'm giving a very, very clear message which is that the next Labour government will just by law break up retail investment banks.
Miliband went on to say that this would mean more consumer confidence that high street banks are "going to sell you simple, comprehensible products [and] the focus of the bank was serving you not on how they're doing playing the international money markets."
"We are going to talk about how we can rebuild Britain's economy, so that we can help families who are struggling with their living standards.
"So we're talking about how we can cut energy bills, make a difference to people's pensions, how we can make a difference to jobs and how we can help small businesses. It's not just for a few people at the top but for people right across this country."
Advertisement
Ed Miliband today insisted that Labour would not be able to reverse all of the coalition's spending cuts.
Speaking at the East Manchester Academy, he said:
Whoever wins the next election will be faced with a huge deficit.

If it is a Labour government, we will have to make difficult decisions. We will not be able to reverse all the cuts.

We will take decisions about priorities, like putting jobs ahead of pay rises.

But don't believe those who say that all politicians are the same, because our decisions will be different.

We would always put the interests of millions of working people ahead of tax cuts for millionaires.
– Ed Miliband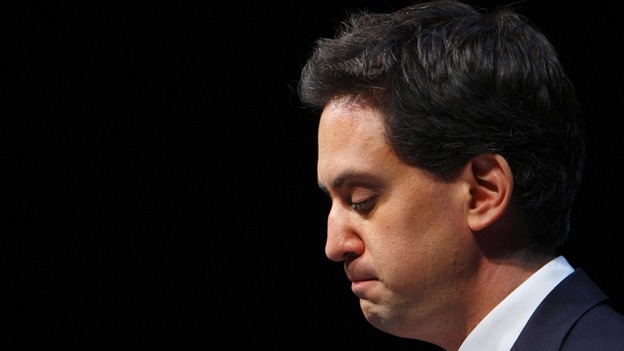 Ed Miliband pledged today to deliver a brighter future for young people as he kicked off Labour's conference.
Lambasting the coalition Government for having "something against" the next generation, Mr Miliband said they were suffering high unemployment, huge housing costs, and tuition fee hikes.
He hinted that his party could go further than its existing commitment to cut the maximum annual university fee from £9,000 to £6,000.
He also called for more focus on vocational training, and reiterated his desire to see the voting age brought down to 16.
The comments came in a question-and-answer session at the East Manchester Academy before the official opening of Labour's conference..
Ed Miliband has said that his party would not be able to avoid all cuts if it came to power.
Speaking at the East Manchester Academy , Mr Miliband insisted he would not make any promises he could not keep, and said the party would not be able to avoid all cuts if it came to power.
"I'm not going to wave a magic wand," he said. "But I do believe we could make a difference."
He said the coalition was currently borrowing money to "keep people idle", rather than investing in generating economic growth.
Len McCluskey, general secretary of Unite, will tell Labour's annual conference in Manchester that Vince Cable's plan for a business bank is "disappointingly" modest and will call on the party to bring RBS and Lloyds into public ownership to create a national investment bank.
The Tory-led government's plan for a business investment bank is all noise and no action. The Chancellor gives more than £300 billion of our money to the banks to stop their panic, yet Vince Cable is given a miserly £1 billion to rebuild our battered economy.

Labour must be bolder. It must bring the remainder of RBS and Lloyds into public ownership, to build a British Bank of Hope for jobs and growth.
– Len McCluskey, Unite General Secretary

McCluskey, who will address the conference on Monday, will say that the UK is suffering without a national investment bank and will call on Labour to reject the Government's business bank as a "cautious model".
Advertisement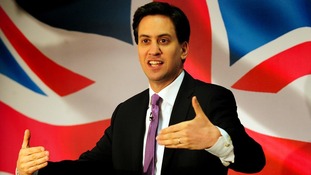 Ed Miliband will use his party conference to attempt to convince voters he could lead Britain out of recession. He has work to do.
Read the full story
Otto Thoresen, the Director General of the Association of British Insurers, has criticised Ed Miliband's "scaremongering" comments on pension charges.
Thoresen responded to Mr Miliband's pledge of an "all-out attack" on "rip-off" pension charges by saying that most workers with pensions already pay less than 1% charges, and those paying more have usually chosen a more expensive fund that aims to deliver higher returns.
To issue scaremongering comments about pension charges just two days before the launch of the auto enrolment reforms that the Labour Government introduced shows that Ed Miliband cares more about headlines than increasing public confidence in saving.
– Otto Thoresen

Thoreson claimed that Milband was being "anti-consumer" by denying people the choice of a more expensive specialist fund, adding that pension charges have fallen over the last decade to an average charge of 0.77% - well below the 1% cap Labour propose.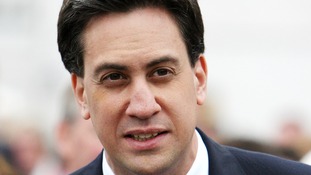 Ed Miliband will tell today's Labour conference that he will "rebuild" Britain and stop consumers "getting ripped off".
Read the full story
Labour could offer a referendum on Britain's European Union membership at the next election, its policy director Jon Cruddas told The Daily Telegraph.
The opposition party would consider "in depth" whether to hand the vote to the public as it drafts its next manifesto, according to Cruddas, who is chairing Labour's policy review.
"It's something we will be looking at in depth in the policy review. At some stage there is going to have to be some resolution of what our relationship is here and what format that takes. It could be a referendum.

"We have said the time is not right as regards a referendum on Europe given the economics ricocheting around the eurozone. Obviously our position needs to be developed over the next period."
– Jon Cruddas

The paper claimed that Cruddas' comments would pile pressure on the Prime Minister, who is already facing calls from his party to give the public the EU vote.
Load more updates
Back to top