Romney: 47% remark 'wrong'
Republican presidential candidate Mitt Romney said his comment on a secretly taped video in which he disparaged 47 percent of voters as dependent on government "was just completely wrong".
Republican Senator Lindsey Graham tweets: "If this was a boxing match, they would stop it."
Ari Fleischer (former Bush spokesman) tweets: "I think the President misses his TelePromTer."
Republicans will come out of this buoyant and claiming a victory. Fox News will be exultant.
It is true that Romney is doing far better now than he did in his primary debates with fellow Republicans. But of course there is a separate question whether it's enough and whether it is swaying undecided voters. Too early to judge that.
We are half-way through, Romney hitting his talking points and visibly more confident. President's friends will struggle to spin this a victory.
Advertisement
by Michael Herrod: Washington News Editor
Obama: "I have become fond of this term Obamacare". Gets a laugh. People here seem sceptical when Romney starts to talk about healthcare.
The President needs to pick up his game here. Romney seems in control and he's hitting his talking points. The conservative media will call this a major success for Romney. It is a reminder that Obama is sensational with an engaged audience but can struggle in a sterile debating environment.
by Michael Herrod: Washington News Editor
Obama is far more detailed but coming across as the professorial candidate against Romney's economic attack dog approach.
by Michael Herrod: Washington News Editor
Romney looking poised and has rehearsed anecdotes, battering Obama on the state of the economy. The challenger is doing well.
Advertisement
by Michael Herrod: Washington News Editor
A good start for Romney. His joke about the president have chosen a romantic location for his wedding anniversary went down well here among the 200 or so people watching the debate.
Romney also showed unexpected passion as he talked about his strong suit: the economy.
Early view in the media centre is that Romney is ahead. More succinct and less professorial. He's talked about personal stories he and his wife have encountered on the campaign trail. Always an effective tactic. Makes a dry debate more accessible to people at home.
Mitt Romney has denied Barack Obama's accusations that he will reduce taxes for high earning Americans.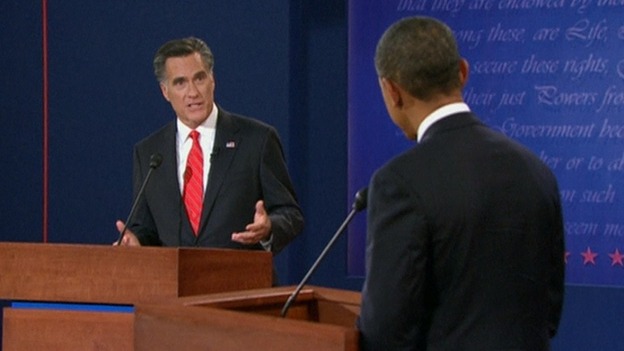 Impressive opening statement from Mitt Romney. Calm and considered. Probably the best beginning of the two men. And a nice touch to congratulate Barack and Michelle for their wedding anniversary.
Load more updates
Back to top