Kenya torture case goes ahead
Three victims of torture during the Mau Mau uprising can proceed with their compensation claims, the High Court ruled. The government has said it will appeal the move.
Desmond Tutu calls on Government to 'resolve issue'
The British Government must now resolve this issue once and for all. They have admitted these elderly Kenyans were tortured by British officials but have refused to apologise or to show any concern for their welfare.

The courts have now rejected their legal defence twice in two years. It is high time the Government stop avoiding responsibility and show some compassion.
– Archbishop Desmond Tutu
Kenyan veterans celebrate ruling
ITV News Correspondent Martha Farlie reports on the successful bid by three Kenyan torture victims to proceed with compensation claims.
Advertisement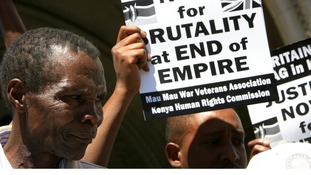 Kenyan veteran Ndiku Mutua wants compensation from the British government but most of all he wants an apology – recognition of colonial sins
Read the full story
Government does not dispute claimants 'suffered torture'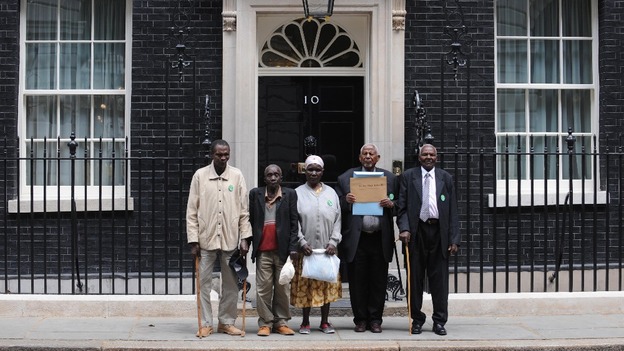 The Foreign Office said it did not "dispute that each of the claimants in this case suffered torture and other ill treatment at the hands of the Colonial Administration".
In a statement it added: "We have always said that we understand the pain and grievance felt by those, on all sides, who were involved in the divisive and bloody events of the Emergency period in Kenya, and it is right that those who feel they have a case are free to take it to the courts."
Government to appeal Kenya ruling
The Foreign Office (FCO) said the British Government is "disappointed" with the ruling and has taken the decision to appeal it.
The judgement has potentially significant and far reaching legal implications. The normal time limit for bringing a civil action is three to six years.

In this case, that period has been extended to over 50 years despite the fact that the key decision makers are dead and unable to give their account of what happened.

Since this is an important legal issue, we have taken the decision to appeal. In light of the legal proceedings it would not be appropriate for the Government to comment any further on the detail of the case.
– Foreign Office statement
Government have 'avoided any legal responsibility'
This is an historic judgement which will reverberate around the world and will have repercussions for years to come.

The British Government has admitted that these three Kenyans were brutally tortured by the British colony and yet they have been hiding behind technical legal defences for three years in order to avoid any legal responsibility.

This was always morally repugnant and today the Judge has also rejected these arguments.
– Martyn Day, Senior Partner at Leigh Day & Co
Advertisement
Judge: 'Fair trial remains possible'
Mr Justice McCombe ruled that "a fair trial on this part of the case does remain possible and that the evidence on both sides remains significantly cogent for the court to complete its task satisfactorily".
Judge approves torture claims trial
The three Kenyans won a ruling from Mr Justice McCombe last year that they had "arguable cases in law".
But the case came back to London's High Court in July to consider a claim by the Foreign and Commonwealth Office that the actions were brought outside the legal time limit.
Lawyers for Wambugu Wa Nyingi, Paulo Muoka Nzili and Jane Muthoni Mara argued that it was an exceptional case in which the judge should exercise his discretion in their favour.
Today, Mr Justice McCombe said they had established a proper case for the court to exercise its discretion and allowed their claims to proceed to trial.
Lawyers: Government faces trial or must seek settlement
The UK Government will now face a full trial or seek settlement with those which it accepts have been tortured by the British colony, lawyers said.
'Historic ruling' in Mau Mau case
Lawyers for the three elderly Kenyans - Wambugu Wa Nyingi, Paulo Muoka Nzili and Jane Muthoni Mara - hailed it as an "historic" judgment.
Load more updates
Back to top