Cameron signals further cuts
The Conservative Party's annual conference opened in Birmingham today. David Cameron ruled out the 'mansion tax' saying this 'not going to happen.' He also signalled that additional benefit cuts would be necessary to fight the deficit.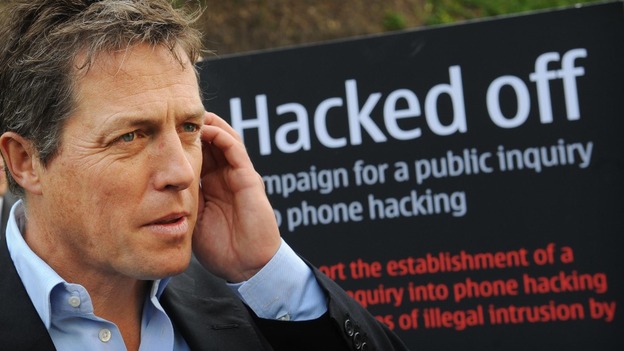 The actor High Grant has urged the Government to establish an independent media regulator on the back of Lord Leveson's inquiry into press ethics.
"Self-regulation of the press is a system that has been proven to fail for 50 years," the actor told the BBC's Andrew Marr Show.
"What could come out of Leveson is an independent regulator. I do not see the slightest danger to freedom of speech from it."
Grant said he fears David Cameron's government could ignore the findings of the inquiry.
"Suddenly, sinisterly, a few weeks ago we start to get weird rumblings from (the Government) that Leveson is a waste of time," he said.
The Prime Minister has failed to say what tax could take the place of the 'mansion tax' which his Chancellor has today ruled out. Liberal Democrat leader Nick Clegg has said that his party will not support further welfare cuts without more money coming from the better off.
Speaking on the Andrew Marr show David Cameron did not say what that might be saying;
We are looking today at what we can do to make sure that welfare is actually helping people in to work.

I think it's very important as we make these changes that not only do we recognise if you don't deal with things like pay and welfare and pensions you will always have to cut department spending and that hits health and education.

We will make sure that the rich pay their fair share.
Advertisement
David Cameron has said that, "we will always make sure that the broadest backs bear the burden," while talking on the Andrew Marr show about tax and welfare reform.
"The richest 1% in our country are not only paying more in income tax they are paying a greater percentage of the total income tax take then they ever did under Labour."
Labour's shadow Cabinet Office minister Michael Dugher said:
We lead, he follows. As always Cameron talks a good game but never delivers. David Cameron can't be the One Nation Prime Minister Britain needs.

He cuts taxes for millionaires and spends his time pandering to his backbenchers on Europe rather than getting on and delivering the EU budget restraint that's needed.
A half-hearted attempt to copy One Nation Labour's rail fares policy that still leaves rail firms free to increase fares on many routes by well above the so-called cap won't distract people from the West Coast fiasco.

He says the problem is that he hasn't explained himself well enough, but the British public understand him only too well. They see day in day out that this out of touch Prime Minister divides rather than unites Britain.

For all the promises of change, things are getting worse not better.
The Conservative grass roots are issuing a clear demand that David Cameron drop gay marriage laws according to the The Sunday Telegraph.
The survey of Tory constituency chairmen shows that 71% think the proposal should be dropped.
The Sunday Telegraph says that almost half say their local parties have lost members due to the plans, with only 3% gaining members.
George Osborne has said that the Government would be extending the council tax freeze for a third year in a row while rises in regulated rail fares would be capped at retail price inflation (RPI) plus 1%.
Advertisement
A group of 140 senior doctors have written to David Cameron expressing their alarm over proposals to close and reconfigure accident and emergency units around the country.
In an open letter to the Prime Minister, the health experts said they were yet to see evidence that plans to centralise and downgrade A&E services were beneficial to patients.
The signatories, who include eminent physicians, academics and surgeons, also argued the overhaul could place the lives of some of the most vulnerable members of society at risk.
We write as doctors to express our alarm about the impact of your policy to centralise and downgrade A&E services. We are not against change.

But such change must be driven by genuine improvements in clinical care and service efficiency rather than as part of an indiscriminate cuts policy.
David Cameron is facing calls to make clear whether he has ruled out statutory regulation of the press in the wake of the Leveson Inquiry into media ethics.
The Hacked Off campaign - which campaigns on behalf of victims of media intrusion - expressed concern about newspaper reports suggesting Mr Cameron was preparing to reject statutory intervention in the regulation of the press, even if it was strongly recommended by Lord Justice Leveson.
In an open letter to the Prime Minister - signed by 60 victims including celebrities, 7/7 victims and members of the Hillsborough Justice Campaign - it called for an assurance that he would consider Lord Justice Leveson's recommendations with an open mind.
Signed by;
Charlotte Church
Steve Coogan
Hugh Grant
Jude Law
JK Rowling
It is highly regrettable to us that these articles, and supporting comments from senior Conservative Party figures, have sought to undermine the work of the inquiry and to threaten any recommendations it may make for effective regulation of the industry.

To remind you once again - you said that the test of the future system of press regulation is not whether it suits the politicians or their friends in the press, but rather the public interest - including the need of members of society to be free from illegal and unethical press practices. Do we have those reassurances?
– Hacked Off campaign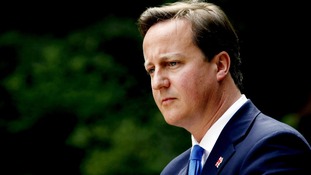 David Cameron today will pledge to use Britain's veto to block the European Union budget if it is not in the UK interest.
Read the full story
David Cameron will today sought to rally restive Tories with a pledge to use Britain's veto to block the European Union budget if it is not in the UK interest.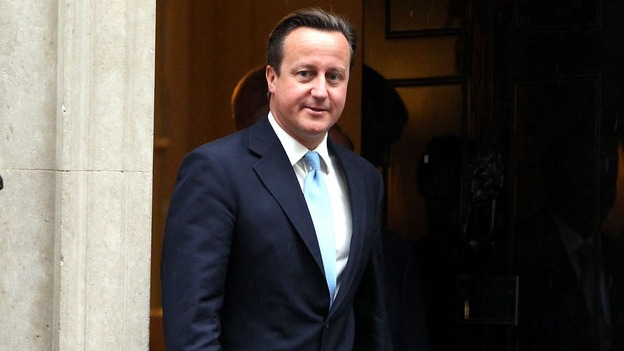 As the Conservative Party conference opened in Birmingham, the Prime Minister said he would not stand for "outrageous" attempts to increase the overall EU budget in forthcoming negotiations on spending for the period 2014 to 2020.
"If it comes to saying 'no' to a deal that isn't right for Britain, I'll say 'no'," he said in an interview with The Sunday Telegraph.
Load more updates
Back to top