UK coach murder suspect 'flees'
The man accused of murdering a 25-year-old British football coach on a street in New York has reportedly fled to Mexico.
A man suspected of murdering a British football coach in New York has fled to Mexico, according to reports.
Mike Jones, 25, from Tarleton, Lancashire, was found with a severed ear and stab wounds to his torso and neck in the early hours of Sunday.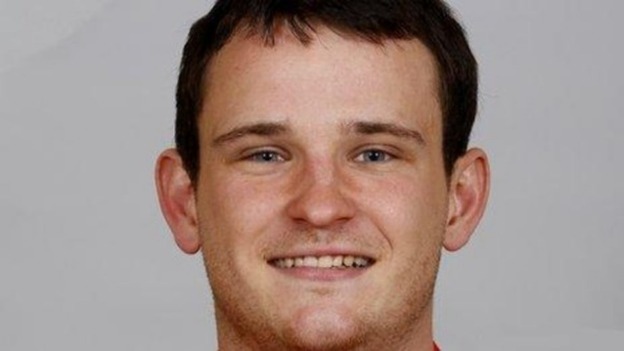 Mr Jones, who coached the juniors of US Major Soccer League team New York Red Bulls, was rushed to hospital from near 25 West 14th Street but was pronounced dead on arrival.
Police sources told the Associated Press and the New York Daily News that suspect Orlando Orea, 32, bought a one-way ticket with cash shortly before he flew out of Kennedy International Airport.
He left the country early Tuesday morning about 15 hours before detectives identified him and asked for him to be placed on a no-fly list.
Police have released CCTV footage of the suspect who is described as being in his 20s, with a dark ponytail.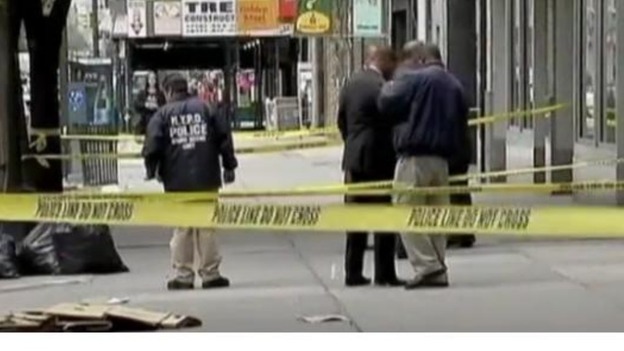 Advertisement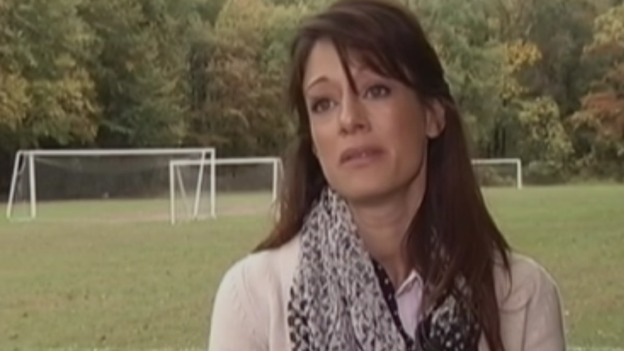 Melinda Vinalis, a work colleague of British football coach Mike Jones, told ITV1's Daybreak: "I couldn't imagine his last moments, that was hard for me. How much he suffered and that he was alone."
The father of a British football coach, Mike Jones, who has been stabbed to death in New York has told the BBC he learnt of his son's death after being contacted on Facebook by one of his friends.
Perry Jones said:
I contacted the police and I was totally shocked, I was expecting to hear he had been injured in an accident.

We just cannot believe it.
Mr Jones also said his son loved living in New York and was working hoping to get a visa so he could stay there full time.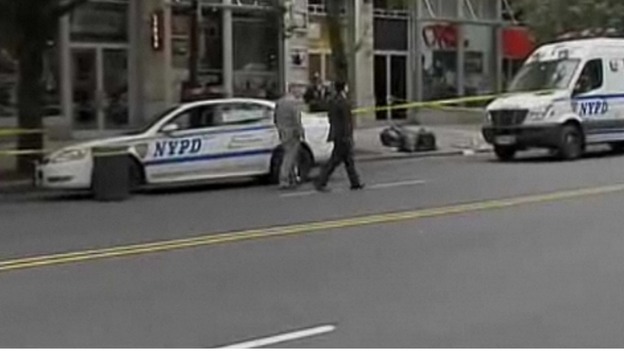 Yellow crime scene tape covered the street in New York's West Village where 25-year-old Mike Jones was stabbed and had his ear cut off in the early hours of Sunday morning.
One local told WNBC News that they had "never seen anything like it", while another described the murder as "horrifying".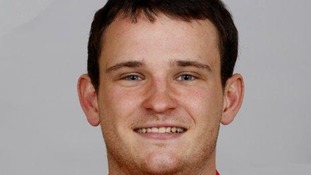 The New York Police Department are hunting the killer of Briton Mike Jones, 25, who was stabbed to death in Greenwich Village yesterday.
Read the full story
Advertisement
Mike Jones' former school and university have paid tribute to the youth football coach who was stabbed to death in New York yesterday.
Simon Bland, the 25-year-old's PE teacher at Tarleton High School, Lancashire, told local newspaper The Champion:
He had a lot of natural talent. But unlike a lot of people who are good at sport he wasn't big-headed or full of himself in any way - he just got on with it, and was quiet, but very professional and talented ... he was someone you could use as a role model for the younger pupils, because he not only had a lot of natural ability, but he had a great attitude too.
– PE teacher Simon Bland

A spokesperson for Edge Hill University in Ormskirk, which Mr Jones graduated from in 2008, added:
He was a hardworking student who was popular with his peers and with staff from the Department of Sport and Physical Activity. He had a bright future ahead of him, having a forged a successful coaching career in the USA following his graduation.
– Edge Hill University spokesperson
The Foreign Office confirmed 25-year-old Briton Mike Jones, who was working as a youth football coach in New York, was murdered in the city yesterday.
A spokesman said: "We can confirm the death of a British national in New York on October 7. We are in touch with the local authorities and are providing consular assistance to the family."
The family of Mr Jones, a coach for New York Red Bulls' juniors, are said by friends to be "in a state of shock".
"He came home around November time and played football with us. So he kept in touch with everybody. He was just one of the lads."
– John Parkinson, treasurer of Tarleton Corinthians
So sad to hear the news about Mike Jones a coach @newyorkredbulls , my thoughts are with his family and friends
Load more updates
Back to top