Greek protests over Merkel visit
Stones are being thrown at Greek riot police who are firing teargas in return at protesters on the streets of Athens demonstrating against the visit of the German Chancellor Angela Merkel - her first since the euro crisis began.
Angela Merkel would have known what to expect when she agreed to visit Greece. She has seen pictures of these protests before, there have been much worse before and today could have been much worse.
She came here to show her new found conviction and commitment to Greece staying in the euro. Ironically, this may have made that slightly harder because for Greece to stay in the single currency they have to turn their economy round and to do that they need yet more money.
They need either another multi-billion pound bailout or more people who are owed money by Greece agreeing to forgive those debts. Whichever route they take, ultimately, the money for that is going to have to come from Germany, it's going to have to be authorised by their parliament.
Their voters would have watched the same pictures in my report and they will not be any more sympathetic and Angela Merkel faces an election for her own job in less than a year.
Violent protests took place in Athens today as German Chancellor Angela Merkel - who is a widely disliked figure within the country - arrived in Greece.
Our Europe Editor James Mates reports from Athens:
Advertisement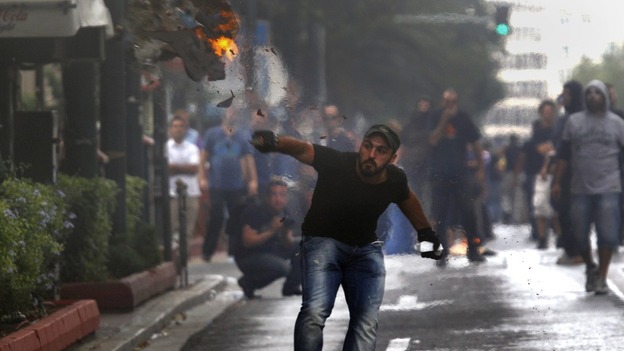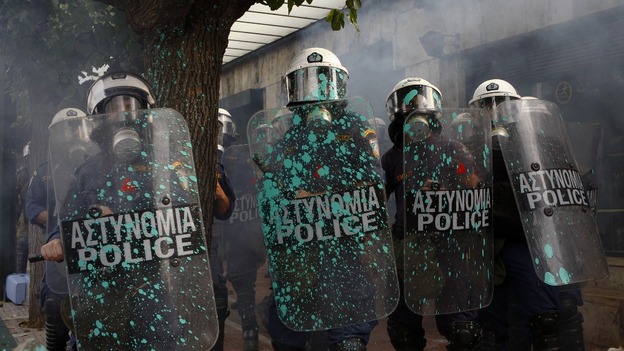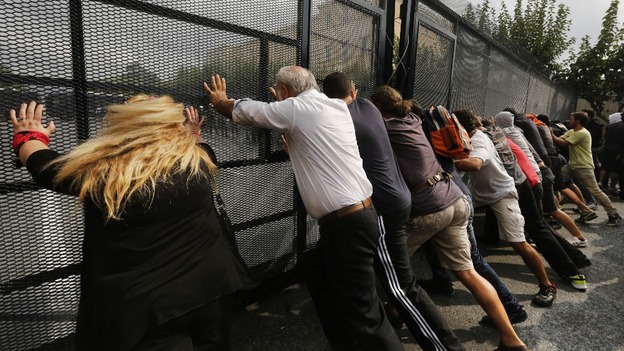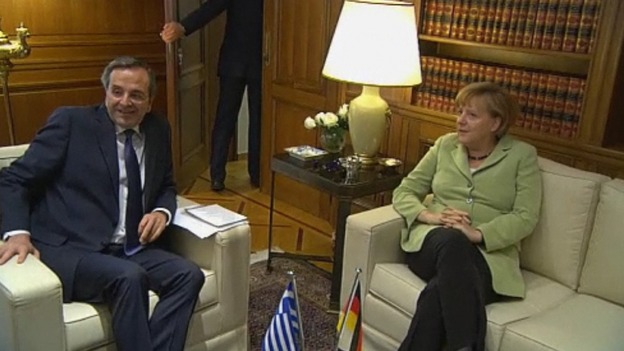 Only a few hundred metres from mass protests in central Athens Angela Merkel has been speaking with Prime Minister Antonis Samaras about the austerity measures Greece is facing.
Rocks and debris have been thrown at riot police in Athens and explosions have rocked the crowd as ten of thousands protest over the visit of Angela Merkel.
Advertisement
Greek police are firing teargas at demonstrators throwing stones and petrol bombs in central Athens during protests over a visit by German Chancellor Angela Merkel.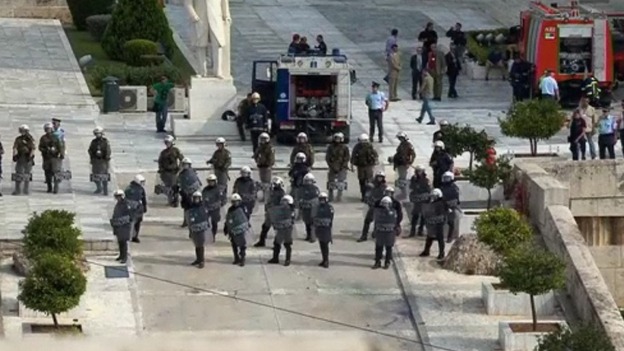 Merkel was meeting Greek Prime Minister Antonis Samaras only a few hundred metres away from the clashes. Tens of thousands of austerity-weary Greeks took to the streets in one of the biggest protests in months.
Rocks and stones are now being thrown at the Greek riot police. It is beginning to turn very ugly.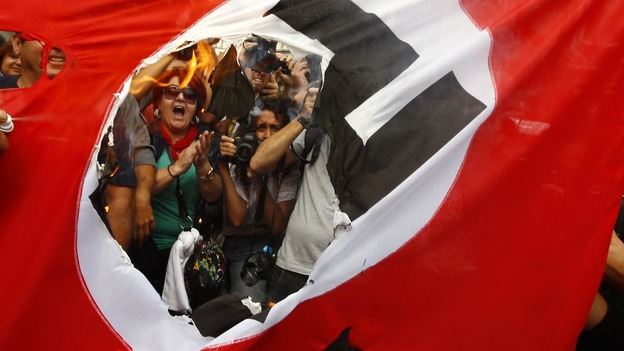 Pepper spray has been used against protesters assaulting the security barrier outside the Greek Parliament.
The first missiles are being thrown at police guarding the Greek Parliament. So far the police are refusing to be provoked.
Load more updates
Back to top