Cameron: 'Sink or swim' time
The Prime Minister has warned the Conservative Party conference that Britain faces a stark choice in tough economic times: "Sink or swim. Do or decline."
The Prime Minister's speech at the Tory conference today wasn't just aimed at silencing critics within his party. It was also directed at voters in marginal constituencies like Corby in Northamptonshire, which is choosing a new MP next month.
ITV News has heard been following what a panel of Corby voters made of Nick Clegg's and Ed Miliband's conference speeches.
ITV News' Political Correspondent Romilly Weeks has been getting their verdict on Mr Cameron's:
David Cameron spelled out the likely battle-lines for the next general election today, as he closed his party's conference.
He said he stands not for privilege, but for spreading it to the do-ers and the strivers in tough times.
ITV News' Political Editor Tom Bradby reports from Birmingham:
Advertisement
All of the party leaders have given good speeches at their conferences over the past three weeks.
Nick Clegg reminded us that we may have two questions in our mind going into the next election:
1) Who do we want as the main party?
2) Do we want the Liberal Democrats there as a kind of moderating influence?
Ed Miliband went into his conference with very few people able to imagine him as prime minister.
He gave a barn-storming performance and while I'm not going to say it transformed him, perhaps it did allow us to conceive of him in that way.
David Cameron significantly raised his game today.
His recent speeches haven't been that outstanding but he gave a very good speech today. His main point - that we cannot go on borrowing.
It was the same old argument but put forward with much more force and passion.
Unite, the UK's largest union, has accused David Cameron of conjuring up 'the politics of fear' during his speech to the Conservative Party conference.
Unite General Secretary Len McCluskey claims the Prime Minister attempted to "hide the truth" about his government's austerity measures.
David Cameron says that we must 'sink or swim' as a country – yet, he has cut the life belt for the millions of Britons struggling to find work and juggling to make ends meet with squeezed household incomes.

.

He has conjured up the politics of fear – always the last resort for a politician facing the reality of their failed policies. It was a speech devoid of hope aimed at frightening people into submission, and accepting the coalition's unfair and divisive policies.
– Unite General Secretary Len McCluskey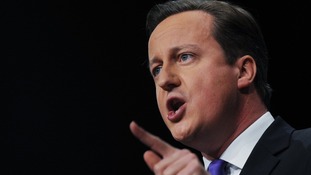 ITV News got instant reaction to David Cameron's speech from voters in Corby where a by-election is due to be held in November.
Read the full story
Just leaving what has been a great #cpc12. A big thank you to all involved, we really showed that 'Britain can deliver' http://t.co/Cam3fO3c
Advertisement
Prime Minister David Cameron finished his conference speech with a rousing "let's get out there and do it".
I don't know how many people were listening to Ed Miliband's speech last week but it seems that one person was - and that's David Cameron. He's significantly upped his game it seemed to me here today.
I've been following him for a pretty long time - I think that was the best speech I've seen him give. Particularly in the sense that I haven't always felt that I actually understood what he was trying to do and what he stood for.
What he did do today was put out a pretty clear argument certainly on the economy, certainly on borrowing. He said in this environment the idea of borrowing more money is simply insane. I think most people here would agree he said it with greater clarity today than he has done before.
David Cameron told the Conservative Party conference that his father was the key to his success, saying, "I don't have a hard luck story".
Shadow Cabinet Office Minister Michael Dugher described David Cameron's speech to the Conservative Party Conference as "a defensive speech" from a "clearly rattled leader".
This was a defensive speech, from an out-of-touch, clearly rattled leader, who cannot be the One Nation Prime Minister we need.

David Cameron never once mentioned the double-dip recession or the one million young people out of work. His speech failed to set out the real change our economy needs.

Rather than tackling the banks, or explaining why borrowing is going up not down, he chose to defend his millionaires' tax cut.
He cannot bring Britain together to tackle the problems we face when his priority is to cut taxes for 8,000 millionaires by £40,000 next April, while asking pensioners to pay more.

And during the course of his 6,000-word lecture to the country, he failed to mention the police once. That is a total disgrace at a time when he's taking 15,000 police officers off our streets.
– Shadow Cabinet Office minister Michael Dugher
Load more updates
Back to top