Cameron: 'Sink or swim' time
The Prime Minister has warned the Conservative Party conference that Britain faces a stark choice in tough economic times: "Sink or swim. Do or decline."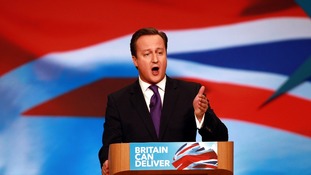 The Prime Minister said the power of enterprise and aspiration would help overcome the economic crisis.
Read the full story
Turning to the opposition during his conference speech, David Cameron called Labour "the party of one notion: more borrowing".
Advertisement
Cameron's speech was an interesting response to Miliband; gritty, chunky, trenchant, tightly argued and passionate. Probably his best. Certainly by far the best explanation of who he is and what he really stands for.
Aspirational, credible and bold speech by PM and importantly telling it like it is
Cameron nails it. A powerful coherent vision of a Britain rebuilt on timeless Con values of responsibility, enterprise+ compassion. #cpc12.
Well, that was one strong and excellent speech. Well done DC. Praise always given when due. *swallows hard*
After reiterating the 2014 withdrawal date for UK troops from Afghanistan, David Cameron called on the conference delegates to "show how profoundly grateful we are for everything they do".
This is the country that invented the computer, defeated the Nazis, started the web, saw off the slave trade, unravelled DNA and fought off every invader for a thousand years. We even persuaded the Queen to jump out of a helicopter to make the rest of the world smile, there is absolutely nothing we cannot do.
Advertisement
It's that toxic culture of low expectations - that lack of ambition for every child - which has held our country back... Michael Gove and I are not waiting for an outbreak of sanity in the headquarters of the NUT or an embrace of aspiration in the higher reaches of Labour before we act. Because our children cannot wait. So, when people say we should slow down our education reforms - so adults can adjust to them, I say no, I want more free schools, more Academies, more rigorous exams in every school.
David Cameron said: "You know our work experience programme, where we give young people the chance to work in a supermarket, a shop, an office?
Here's what one union official said about it. I quote: 'The scheme belongs back in the nineteenth century, along with Oliver Twist and the workhouse. It is nothing short of state sponsored slavery.'
What a snobbish, appalling attitude to the idea of work. We're not sending children up chimneys, were giving them a chance. What's cruel isn't asking something of people - it's when we ask nothing of them. Work isn't slavery, it's poverty that is slavery."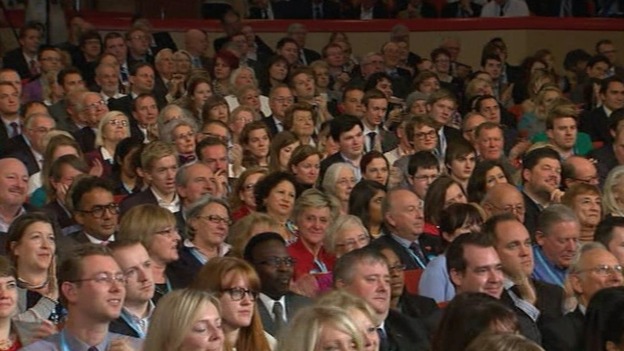 During his speech, David Cameron thanked all those responsible for the success London 2012, including "the zinger on the zip-wire", London Mayor Boris Johnson.
Labour's plan to borrow more is actually a massive gamble with our economy and our future. And it would squander the sacrifices we've already made.

We're here because they spent too much and borrowed too much. How can the answer be more spending and more borrowing? I honestly think Labour haven't learned a single thing.

When they we're in office, their answer was always, borrow more money. Now they're out of office it's, borrow more money.
Whatever the day, whatever the question, whatever the weather it's, borrow more money. Borrow, borrow, borrow. Labour: the party of one notion: more borrowing.
– DAVID CAMERON MP
Load more updates
Back to top