US VP hopefuls in fiery debate
US vice president Joe Biden and Republican vice presidential nominee Paul Ryan have gone head-to-head in a fiery debate.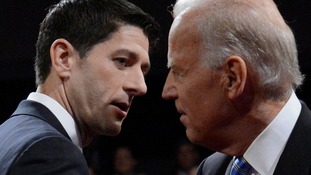 Some 28 million people watched last night's vice presidential debates, but much more important is next week's second Obama v Romney bout.
Read the full story
by Michael Herrod: Washington News Editor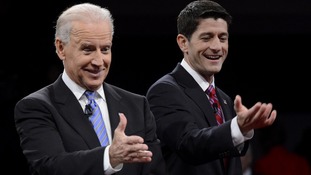 Independent polls following the debate showed that both men did well. With no overall winner both move on to campaign another day.
Read the full story
Advertisement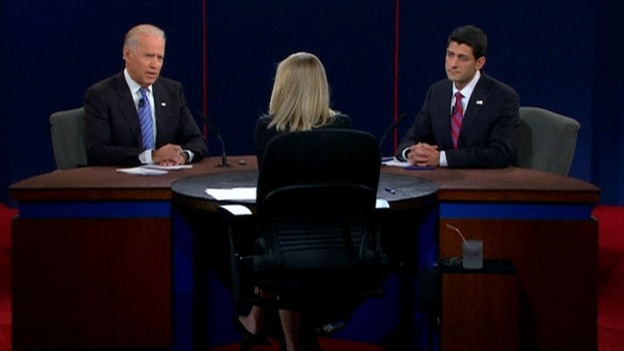 A quick through the highlights of the US Vice Presidential debate has been made by buzzfeed.com.
The video, which is under three minutes long, looks at the key issues of Libya, Iran, unemployment, taxes and abortion covered in the debate.
by Daybreak's Lucy Watson
You could almost be equally entertained with the volume off. Facial expressions & body language are fascinating.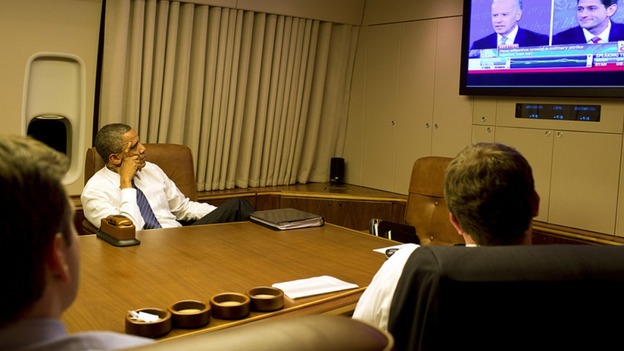 Vice-presidential candidates Joe Biden and Paul Ryan clashed over the US economy and taxes during their debate.
Mr Biden took the opportunity to address Mitt Romney's recent controversial comments that the 47% of Americans who pay no federal income tax should take responsibility for themselves.
Mr Ryan strongly defended Mr Romney's record and said:
"He is a good man, he cares about 100% of American's in this country and with respect to that quote I think the Vice President very well knows that sometimes the right words don't come out of your mouth the right way.
Advertisement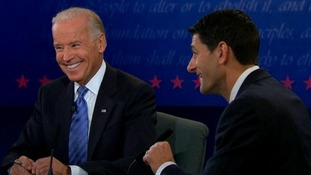 Vice President Joe Biden and Congressman Paul Ryan gave us the debate we should have enjoyed in Denver between the two main candidates.
Read the full story
After Joe Biden and Paul Ryan's vice-presidential debate, some US broadcasters have revealed their head-to-head snap poll results.
CBS News: Biden: 50%, Ryan: 31%, Tie: 19%.
CNBC News: Paul Ryan: 56%, Joe Biden: 36%, Neither: 8%.
CNN: Ryan 48%, Biden 44%.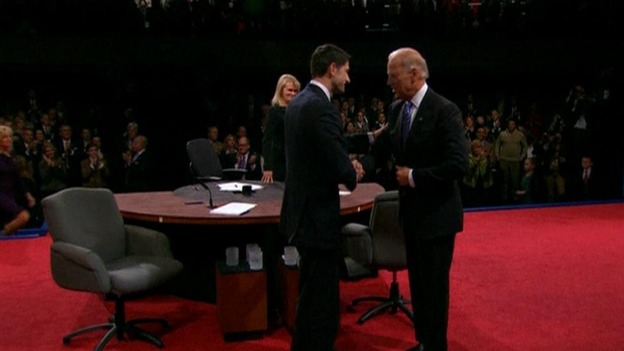 US Vice President Joe Biden and Republican vice-presidential nominee Paul Ryan have gone head to head in a debate.
It was a wide-ranging debate covering foreign policy and domestic issues. Topics included Iraq, Iran, unemployment and the economy, and abortion.
Here is some reaction after the debate ended.
On style, Paul Ryan wins. Biden looked unhinged. On substance, however, it was a draw. Both said what they needed to their base.
Biden proved the superior debater, raising his voice, directly addressing the audience, but Ryan held his own http://t.co/SD4DV2D1
Paul Ryan was very solid, but I'd give it to Biden on points. And Radditz makes me proud to be a journalist.
Load more updates
Back to top