Space shuttle travels through LA
The US space shuttle Endeavour is on its final journey, a 14-mile, tortoise-like drive through the centre of Los Angeles.
The space shuttle Endeavour had a close call as it scraped past a building during its slow progress through LA.
Over 400 trees and power cables have been removed to make room for the huge shuttle to move from the airport to its new home at the Science Center, but there were still some tight squeezes: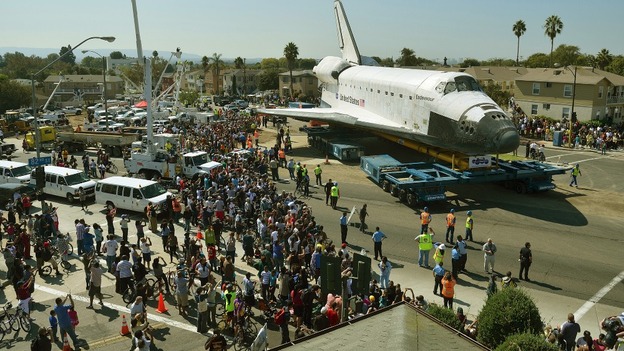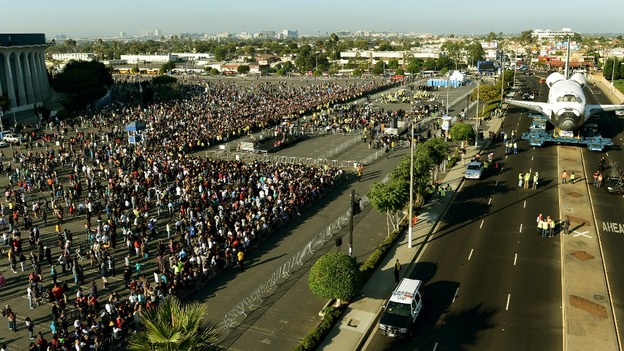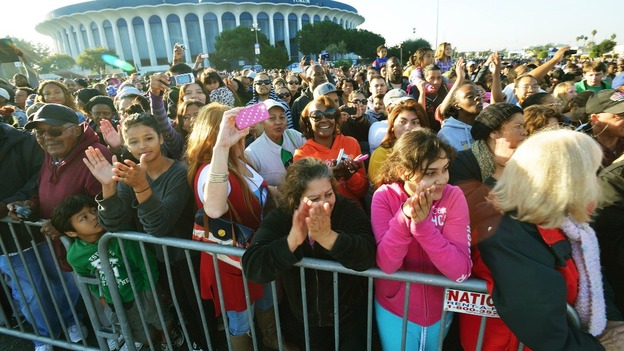 Advertisement
ITV News' Ria Chatterjee reports on the US space shuttle Endeavour's final journey:
Jim Hennesey, spokesman for The Sarens Group, explains the Endeavour's journey.
The Sarens Group teamed up with Toyota to create the dolly used to haul the US space shuttle through the streets of Los Angeles.
Endeavour is 122 feet (37 meters) long and 78 feet (24 meters) wide and stands 5 stories tall at the tail - which police said makes it the largest object ever to move through Los Angeles. Its combined weight with the transporter is 80 tons.
Organisers say that only a few inches separate Endeavour's wings from structures along the route, and workers have felled 400 trees along curbs to clear a path. The science center, where Endeavour is heading, will plant more than 1,000 trees to make up for their loss.
Some street lights, traffic signals, power poles and parking meters also are being temporarily removed.
Endeavour flew to LA from Florida last month on a final tour, even visiting one of its former Commanders.
Stephen Caldwell, 38, who was in town on business and spotted the spaceship from his hotel window spoke of his wonder at being so close to a space shuttle:
I grew up in central Florida and saw many shuttle launches, but this is the first time I've ever been up close to one.

This really is a big part of American history and to be able to see it here is really special.
The shuttle paused to avoid rush hour traffic on Friday evening before crossing the 405 freeway, the nation's busiest thoroughfare. This morning it will appear at a massive rally outside an arena in the nearby city of Inglewood.
Advertisement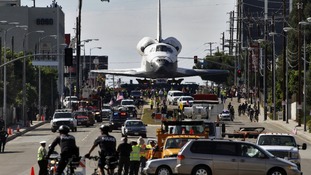 The US space shuttle Endeavour is on its final journey, a 14-mile drive through the centre of Los Angeles.
Read the full story
Back to top