34% of Scots back independence
David Cameron and Scotland's First Minister Alex Salmond have signed a deal to grant the government in Edinburgh the power to hold a referendum on independence. But an ITV News Index poll appears to show only 34% of Scots support independence.
Miliband: 'The fight is now on' for the UK
Labour Party leader Ed Miliband believes "the fight is now on" for the UK after the signing of the Scottish referendum deal.
Scotland will be free to legislate on referendum
The agreement between the UK Government and the Scottish Government on a referendum states:
The governments have agreed that the referendum should have a clear legal base; be legislated for by the Scottish Parliament; be conducted so as to command the confidence of parliaments, government and people; and deliver a fair test and decisive expression of the views of people in Scotland and a result that everyone will respect ...

The referendum legislation will set out the date of the referendum; the franchise; the wording of the question; rules on campaign financing; and other rules for the conduct of the referendum.
– Agreement between the UK and Scottish Governments on a referendum on independence
Advertisement
Prime Minister tweets photo of Scottish agreement
Prime Minister 'passionate' about keeping UK united
The Prime Minister has said he believes "passionately" that Scotland should stay in the United Kingdom, but he said he "believes in showing respect to the people of Scotland" by granting them a referendum.
Teenage potential voters ambivalent about Scottish independence
The terms of the referendum agreed today state that "it will be for the Scottish Parliament to approve" the move to extend the vote to 16- and 17-year-olds.
The ruling SNP party favours a wider franchise because independence is more popular among the young.
ITV News' Scotland Correspondent Debi Edward spoke to some 14-year-olds about the prospect of being able to vote:
Full text of independence referendum agreement
The Prime Minister and Scotland's First Minister have agreed on terms for a referendum on Scottish independence to be held in autumn 2014. You read the full text of the agreement here.
Advertisement
Cameron and Salmond sign referendum agreement
Salmond and Cameron shake on referendum agreement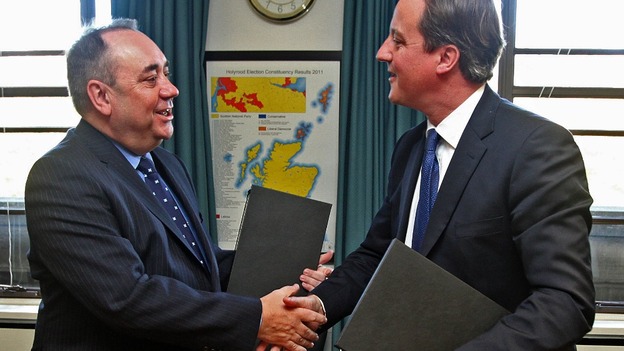 Agreement signed by David Cameron and Alex Salmond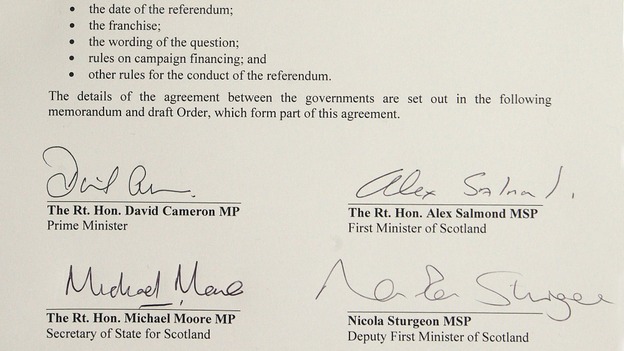 Salmond gives Cameron a warm reception
Scotland's First Minister Alex Salmond shook hands with the Prime Minister before their meeting on Scottish independence.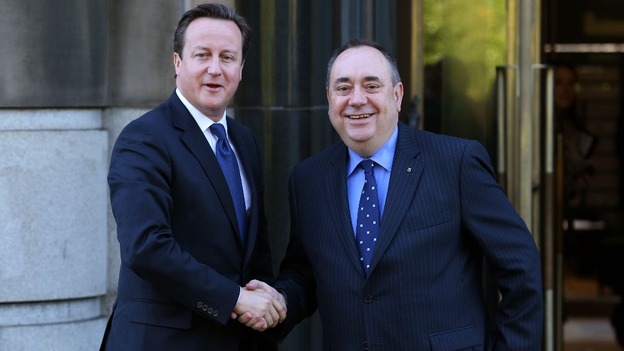 The pair sat opposite each other for the meeting, flanked y the Scottish Secretary and Deputy First Minister of Scotland.
On the wall behind Mr Salmond's back hung a picture showing the Scottish constituencies won by his SNP party at the last election.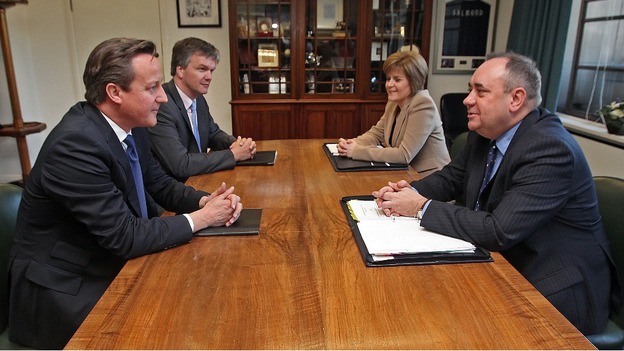 Load more updates
Back to top