Savile review witness plea
The Dame Janet Smith Review - established by the BBC to conduct a review of the culture and practices of the corporation during the years that Jimmy Savile worked there - is appealing for witnesses to come forward.
The Children's charity the NSPCC says it has received 236 calls about Savile, an average of five per day, since the first sexual abuse allegations emerged.
It's crucial that people continue to come forward, whether they have information about Savile or anyone else. Our prime focus has to be on protecting children, particularly those unable to speak out themselves, and bringing offenders to justice. Sometimes people wait months or years before reporting abuse but we would urge them to act quickly so they can get help as soon as possible. While the whole Savile episode has been distressing it has also led to more victims of abuse seeking support, which is positive.
– Peter Watt, NSPCC
Met police now say 450 victims have come forward on the Savile investigation and have recorded 200 allegations of sexual assault.
Advertisement
Dame Janet Smith, who is conducting an independent inquiry into the alleged sexual abuse by Jimmy Savile, has appealed for witnesses to come forward.
Writing on a website dedicated to the review, she said:
We know that in many cases, it will not be easy to come forward but the Review needs your support to fulfil its responsibilities.

Please do help us if you can.
The Dame Janet Smith Review into the culture and practice of the BBC during the Jimmy Savile years has made a public appeal for witnesses.
A page on the review's website asks to hear from people who witnesses or suspected inappropriate sexual behaviour by Jimmy Savile on BBC premises and from anyone who worked with the entertainer on BBC productions.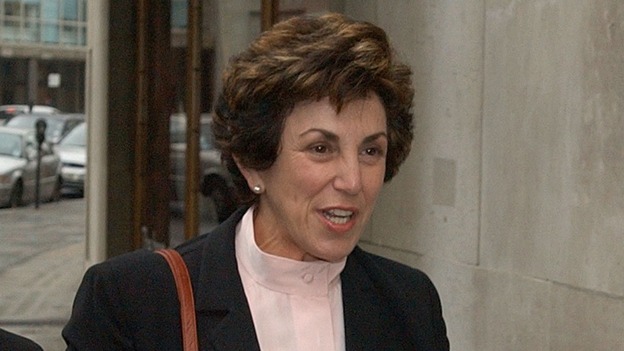 Former health minister Edwina Currie has said she has "nothing to hide" regarding her role in giving Sir Jimmy Savile a role at Broadmoor Hospital in 1988.
Mrs Currie said that notes on links between Savile and Broadmoor were in the archives.
She told the BBC: "The Department of Health is currently digging them out...it goes back at least 25 years, even 30 years and isn't just to do with me at all.
"But as and when documents do surface, they should be published in full.
"I have nothing to hide."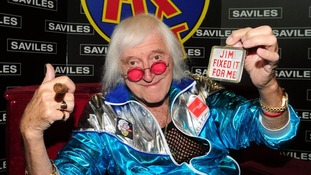 The BBC will broadcast a Panorama special examining Newsnight's decision to drop an investigation into Jimmy Savile's abuse of children.
Read the full story
Advertisement
The BBC is set to broadcast a Panorama special tomorrow night examining Newsnight's decision to drop its investigation into Jimmy Savile's abuse of children.
The programme does not yet have a confirmed time slot in the listings and was still being put together this weekend.
The Independent reports that senior Newsnight journalist Liz MacKean has warned the Director General of the BBC that the corporation is involved in a "concerted effort" to cover up the decisions which saw an investigation in to Jimmy Savile shelved.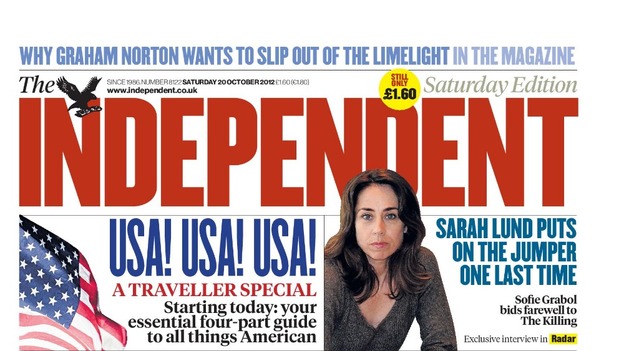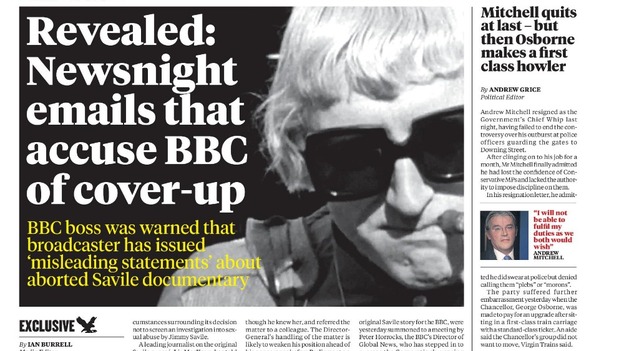 The story due to run on the front page of the paper tomorrow claims that Ms MacKean has tried to speak to George Entwistle about her concerns but that he has failed to respond.
Former BBC director-general Greg Dyke has criticised the corporation's response to the Jimmy Savile scandal.
He said the BBC should "have moved very quickly" to explain why a Newsnight report about allegations of sexual abuse by the late DJ was dropped and should have taken part in an ITV documentary to explain their actions.
Giving a lecture at Kingston University's Business School, he said:
"Someone had to explain why they took a decision not to do it because otherwise it left them looking suspicious and it looked like they'd been leaned on because the BBC wanted to run two specials about Jimmy Savile, which I don't believe would have happened."
Mr Dyke said: "And of course, nobody came on from the BBC and that was a big mistake. Someone should have gone on and said 'These are the editorial reasons'."
The sheer scale of number of victims could almost be called unbelievable, but police are making it clear they have no reason to disbelieve them.
What started from the ITV documentary when five women came forward, then ballooned to twenty last week, then sixty, and now two hundred possible victims.
Speaking to some of the organisations, they have been taking calls from people who have been naming other people, talking about other people who worked at the BBC at the same time as Savile.
Load more updates
Back to top