Hillsborough cop resigns
Sir Norman Bettison has resigned as chief constable of West Yorkshire Police after claims that he was involved in a cover-up over the Hillsborough disaster.
by Claire Ashworth: ITV Granada Political Correspondent
The Hillsborough campaigner Trevor Hicks responds simply to the resignation of Sir Norman Bettison: "The bigger they are, the harder they fall."
There is more reaction from the families of the Hillsborough victims throughout the day on ITV Granada.
Merseyside MP Maria Eagle said there would be "mixed views" among Hillsborough families about Sir Norman Bettison's decision to resign.
"I have said for many years in Parliament, as long ago as 1998, that he had an involvement in what everybody now realises was a major cover-up," she told BBC Radio 4's The World at One.
"Now the IPCC and the DPP are investigating following the publication of the independent panel report. I think that is right. We will see what conclusions that they come to.
"I think there will be mixed views amongst those affected by Hillsborough - the families and survivors - because many people wanted him to stay in post so if there were conduct charges, they could be laid. That now can't happen
"I think it is important for the good of confidence in policing that this matter is swiftly concluded and the investigations come to conclusions and if there are (criminal) charges to be laid, they are laid."
Advertisement
A Home Office spokesperson said:
"The Chief Constable of West Yorkshire's decision to resign is a matter for the police authority."
The mother of Hillsborough victim Kevin Williams, Anne, told ITV Granada that she is, "delighted" that Sir Norman Bettison has resigned and has called for him to be stripped of his pension and title.
Margaret Aspinall, chairwoman of the Hillsborough Families Support Group, has welcomed the Sir Norman's resignation but said that his pension should be frozen while the investigation takes place into the police cover-up highlighted by the Hillsborough Independent Panel.
"I'm absolutely delighted he's gone but as far as I am concerned he should have been sacked.
"I would now like to know what payments and pension he's going to get.
"Any financial benefits should be frozen until the outcome of the investigation into the cover-up.
"This is not the end of it, the next thing is to make sure his role is properly investigated."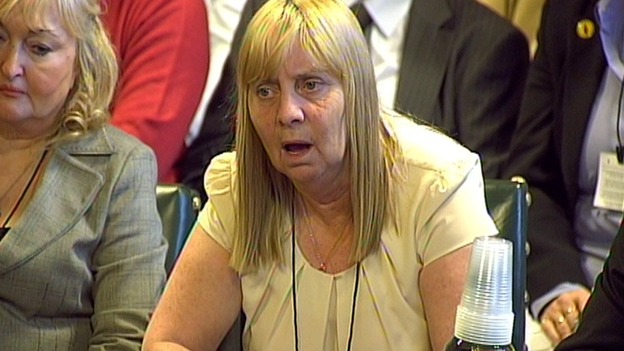 Mrs Aspinall, who lost her 18-year-old son James in the disaster, said the families had "no vendetta" against the former chief constable. She said:
"He's not the only one who we believe took part in this cover-up. But as a senior officer he should have been honest from the very beginning.
"He allowed the families to suffer for 23-years while knowing the truth all along."
Vice-Chair of the Police Authority, Councillor Les Carter said:
"Sir Norman has been West Yorkshire's Chief Constable since 2006. It should be recognised that Sir Norman has served West Yorkshire well. He has reduced crime, increased confidence in policing and made a huge contribution to neighbourhood policing.
"On behalf of the Police Authority, I would like to thank him for what he has achieved here and wish him the best for the future."
Advertisement
Last month, Sir Norman Bettison told our UK Editor Lucy Manning that "there's nothing I'm ashamed of" over Hillsborough.
Thirdly, there is a due process to deal with any allegation through the IPCC and the criminal law. I remain consistent in my desire to assist those enquiries to the full, both now and in the future. These processes should help to separate facts from speculation.
Fourthly, I sought to remain in post to address those allegations. It now appears that that will take some time. The Police Authority, and some of the candidates in the forthcoming PCC elections, have made it clear that they wish me to go sooner. I do so, not because of any allegations about the past, but because I share the view that this has become a distraction to policing in West Yorkshire now and in the future.
I have therefore agreed to retire within the statutory notice period. It has been a privilege to serve the public as a Police Officer for more than 40 years and I wish the Force and the Police Service every success for the future.
– Sir Norman Bettison
by Stephen Douglas: ITV News Correspondent
Sir Norman Bettison has said: I go not because of any allegations about the past but because this has become a distraction to policing in West Yorkshire.
In a statement announcing his resignation Sir Norman Bettison has said:
First, and foremost, the Hillsborough tragedy, 23 years ago, left 96 families bereaved and countless others injured and affected by it. I have always felt the deepest compassion and sympathy for the families, and I recognise their longing to understand exactly what happened on that April afternoon. I have never blamed the fans for causing the tragedy.
Secondly, I refute the report of a conversation 23 years ago. The suggestion that I would say to a passing acquaintance that I was deployed as part of a team tasked to 'concoct a false story of what happened', is both incredible and wrong. That isn't what I was tasked to do, and I did not say that.
– Sir Norman Bettison
Load more updates
Back to top