NY housing warning as cold hits
New York's political leaders warned that thousands could need to be re-housed as a cold snap hits the state. Near freezing temperatures are adding to the misery of communities devastated by superstorm Sandy across the east coast.
New York State Attorney General Eric Schneiderman has launched an investigation into price gouging after receiving hundreds of complaints from consumers across the state after Hurricane Sandy.
His office has received complaints from consumers from areas of New York City, the Hudson Valley and Long Island.
The largest number of complaints are related to increased gasoline prices, he said.
Consumers also have reported possible gouging for emergency supplies like generators, hotels raising rates due to "high demand," as well as increased prices for food and water.
New York City Mayor Michael Bloomberg joined thousands of commuters travelling on public transport today as they returned to work and school for the first time since Superstorm Sandy.
Mayor Bloomberg was spotted riding the train to work this morning by a New York Post reporter.
Advertisement
A New Jersey resident has spoken of her devastation after returning home after Superstorm Sandy to "nothing".
She said: "Part of our house is across the street. We've seen our couch two streets down".
US Homeland Security Secretary, Janet Napolitano, will visit the New York areas of Brooklyn, Manhattan and Queens today to meet with state and local officials and see how response and recovery efforts are going.
New Jersey governor Chris Christie tweeted teen pop sensation Justin Bieber to ask for help with publicising the New Jersey relief fund:
With almost 30 million followers, Bieber's account is the second most popular on Twitter behind Lady Gaga.
The American Red Cross said it regrets not responding sooner to areas on the U.S. East Coast hardest hit by superstorm Sandy and is working aggressively to distribute food, water and other supplies to victims across New York and New Jersey.
The privately funded organisation blamed flooding and other infrastructure problems for its slow response to the storm, which has killed more than 110 people and caused billions in property damage.
Do we wish we could have been there sooner? You bet.

When you have 8 million people in need, with roads that are damaged, infrastructure broken down, flooding everywhere, we can't be there that fast.

And we feel bad about that.
– Roger Lowe, American Red Cross
Advertisement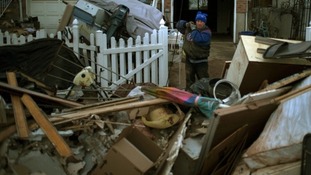 A housing crisis loomed in New York City as victims of superstorm Sandy struggled without heat in near-freezing temperatures.
Read the full story
65 schools WILL NOT open Monday: 8 where shelters are located & 57 that sustained storm damage. Any school without power will NOT open Mon.
The subway system has largely been brought back online, but you should expect your commute will be slower than normal tomorrow #SandyNYC
US Homeland Security Secretary Janet Napolitano says the government is looking for apartments and hotel rooms for those displaced by Sandy.
New York Mayor Michael Bloomberg said: "We don't have a lot of empty housing in this city. It's a problem to find housing."
Load more updates
Back to top