Candidates on campaign trail
President Barack Obama is expected to resume an election campaign suspended in the aftermath of Superstorm Sandy today. His challenger, Republican Mitt Romney held two rallies in Florida on Wednesday.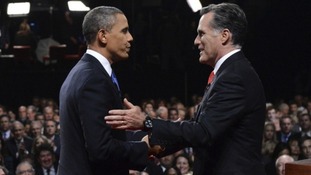 While New Jersey is still taking stock of the aftermath of the storm, the two Presidential candidates will today return to their campaigns.
Read the full story
US President Barack Obama has made an unscheduled stop at the Federal Emergency Management Agency (FEMA) headquarters ahead of his visit to New Jersey to assess the damage caused by Sandy.
Advertisement
Vice President Joe Biden is back on the election campaign trail today with a visit to Florida, the official "Obama for America" Florida campaign has announced.
A Senator Admin official has said that President Obama has been receiving updates through the night on hurricane Sandy:
Overnight, the President continued to receive updates from his team on the ongoing recovery efforts, including efforts by state and local officials and private utility companies to restore power. This morning the President will again receive a substantial briefing from his team on the impacts and the extensive federal support being provided to support state and local recovery efforts. The President continues to direct his team to lean forward aggressively.
The Governor of Maryland Martin O'Malley and his Lieutenant Governor Anthony Brown have both cast their votes as the state starts to get back on track after hurricane Sandy.
Obama's campaign have announced his plans to resume campaign travel tomorrow, according to AP, after a three-day pause to deal with hurricane Sandy with stops in Nevada, Colorado and Wisconsin.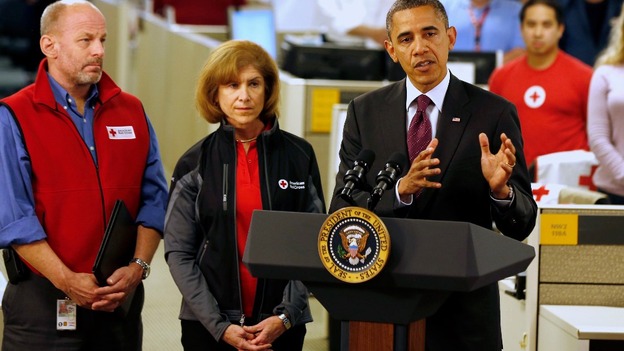 Obama's revised schedule is a political gamble, too. Rather than use the campaign's final Wednesday to woo voters in the tossup states that will decide the election, he will go before cameras with New Jersey's Republican governor, Chris Christie.
Christie is one of Romney's most prominent supporters, and has been a frequent Obama critic.
However since the storm struck Christie has heaped praise on Obama and his handling of the response, a political twist the president's visit is sure to underscore.
Advertisement
Addressing the devastation left by Sandy, Connecticut Governor Dan Malloy told a news conference:
President Obama is conducting conference calls with the utility companies in the area, including @ctlightandpower and @unitedillum
Maryland Governor Martin O'Malley, who cancelled early voting on Monday and Tuesday due to Superstorm Sandy, said it would now be extended through to Friday.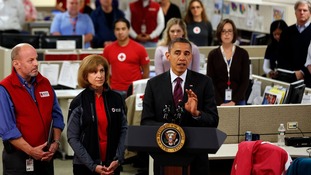 How cynical should we be? Is this a President doing his job as comforter-in-chief or a man desperate to boost his chances of re-election?
Read the full story
Editorial Boards Across America Agree That Obama's Focus Should've Been The Economy, Not Obamacare: http://t.co/ZlD2HvQ6
Load more updates
Back to top