Britons stranded in New York
Britons stuck in New York as flights are cancelled due to superstorm Sandy have spoken about their frustration.
The first two Virgin Atlantic flights from London to New York since Superstorm Sandy have taken off successfully and are now en route, according to the airline's flight tracker.
Virgin's 9.20am and 1.50pm services to New York's JFK Airport departed from London Heathrow, both were running late.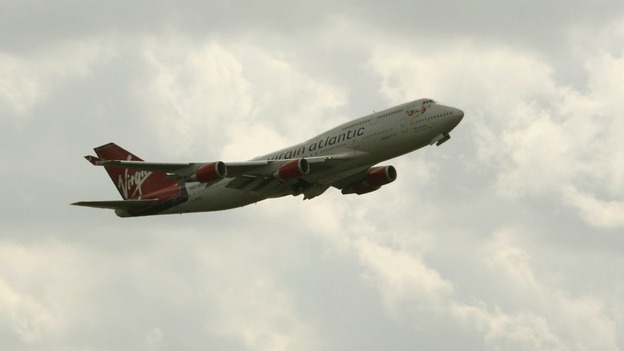 The 9.20am flight departed over two hours and 10 minutes late, though the 1.50pm service left just over 10 minutes after its scheduled departure time.
The first flight is due to arrive in New York at 3.28pm local time (7.28pm GMT).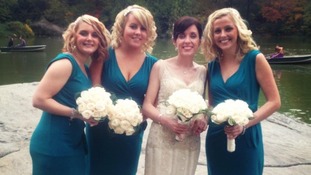 When Stacey and David Richards were planning their wedding they never suspected they might end up honeymooning in a hurricane.
Read the full story
Advertisement
Virgin Atlantic's first flight to New York since Superstorm Sandy struck is due to leave Heathrow Airport around noon today, the airline has announced.
However, the airline's VS18 service from Newark and its VS26 flight from New York remain cancelled. The flights were due to landed at Heathrow Airport this evening.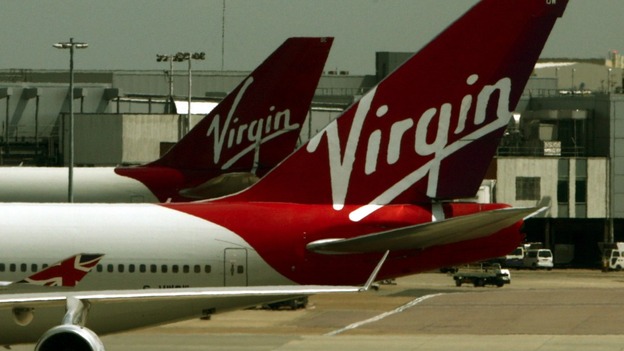 Virgin has also scheduled an extra flight that will fly from Heathrow to New York at around1.50pm today and return later.
A Virgin spokeswoman said, "We continue to thank our passengers for their patience and apologise for the inconvenience caused to their journey".
She also advised customers to check the Virgin Atlantic website for the latest updates and advice on rebooking their flights.
British Airways said it hopes to resume flights to and from New York later today after Superstorm Sandy forced the airline to cancel its services.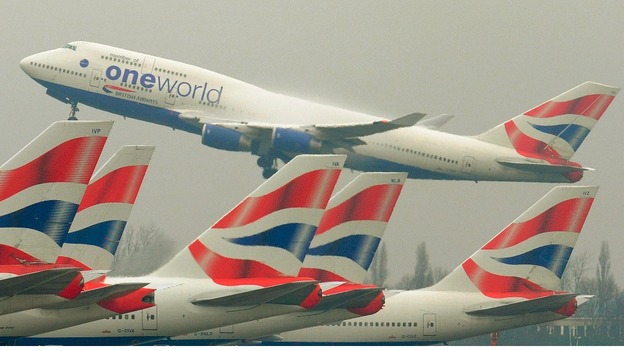 A spokesperson for BA said, "Customer safety with regards to Hurricane Sandy remains our highest priority and following advice from the US authorities we are cancelling the majority of flights to and from New York and Newark [New Jersey] on Wednesday".
BA advised that only customers with confirmed flights come to the airport, saying people should check with their airport.
"We are doing all we can to help customers whose flights have been cancelled, and will look to use larger aircraft on some routes when the full flying schedule resumes to help get customers to their correct destination as quickly as we can", the spokesperson added.
Manchester
There are 15 flights to or from the USA in the schedule from Manchester today. Four of the inbound and four of the outbound flights have been cancelled.
Heathrow
Many flights to New York have been cancelled or delayed, and the airport is advising those planning to travel to check with their airline.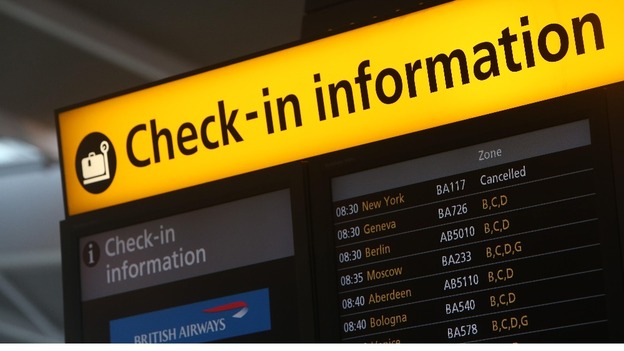 British Airways say that they have cancelled some of their flights to and from New York, JFK and Newark. Flights to other East Coast US airports should be operating normally.
But they advise checking with your airport.
Virgin Atlantic have said that as JFK and Newark airport will reopen today they flights will resume. However some flights have been cancelled this morning.
Passengers are advised to only go to the airport if they are confirmed on a flight and not to try and get standby places.
British student Ophelia Conheady - who is stranded in New York - has told Daybreak that the lights going out in Manhattan was a "terrifying experience."
Advertisement
Danny Lopez, British Consul-General in New York has told Daybreak that the Consul has no idea how many Brits are stranded in the States.
Mr Lopez said: "We don't have any numbers or figures right now. Over the past 48 hours we've only had 14 calls from Brits wanting more information."
After more than 80 pupils from local schools on trips to New York are reported to be safe.
Cecilia Motley, Shropshire Council cabinet member for education and skills, said:
The safety and well-being of our pupils is everyone's number one concern, and I know it's been a worrying time for parents who are seeing the images of destruction on the television news.

We are told from the group leaders in New York that the worst of the storm has passed, and apart from some high winds the weather is not actually too bad.

All the pupils are in good spirits and are being well looked after, and parents are being kept up-to-date by the schools regarding when their children will be flying home.
Parties of children from three Shropshire schools on trips to New York are reported to be safe, well and in good spirits.
More than 80 pupils from Idsall School in Shifnal, Shrewsbury's Priory School, and Lakelands School in Ellesmere, now face a wait to learn when they can return to the UK.
Idsall School's chair of governors, Mark Blackstock, said:
Pupils have been encouraged to text message their parents to let them know that they are OK and we are speaking with the staff in New York to get as much information for parents as we can.

We appreciate parents may be worried, but we can assure them that the pupils are safe and in good spirits, with teachers following the appropriate advice from the New York authorities.

We will keep parents informed of any developments regarding flights back as there will inevitably be some disruption from so many cancellations taking place.
Dear Michael

As both a fellow New Yorker and a proud Londoner I am deeply saddened to see your great city under such pressure from Hurricane Sandy. I am hugely encouraged by your response, that of public employees of NYC and indeed the response of emergency services and the American people up and down the east coast.

Rest assured the people of London stand shoulder to shoulder with the people of New York at what is clearly an immensely difficult and challenging time.

As ever, with all best wishes

Boris Johnson
Load more updates
Back to top