3000 Comet job losses expected
Administrators for the electrical retail chain Comet has announced 125 store closures, which is expected to trigger around 3,000 job losses. Around 330 jobs have been gone today.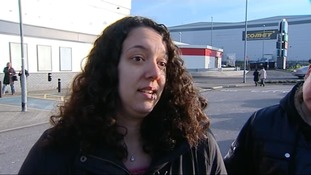 The large distribution hub in Harlow in Essex has become the biggest Comet site so far to close, with 172 people losing jobs.
Read the full story
Today administrators closed Comet's distribution centre in Harlow, leaving 70 stores to stay open until Comet sells its remaining stock, with 118 more closures planned.
"I've been with the company over 20 years. To be told within 5 days that you've lost your job, it's like a kick in the teeth, it's like losing everything" said one former employee.
ITV News' Consumer Editor Chris Choi reports:
Advertisement
Neville Kahn, from joint administrator of Comet, Deloitte said: "We are in discussions with a number of parties who have expressed interest in parts of the business and we continue to work hard to preserve jobs."
More than 300 staff have been made redundant at stricken electricals retail chain Comet.
Its administrator Deloitte announced 330 job losses across Comet's head office and support centres, but stressed there had been no redundancies among shop staff and all Comet's 236 stores remain open.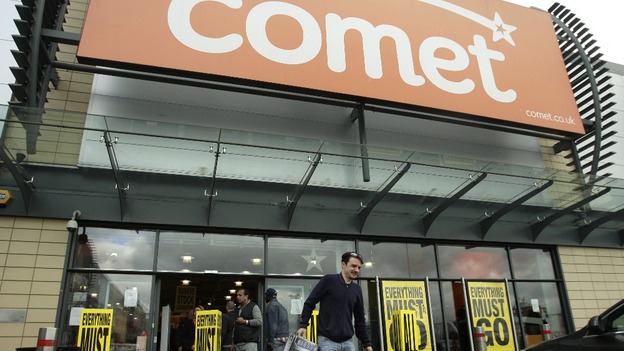 The bulk of the staff cuts have been made in Comet's head office in Rickmansworth, Herts, as well as its site in Hull and call centre in Clevedon, Somerset.
Deloitte added that it was holding talks with a number of potential buyers for Comet, which collapsed into administration a week ago.
Around 330 jobs have been axed at collapsed electricals retail chain Comet, administrator Deloitte has said.
Comet customers have criticised the quickfire sale from the electrical retailer which is offering little more than 10 to 20 per cent off items.
Just been to comet, was expecting a massive sale with big cuts.. 10% off everything isn't exactly a ground breaking sale #dissappointed
Comet fire sale is a load of rubbish, 10-20% off, prices still higher than other shops or outlets!!!!!!
Comet Sale, wat sale, 10% of large goods, 20% of small goods, #wasteoftime
A Deloitte spokesman said of the sale: "The discounts are gentle. It's not a hard sale."
Advertisement
Comet has launched a liquidation sale ahead of the failed retailer winding down.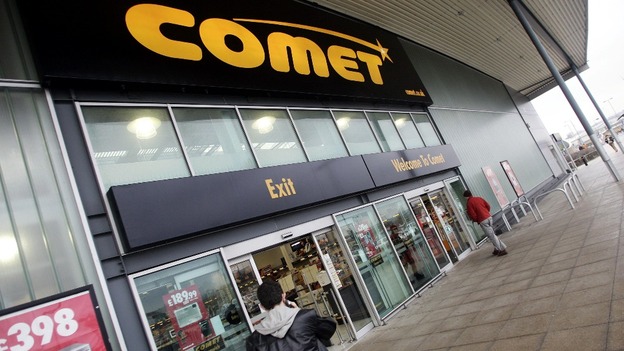 The company, which faces stores closures next week, announced a "massive stock liquidation" on its website today.
The sale is seemingly limited to physical stores with customers unable to buy electrical goods online.
The website said gift cards would be accepted in the sale but warned customers that it is no longer providing refunds and any goods ordered but not paid for prior to administration will not be delivered.
Dixons have delayed taking on seasonal Christmas staff in a bid to help staff at collapsed former rival Comet.
The owner of PC World and Currys has delayed its normal Christmas recruitment drive, when it expects to take on an additional 2,000 seasonal shop staff, to offer Comet staff the opportunity to join the business.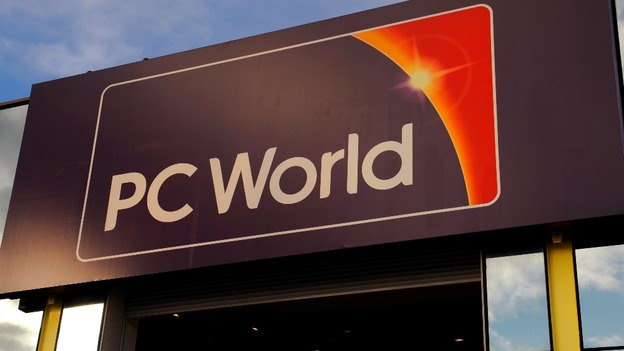 Dixons Retail Group chief executive Sebastian James said more than 500 Comet staff had already approached Dixons, and he hoped the company could get as many staff as possible.
He told BBC Radio 4's Today programme: "We do think that Comet colleagues know our business, know our customers and know our products very well."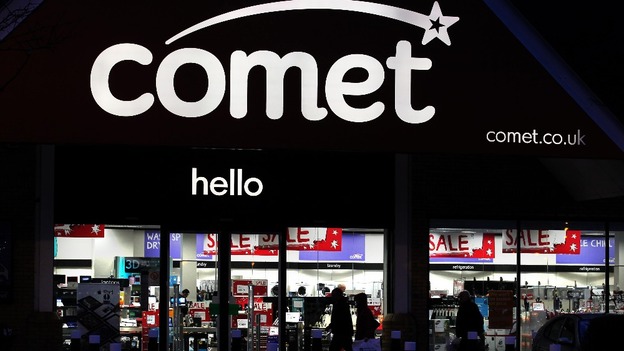 The administrators of the electrical retailer Comet says that gift cards can be used again after a temporary suspension was lifted.
Deloitte thanked customers for their patience after a ban was put in place to give them time to assess the company's finances.
It's hoped that a buyer can be found for the business which employs some 6,600 people across the UK.
Angry customers took to Twitter to complain about not being able to use their Comet gift vouchers after the popular electrical retailer went into administration yesterday.
Voucher for #comet was good at 0900 this morning !
#comet experience went well this morning! No stock to buy, only selling contents of shop floor at normal price & won't accept £600 voucher
How much would you offer for my £1 Comet gift voucher?
Load more updates
Back to top