Obama back in Washington
President Obama has arrived back in Washington DC with his family to begin his second term in office.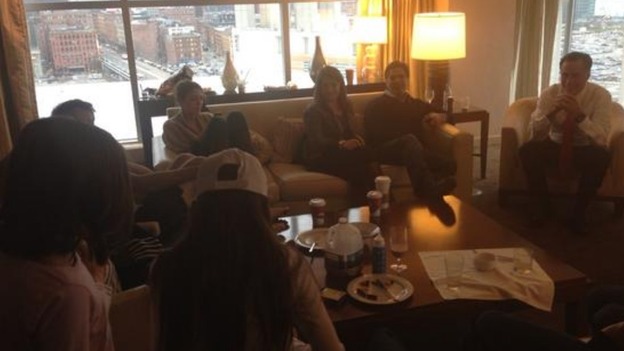 US Senate Majority Leader Harry Reid has said last night's election results show the American people want a balanced approach to deficit reduction and tax policy, Reuters has reported.
Senator Reid called for bipartisan cooperation, saying he will negotiate with Republicans "any time, any issue."
We have to sit down and go to work on it now, not wait. This was really the message the American people sent.
Advertisement
Mitt Romney's concession speech has been spoofed by serial parody singers The Gregory Brothers, with the defeated Republican candidate telling supporters he will find solace in his wealth after missing out on the White House.
As he flew back to his Boston headquarters before he conceded the election, Mitt Romney spoke to reporters on his plane and described his 'victory speech'.
He said, "it's about 1,118 words," although he admitted it wasn't ready yet:
According to a campaign official, the first person President Obama called after receiving the concession call from Mitt Romney was Bill Clinton.
Former-President Clinton proved to be one of Obama's top surrogates and most valuable supporters during his campaign.
Advertisement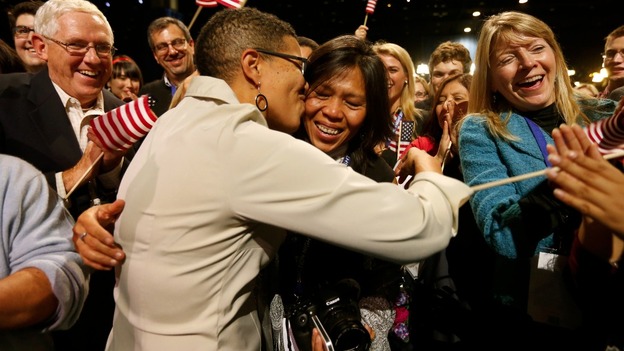 In the wake of Barack Obama's US election victory, a spoof video of the President singing MC Hammer's 'Can't Touch This' has appeared online.
Financial rating agency, Fitch Ratings, have said that newly re-elected Barack Obama will need to move quickly and secure an agreement to avoid the upcoming 'fiscal cliff'.
Fitch estimates that the fiscal cliff would tip the US economy into, "an unnecessary and avoidable recession" and result in a rise in the unemployment rate to above 10% in 2013.
In a statement Fitch said:
"The economic policy challenge facing the President is to put in place a credible deficit-reduction plan necessary to underpin economic recovery and confidence in the full faith and credit of the US."
World stock markets rose on the back of the re-election of Barack Obama.
Investors had left stock markets in a state of suspended animation as they waited for the results.
With the Republican challenger Mitt Romney defeated, politicians can now turn to the campaign's most dominant issue: the slowly-recovering US economy.
Among the most pressing matters is dealing with the 'fiscal cliff' - a combination of higher taxes and US government spending cuts that automatically take effect unless Congress acts by 1st January 2013.
In early trading:
FTSE 100 rose 0.3% to 5,899.13
DAX rose 0.6% to 7,419.95
France's CAC-40 rose 0.8% to 3,507.30
Dow Jones industrial futures up 0.1% to 13,213
Nikkei 225 index closed marginally lower at 8,972.89
Load more updates
Back to top