Greek unemployment hits 25.4%
Greece's unemployment rate scaled a new record of 25.4 percent in August from a revised 24.8 percent in July, the country's statistics service ELSTAT has said.
European Central Bank 'by and large done' helping Greece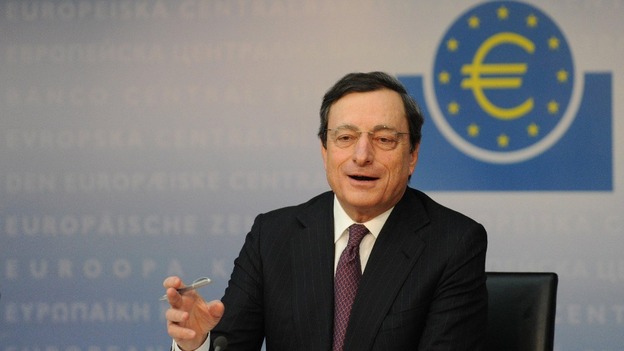 The European Central Bank (ECB) is "by and large done" helping Greece in its bailout because it is not permitted to provide direct aid, according to its president, Mario Draghi.
The ECB has resisted calls to take a 'haircut' on Greek bonds as they say this would be "monetary financing" which it is prohibited from doing.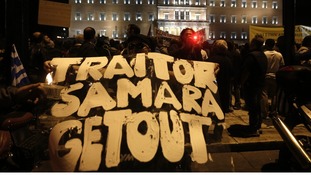 Greece will eventually get through this. But there are fears when that happy day eventually arrives, what will be left of civil society?
Read the full story
Advertisement
Greek unemployment reaches record high in August
Greece's unemployment rate scaled a new record of 25.4 percent in August from a revised 24.8 percent in July, the country's statistics service ELSTAT has said.
A crippling, austerity-fuelled recession continued to take its toll on the labour market, putting Greek unemployment at more than double the euro zone average of 11.5 percent in August.
Greek leaders expel MPs who voted against austerity bill
Greece's coalition government expelled seven members of their respective parties for failing to vote for the latest, deeply unpopular, austerity reform package tonight.
Greek Prime Minister Antonis Samaras expelled one lawmaker from his New Democracy party, while Evangelos Venizelos expelled six from his Socialist party PASOK.
The expulsions reduce the fragile, three party coalition to 169 out of the assembly's 300 seats.
Greek parliament passes austerity bill
The Greek government has secured enough parliament votes to approve the controversial package of austerity reforms.
The three-party coalition managed to secure the 151 votes needed to win approval for the deeply unpopular package, which includes further spending cuts, tax rises and labour reforms.
Weather cuts short Athens protests
by James Mates - Europe Editor
What the police couldn't achieve, Mother Nature now has.
Torrential rail has cleared protesters and rioters from the streets of central Athens.
Advertisement
Greek parliamentary workers strike delaying key vote
Negotiations in the Greek parliament ahead of a vote on budget cuts were interrupted today when parliamentary workers went on strike.
They were protesting against a clause that would have cut their salaries.
The government was forced to cancel the measure to allow the session to resume.
Report: Greek protesters number more than 100,000
The demonstrators on the streets of Athens number more than 100,000, the Greek newspaper Proto Thema reports based on preliminary data from the police.
It also reports that the doors of the parliament building have been locked and an iron fence set up outside to protect it from the protesters.
Report: Bank of Greece staff resign over salary caps
The Financial Times (£) is reporting that forty officials have resigned en masse from the Bank of Greece because new salary caps would reduce their income by a third.
Riot police targeted with red paint in Athens
Riot police on the streets of Athens appear to have had red paint thrown at them.
In the video below, some of the riot police can be seen wiping their visors clean standing next to a large splatter of paint on the road.
Load more updates
Back to top