US election result reaction
Reaction from around the world as Barack Obama secures a second term in the White House, defeating Republican Mitt Romney.
President Barack Obama said he has not met his Republican opponent Governor Mitt Romney since last week's election, but that he hopes to do so by the end of the year.
We haven't scheduled something yet. I hope it's before the end of the year, though, that we have a chance to sit down and talk
Americans can take pride in last night's peaceful exercise of our democratic right to choose those who will lead us. We are one country, united in our beliefs and our values.

Let us pray for wisdom and courage for our President and all who were elected to office last night. God Bless America.
– Former US Secretary of State Condoleezza Rice
Advertisement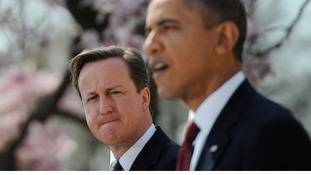 Barack Obama's return to office won't have told David Cameron anything new about running for re-election. But it won't help Labour either...
Read the full story
Herman Cain, who lost to Mitt Romney for the Republican's presidential nomination, has issued a harsh warning to Obama voters in the wake of the President's re-election.
People who voted for Obama have No Clue what we're in for in terms of unemployment. No Clue. #TCOT
Congrats to @barackobama winning 2nd term. Hope all parties can find common ground & move forward. Historic opportunities lay ahead for US
Boris Johnson has congratulated Barack Obama on his re-election, but has also reignited his battle with the US Embassy in London over unpaid Congestion Charge fines:
Many congratulations to @barackobama on his victory. Looking forward to renewing our claim to America's unpaid Congestion Charge bill!
Advertisement
This was the Republicans election to win. @mittromney is a good man but he just never connected with the people.
I am immensely proud of the campaign we ran, and I remain grateful to Governor Romney for the honour of being his running mate.

I look forward to spending some time with my family in the coming days and then continuing my responsibilities as chairman of the House Budget Committee and representative of Wisconsin's First Congressional District.
– Paul Ryan
Vladimir Putin has added his congratulations to Barack Obama, praising him for winning an intensely fought election by such a wide margin.
The Russian President said his country's relations with the US had developed well with Mr Obama in the White House, and said he looked forward to continuing that cooperation during the American's second term.
Mr Putin also confirmed an invitation to Mr Obama to visit Russia next year.
I would like to extend my congratulations and good wishes to President Obama on his re-election. I have enormous respect for the President and have always valued our meetings and discussions, particularly on finding a pathway to peace in the Middle East.

I look forward to continuing to work with the President and other world leaders towards real progress in this region in the months and years to come. This issue remains as urgent as ever.
– Tony Blair
Load more updates
Back to top